To kick off the 2023 New Year, BSV marketplace RelayX launched Rexxie, a generative NFT collection of cute dinosaurs with randomized attributes. This mint was the first with an "Instant-Reveal Mint," where the NFT image is revealed upon purchase instead of waiting for the issuer to reveal all NFTs at once. Holders of Rexxies will be entitled to various perks, the first of which is the ability to set avatars, colloquially known as PFPs (profile pictures), on the platform.
Rexxies were created in 2021 by an anonymous creator who worked with what tools they had at the time. Twenty-five different original Rexxies were minted, which then entitled the holders to receive subsequent egg airdrops. The eggs then hatched into baby Rexxies, which were airdropped to the egg holders. The original Rexxies had a mint price of just 0.03 BSV and now sell for at least 33 times that value, as high as 15 BSV. Taking notice of this effort, RelayX commissioned the creator to draw up the official Rexxie drop.
The road to any NFT pfp begins with Rexxies

Onchain avatars across the ecosystem

2023 will be a fun year 🔥https://t.co/VPrRGx1ZGs pic.twitter.com/hBZdTTodh6

— RelayX – relayx.com/inscribe (@relayxio) January 2, 2023
Rexxies already have a utility that enables owners to set their avatar on the RelayX platform. Owners can select their PFPs from curated collections, only those that bound to a RelayX ticker. While these features are pay-to-play in nature, they do add utility to previously released collections on the platform, such as Gopniks, Pewnicorns, StickD00dz, and Psycho Parrots.
RelayX states that "Rexxie holders will be the first to access" new features released throughout the year. The next of which will be Club Relay, launching on January 22.
What's next? Welcome to Club Relay https://t.co/PwRG3Thc90 pic.twitter.com/luDJeuT9fA

— RelayX – relayx.com/inscribe (@relayxio) January 6, 2023
The Rexxies are already quite popular, as many BSV community members have set them as their profile pictures on Twitter and RelayX. After the Club announcement, Rexxies started to trade at a 50% premium (0.33 BSV) above the original mint price of 0.222 BSV on the secondary market. Users will need to own a Rexxie to enter Club Relay, adding even more utility.
Rexxies have six different traits: a background color, base (skin) color, body, eye, mouth, and head.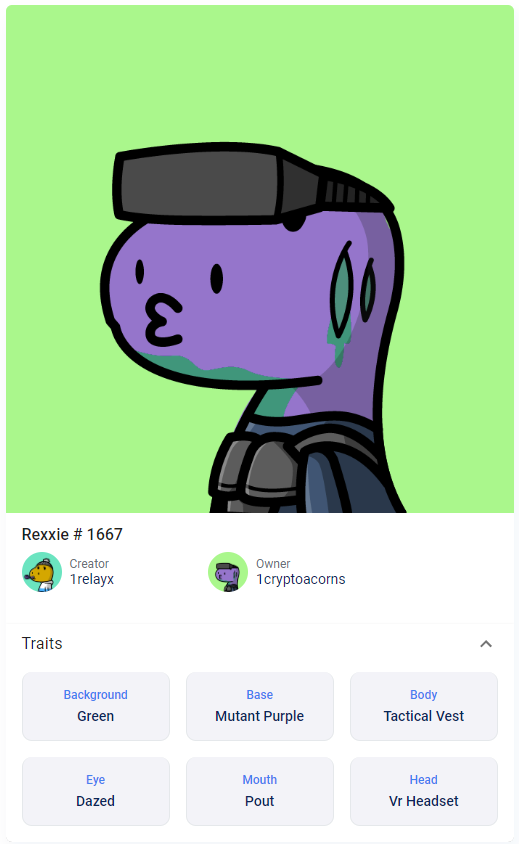 Source: My Rexxie
The number of different traits possible and the rarity of each is unclear at launch, but there appear to be hundreds of variations making this one of the most unique NFT drops seen thus far. The more dimensional aspects of an NFT, the more possibilities. I would be interested to know if I could access certain parts of Club Relay because I have the VR Headset as a Head trait, such as specific chat rooms, features, etc.
A rarity chart for Rexxies has yet to be published, or guidance on how to inspect these attributes directly from the blockchain per NFT, but given the vast, diverse traits, developers have the incentive to build third-party applications with Rexxies as done previously with Ruff Runner and Bark Battle for Duro Dogs. If my Rexxie could get a bonus to its Defense stat in a game because it wears the Tactical Vest, that would be super cool. I look forward to what is next for Rexxies! Get yours here.
Watch: NFTs: What Can We Do Better?
New to blockchain? Check out CoinGeek's Blockchain for Beginners section, the ultimate resource guide to learn more about blockchain technology.