Psycho Parrots is another generative NFT project that launched on the RelayX Marketplace on June 29. I had the opportunity to interview the team to understand what is unique about this collection.
How many traits will the Psycho Parrots have?
"There are 100 total traits for the parrots and there are 8 central attributes consisting of the: leg, body, head, feet items, wing, beaks, eyes and clothing. These allow every bird that is generated to look totally unique. As with other NFT collections, all of the traits created will be assigned a different rank from Common to Exotic.
"There will be 11 'Exotic' parrots which will be 1 of 1's and will generate as standalone pieces. These will be the most exclusive and sought after in the collection because of their limited quantity and the originality of the artwork for each."
A new era is coming for @relayxio JPEGs pic.twitter.com/LH5fnVVr11

— Psycho Parrots 🚨MINT LIVE🚨 (@psychoparrots) June 17, 2022
What utility will the Parrots have?
"The Psycho Parrots will have amazing utility including Airdrop NFTs such as the exclusive comic book covers, which will be limited edition and will complement the storyline behind the Psycho Parrots characters. Each collector will receive a postcard size printed image of their unique NFT. There will also be 3D transformations of each Psycho Parrot (similar to the Twetch and Gopnik NFTs) and membership to live events. 
"We will also be issuing Psycho Parrot rewards tokens to our collectors which can be used to purchase future NFTs or merchandise planned for this collection. Some of these utilities, such as the live events and postcard images will be available to collectors immediately while the other utilities listed will become available as more pieces are added to the collection."
Will there be any interoperability with Pewnicorns and Gopniks?
"Currently we are singularly focused on the Launch of our collection as well as the roll out of the utilities that will add further value for our collectors in the coming months. We are however discussing this very possibility with the creators of the Pewnicorns and Gopniks and we will keep our fans informed on these developments."
For what reason should we buy a Psycho Parrot NFT other than speculating on the price?
"The collection itself is extremely unique since it's not solely a digital work of art, it is brought forth from hours of hand drawn images; but there is an exciting storyline behind the characters which is an intrinsic part of the experience.
"NFTs in the BSV community have been contributing to its ever-growing pop culture. Our collection and the live events and promotions we have been organising encourage the growth of the BSV community through art and entertainment as well as stimulating and providing an outlet for people to utilise their Bitcoins in a fun and meaningful way."
Is the 1280 supply too high given the total number of BSV users?
"We do not anticipate the number 1280 will be too high, especially given the recent stats on the total number of daily BSV users. We believe, as do many in this community, that this number will continue to grow as new apps and games are launched. 
"Therefore, we chose this number in light of where we believe the market for BSV will be in the near future. Furthermore, we anticipate that many of our customers will mint more than one Parrot because of the value they are getting for their investment and the utility these NFT's will have."
Why choose RelayX and the RUN protocol to mint the NFTs on?
"We chose RelayX due in large part to the professional relationships we have forged with some of the other creators on that platform, primarily the Gopniks and the Pewnicorns. 
"Both these creators have been a tremendous support throughout this whole process, and we wish to thank them for their continued efforts. Relay X was also very accessible from an artist standpoint since there was no authorization needed to mint on their site."
I'm hoping for a banana bird. 🍌🍌 https://t.co/9wCAu96Ler

— Cozy Kurt™ | GorillaPool.com 🍌🍌 (@kurtwuckertjr) June 23, 2022
Will the Parrots have attributes representing other projects in the space? (For example, Bananas representing GorillaPool?)
"The Psycho Parrots will absolutely be using some traits from other projects. Some examples of this would be the Dolce Gopnik glasses in the Gopniks collection will also be available on the Parrots as well as the golden Twetch egg to name a few."
Can you elaborate on how important it is to work with and support other projects in the space in this way?
"My team and I are very loyal and passionate people and giving back to the community is a big part of our identity. I would not be where I am without the tireless support of other BSV community members such as: @joeybsv_, @letscryptobabe, @hqbsv, @jo_climacus, @bsvbully, @memefaust, @artofchain and so many more too numerous to mention.
"I believe the strength of the BSV economy directly relates to the number of projects, apps, transactions, and overall users that the community can sustain and grow. By supporting other projects in the space, we are encouraging and facilitating more growth for BSV which is vital to the future of our community."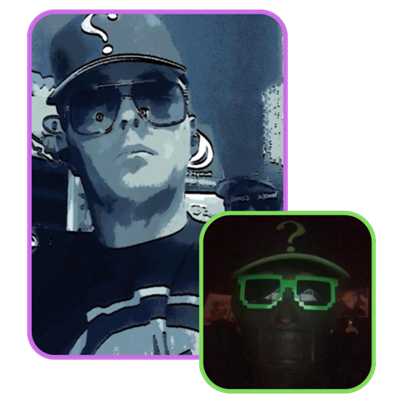 The art is quite unique and really stands out. From the Discord, the artist @fernburn74 has been working on this for 7 months, could you elaborate on the process of how the parrots were drawn?
"The idea of the Parrots came into existence during a great night I spent hanging out with my childhood friend Bitcoin Apostle. We were discussing Bitcoin and NFT's, a passion of ours, when it dawned on me that I should start a project of my own since I recently decided to start pursuing my passion for Bitcoin and art full time. The goal was to take what we liked about current NFT projects and expand on that. The Parrot was chosen as the subject since Bitcoin Apostle owns an African Grey named Rocco who has been a fixture at our place of business for many years.  This collection therefore is very personal to us as Rocco is like a member of the family.
"I then wanted to develop a storyline that would be interesting and have great entertainment value that would distinguish Psycho Parrots from other collections. I was always fascinated by villains in comic books and movies in my adolescent years and therefore I wanted to incorporate some of those themes in my collection. Each trait was developed with the storyline of the Psycho Parrots in mind, and I also wrote a narrative that was used in a lot of my promotional videos. 
"I began by doing some rough sketches of Parrots in order to determine the overall style and look of the bird. I then took the painstaking steps to draw out all of the generative traits that could appear one by one so that I could see how the images would look when they were interchanged. This was a slow but rewarding process since it helped me to fully conceptualise these ideas and images before the graphic artist went to work. As a result of all the time and effort put into the art and storyline, I believe that the Psycho Parrots collection is truly unique, and this will be evident to our collectors."
Could you explain how the Exotic parrots work?
"There will be 11 Exotics that will be 1 of 1's and 1% generated Exotics. They are the most sought after and visually stunning pieces of art that tie into the storyline and therefore they are more valuable to the collector. 
"The top 5 of whoever mints an exotic will receive a prize. The top exotic will receive $100USD worth of BSV in their wallet and the other 4 will each receive $50USD of BSV. This is a special incentive we hope will demonstrate our appreciation to our fans and add more excitement to the experience."
"Thank you for including us in your publication, from the Psycho Parrots team:
CryptoFernBurn: Creator
BitcoinApostle 
Artofchain 
Letscryptobabe
Thank you, Psycho Parrots, for taking the time to answer my questions. I hope the readers learned more about the unique features of this project. Learn more about the parrots here.
This article was lightly edited for grammatical and clarity purposes.
Watch: BSV Global Blockchain Convention presentation, NFTs: What can we do better?
New to Bitcoin? Check out CoinGeek's Bitcoin for Beginners section, the ultimate resource guide to learn more about Bitcoin—as originally envisioned by Satoshi Nakamoto—and blockchain.