Around 30 million people in the Philippines are ages 10-24 years old, or roughly 28% of the country's more than 113 million population, according to recent estimates of the United Nations Population Fund (UNFPA).
With a sizeable population of youngsters, the Philippines' ambition to become a global hub for blockchain is within arm's reach, with DITO CME Chief Operating Officer Donald Lim saying that the tech-savvy generation would be the key to spurring the adoption of emerging technologies in the country—as seen during the height of the coronavirus pandemic, a period when play-to-earn games such as Axie Infinity, My Defi Pet, and Cryptoblades boomed.
"We were the text capital and the BPO capital before, right? And we were the social media capital. As for blockchain capital, we are very ripe," said Lim, speaking during the Blockchain Council of the Philippines' press conference on Monday at Mariott Hotel.
The potential to transform into a blockchain capital is highly possible as the Philippine government has also shown openness to utilize emerging technologies, particularly blockchain, local media outlet ABS-CBN News reported.
"The Philippines is the biggest in the world with cellphones, and adoption of social media. And because the younger people embrace this technology, I see the adoption of Web3 and blockchain is phenomenal here," said Nicholas King, Philippine ambassador for the Bitcoin Association, echoing Lim's statement.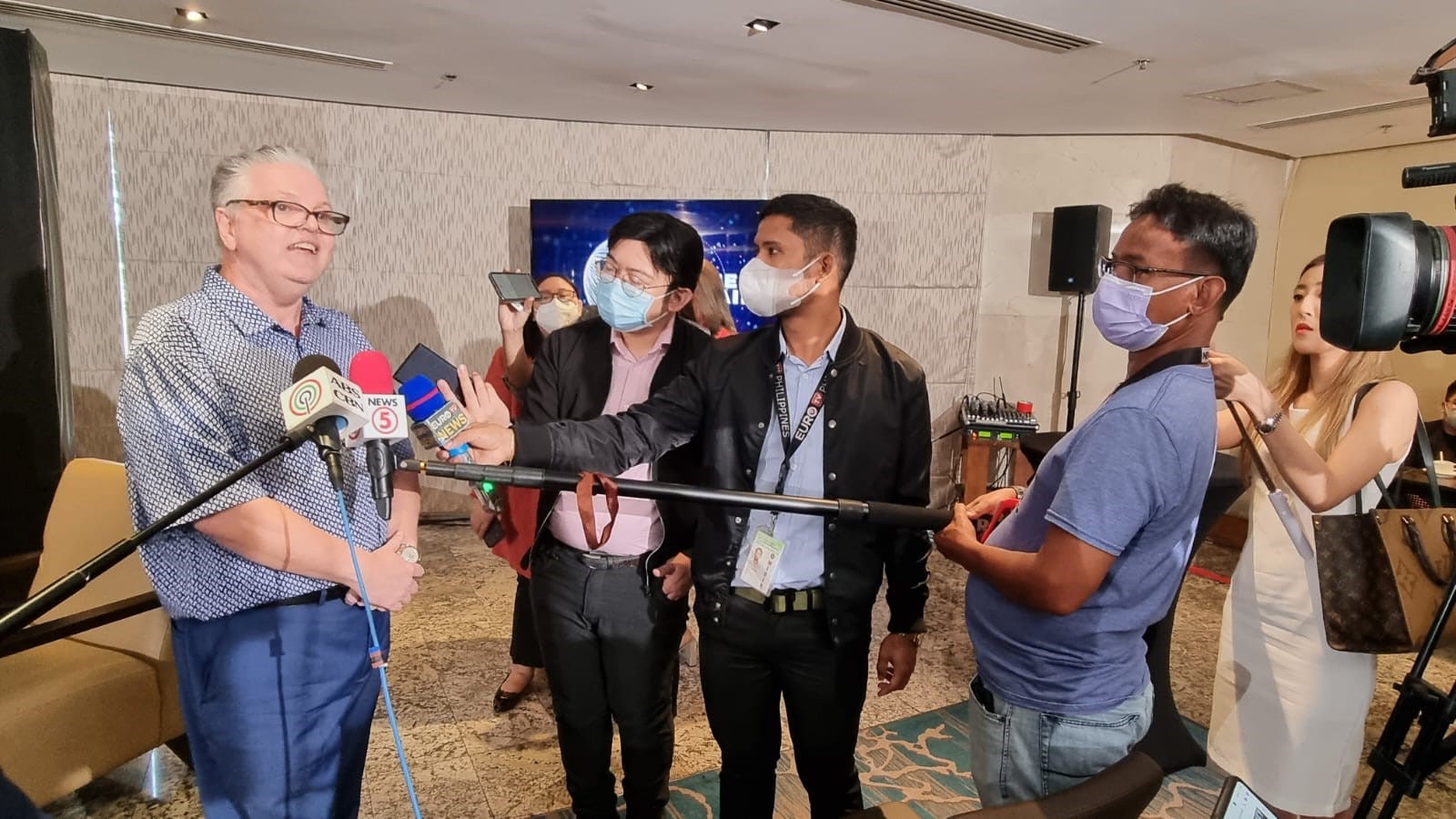 King, who is also the Country Director for the global leading blockchain research and development company nChain, will be attending the upcoming Philippine Blockchain Week that will run from November 28 to December 4 in Newport World Resorts, Pasay.
Unleashing the potential
An emerging market in Asia, the Philippines is gradually climbing its way up in terms of exploring newer technologies, placing 56th out of 63 countries in the 2022 International Institute for Management Development (IMD) World Digital Competitiveness Ranking, up two spots from last year.
However, the country's future readiness falls under par, ranking 58th out of 63 countries listed. This meant that while the Philippines easily adapts to change, emerging technologies are not widely adopted by governments, businesses, and society.
The national administration, with help from private sectors and non-profit organizations, previously launched various initiatives to future-proof the island country, including arming students with proper tech skills and creating fresh jobs that align with the changing technological landscape.
Building on these efforts, the Philippines will organize its first-ever Blockchain Week this year to showcase the full potential of the distributed ledger technology and other emerging innovations, including Web3, decentralized finance (DeFi), non-fungible tokens (NFTs), and the metaverse—topics that have been touched on during the inaugural Global Blockchain Summit in Bataan late in October, where industry leaders highlighted how these nascent technologies could digitally empower the country, its people, and the economy.
But the upcoming event in Pasay will be slightly different than blockchain events held in the previous months, as it will serve as a platform to educate and train participating business leaders and the youth about the aforementioned technologies and rally them to incorporate these into their services. This will be done in collaboration with global experts in the industry, including Nexplay Founder and CEO Gabriel Benito, Access Malaysia President Harpreet Singh, Women in Blockchain Philippines Co-Founder Gail Macapagal, Meta Persona CEO James Lim, Crypto Gaming Team Founder Jeff Hunter, Metaverse XYZ CEO Kate Hancock, TRON Founder Justin Sun, Global Leaders Collective Founder Lee Richter, and E! Entertainment Co-Founder Larry Namer.
Now that we got your attention…

Philippine Blockchain Week 2022 is jam-packed with innovators, entrepreneurs and CEOs from all over the globe!

Brimming insights and bursting knowledge will definitely be expected from the 28th of November up until the 4th of December! pic.twitter.com/WlWG2CJ1J9

— Philippine Blockchain week 🇵🇭 (@philblockchain) November 9, 2022
The entire list of speakers can be found here on the Philippine Blockchain Week website.
"We have all the capacity to become the blockchain capital of the world. Our experts in programming and digital just need to be taught how to use blockchain, and from there, we can dominate the world," Lim said in an interview with PTV's "Rise and Shine Pilipinas" program while expressing optimism that the week-long event will serve as a stepping stone to achieve such a feat.
The Father of Digital Marketing in the Philippines added that the event would also feature NFT, gaming expos, and networking events, creating an opportunity for attendees to mingle and spark collaboration with enthusiasts, rookies, and key stakeholders.
The upcoming event will also hold a gala night to recognize blockchain personalities and their efforts in bringing the technology to the table.
From learning talks and networking events, to exclusive NFT and Gaming Expos — experience it all at the first-ever Philippine Blockchain Week!

Get your tickets NOW at https://t.co/i3HBlNhX7Q – Limited Early Bird Discounts are available! pic.twitter.com/Rn8UihyUlg

— Philippine Blockchain week 🇵🇭 (@philblockchain) October 16, 2022
The Philippine Blockchain Week is open to everyone, get your tickets here!
Watch: The BSV Global Blockchain Convention presentation, Virtual Events & Blockchain
New to Bitcoin? Check out CoinGeek's Bitcoin for Beginners section, the ultimate resource guide to learn more about Bitcoin—as originally envisioned by Satoshi Nakamoto—and blockchain.