So you want to take out a Netflix subscription, top up your phone's pay-as-you-go credit, buy music or give someone Uber vouchers? Now you can open up your Centbee wallet and purchase all those products and more with BSV.
It's another step forward for the South African business co-founded by Lorien Gamaroff. Lorien explained that rather than trying to convince individual retailers to accept BSV, they realised they could "become a service provider ourselves …if we actually bundled value added services directly into the wallet". 
As a result, when you click on the Menu button on the Centbee home screen, the list that opens, containing all the usual wallet options like Send, Receive, and Transactions, also includes Buy. Pressing that reveals a list of mainstream services (below) that you can spend money with through the wallet app (some still in Beta, but likely available to wallet users in the next few weeks).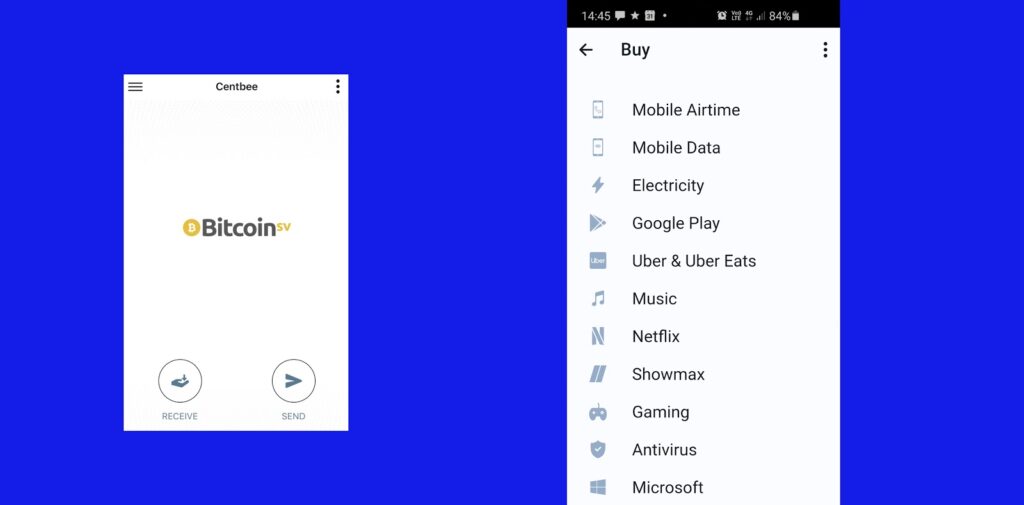 "So now what we've got," says Lorien,"is a reason for somebody to have Bitcoin – and not just for speculation".
It's a service that will have real practical value in Africa, where many people buy utilities with prepaid credit: "when you run out [of electricity], your meter will switch off and you'll have to go and purchase more electricity to top up". That means finding a vendor, probably someone in a store or at a particular location, where you pay, and receive a pin code to enter on your meter at home. Of course, it could be a considerable journey, and stores aren't always open. 
Now, instead, you can choose a certain value of electricity to buy through your Centbee wallet, and the wallet will return the pin code for you to enter on the meter. 
The secret to the range and depth of the businesses with which Centbee is integrated lies in the establishing of connections with service providers who already deal with multiple companies. "We didn't want to go and have to convince all the utilities across the country to sell us electricity for Bitcoin, or the mobile telcos, or all the other digital service providers like Google and Netflix. So what we have done is we've found partners that already have those integrations into those service providers. And we've got the relationship with those middlemen service providers."
Whilst Centbee has deep roots in Africa, for Lorien, the experience they are gaining there is just the first stage in a bigger plan: "We don't see ourselves just as a South African company. We do see ourselves as a global company. And now that we've worked out these models, we've managed to develop the technology and we also figured out what sorts of relationships are required to be able to roll these services out, we're certainly going to now look to expand into many other countries"
Hear the whole of Lorien Gamaroff's interview in this week's CoinGeek Conversation podcast:
You can also watch the podcast video on YouTube.
Please subscribe to CoinGeek Conversations – this is the 19th episode of the podcast's third season. If you're new to it, there are plenty of episodes from the first two seasons to catch up with, as well as plenty from this year.
Here's how to find them:
– Search for "CoinGeek Conversations" wherever you get your podcasts
– Subscribe on iTunes
– Listen on Spotify
– Visit the CoinGeek Conversations website
– Watch on the CoinGeek Conversations YouTube playlist
New to blockchain? Check out CoinGeek's Blockchain for Beginners section, the ultimate resource guide to learn more about blockchain technology.