This is cool industry to be in, says Jack Liu of the crypto finance company Circle: "even fintech that's not Bitcoin or not blockchain is not cool any more". People who once dismissed the sector as a scam or a fraud, may say they're still not ready to use crypto, but they now recognise that "this must be the future".
Jack graduated from his Canadian university in 2010 and started working for Barclays Capital in Hong Kong. He liked wearing a suit every day and "the money was pretty good too". But while the rest of his life was full of new technology, he says he found himself in a financial world that hadn't changed much from the Wall Street described in Michael Lewis' Liar's Poker in the 1980s: "structurally, something was off in finance".
He decided to quit his job and move to Silicon Valley and "see what was going on in the fintech world". And that's how he discovered Bitcoin, in 2013.
At the time, almost everyone in Bitcoin was from a technical, not a financial background. Jack wasn't even sure he'd be able to get a job. But he started a blog to share his ideas about crypto.
One feature of crypto compared to other Silicon Valley sectors, is that it was global from day one. Jack's international experience led to a job as director of strategy at the crypto exchange Kraken. At the time, it wasn't clear how you could make money in crypto. There were really only two ideas, Jack said: "there was mining and there was exchange".
Today, that's all changed and Jack's vision for the potential of the sector has increased dramatically: "money is just a representation of value". Once you have money that can move instantly across borders and be transferred using microtransactions, "that can underpin an entirely different economic structure for all of humanity".
And it's not just the practicalities: Jack believes that the crypto revolution will be so profound that it will "improve the quality of living for every single person on the planet. It will do that even for people who don't even know what Bitcoin is and will never own a Bitcoin."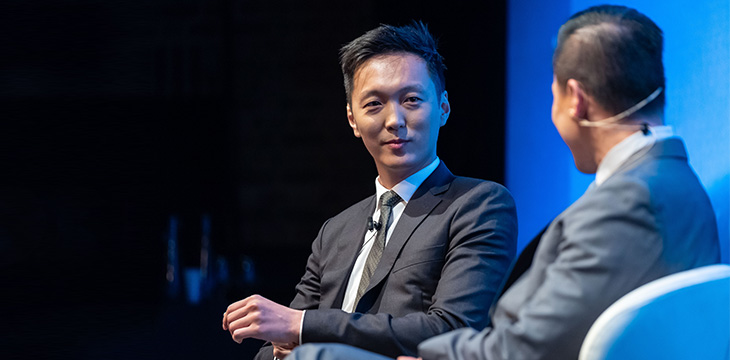 But how? Well, it would do that by allowing everyone to fulfill their potential by reducing the risks associated with pursuing the brilliant ideas that we all have, but mostly leave unexploited. Instead of having to give up your job to move onto a more interesting path, you'd "get paid every single minute" for making any kind of contribution – from flipping burgers to writing a brilliant book. And that's because Bitcoin would provide an easy economic transaction path to every single person on the planet.
"Work becomes a hobby," says Jack, "because for anything you do, you're going to be able to get the appropriate value for that contribution. There'll be no frictions in the Bitcoin world." It'll be like "the gig economy on steroids".
If that sounds like something you might not want, don't worry: it'll release creativity and allow us to escape from crude materialism. It'll be like "a digital Renaissance". And Jack goes further: "it'll have the kind of effect of making earth seem like heaven", and the way we live today "will be looked at by historians in the future, [and] seem like hell".
And if you do, by some misfortune, find that you aren't able to work, as long as you have previously worked in a Bitcoin economy, you'll be OK because the Bitcoin you have already earned will be worth more and more as time goes on.
Listen to Jack Liu on the latest CoinGeek Conversation podcast for more about why Jack moved from the conventional finance industry to crypto and his vision for the Bitcoin future:
Please subscribe to CoinGeek Conversations – this is episode 5 of a weekly podcast series. Just search for "CoinGeek Conversations" wherever you get your podcasts, subscribe on iTunes or listen on Spotify.
New to blockchain? Check out CoinGeek's Blockchain for Beginners section, the ultimate resource guide to learn more about blockchain technology.