One of the many facets of Bitcoin SV (BSV) that makes it stand out from other cryptocurrency and blockchain solutions is that it has a tremendous amount of development going on. There are certain experts, such as unwriter, who continuously bring new applications and solutions to the blockchain, but there are other projects that could use some financial support to help them be realized.
At the CoinGeek London Conference held last week, investments in BSV was one of the many topics that were discussed, and three individuals helping facilitate project funding participated in a panel discussion with Bitcoin Association founding president Jimmy Nguyen on what they perceive as driving further development.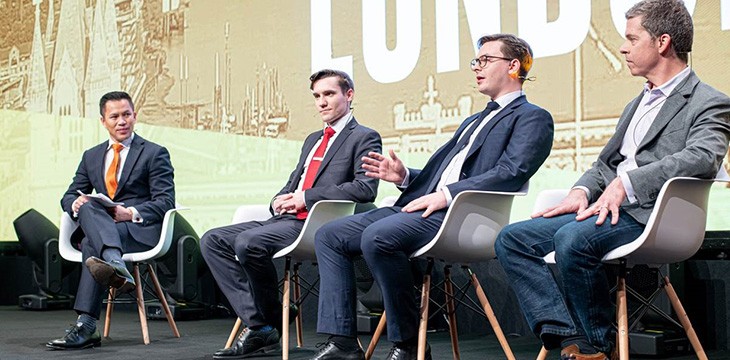 Alex Fauvel is a general partner of Two Hop Ventures. The company comes from a background of traditional investments, transformed into a group that specializes only in BSV project funding. It is based in the Netherlands and began concentrating on BSV when the partners realized that none of the other crypto projects, except for BSV, were creating anything that had tangible value. Fauvel now helps control an investment fund worth around €40 million ($43.53 million), and Two Hop prefers to concentrate on projects that deal with software or other key components that can help businesses interact with the blockchain. The firm typically shies away from anything related to social media or crypto exchanges.
Also on stage for the discussion was Jackson Laskey, the principal of Unbounded Capital, a venture hedge fund hybrid that also only looks at the BSV community as a place for its investments. Laskey recognizes that many crypto investment firms—to Unbounded's advantage—have dropped the ball in their investment targets, choosing to support projects that don't necessarily build any value to blockchain's acceptance among businesses. Instead, they chose projects that would, hopefully, see the massive gains like what BTC saw in 2017, but which aren't realistic.
Jackson points out that BSV is a values test, and is proving to be the only blockchain that is providing tangible, real-world solutions. He also offers a reminder that anyone who wants to learn as much as possible about BSV should check out the company's WhyBSV page, where an in-depth description of the project is given.
The last panelist comes from the Ayre Group's investment arm. Paul Rajchgod is the managing director of private equity investments for the Ayre Group, and has dedicated a substantial amount of his time and energy fielding funding requests from across the globe. Rajchgod has been impressed with the number of new opportunities that have been presented, and sees several key areas as being the best targets for new growth. Among these, and at the heart of Bitcoin, are solutions that focus on micropayments and limitless transactions, which are going to fuel the continued expansion of Bitcoin adoption.
In just a little more than a year, BSV has seen more real-world development than what can be claimed by other crypto projects that have been around for ten years or more. With its ability to scale above and beyond any expectations, and do so at fractions of the costs associated with other solutions, BSV continues to be the only platform that can provide what Satoshi laid out in his original Bitcoin whitepaper.
New to Bitcoin? Check out CoinGeek's Bitcoin for Beginners section, the ultimate resource guide to learn more about Bitcoin—as originally envisioned by Satoshi Nakamoto—and blockchain.