Australia has kicked off what will hopefully become an annual BSV event in Brisbane. The Enterprise Blockchain Conference, organized by Brendan Lee and the Elas team, brought together many people from the business, academic, and technology worlds to discuss use-cases and unique opportunities for BSV in Australia and its region.
Lee said he was impressed by the attendance and the businesses who responded to the event's call, given it was organized in less than two weeks. He concluded the day by hoping it would become an annual event. Watching the livestream, it was hard to gauge the exact attendance, but the applause levels and noise during audience participation sessions indicated it was healthy.
For anyone curious, the event livestream is still available for viewing here:
The Enterprise Blockchain Conference is actually a two-day event. While the main business presenters all spoke today, there's a developers' workshop on July 19 where speakers like SCrypt's Xiaohui Liu will speak about smart contracts, particularly how to port existing Ethereum projects over to the more-useful BSV chain.
The first half of the day featured speakers familiar with the Australian BSV industry. Lee himself and colleague Mo Jaber talked about Elas' history and work, while relative newcomer Morgan Coleman described how LaMint is changing social networks and creators' ability to monetize their work.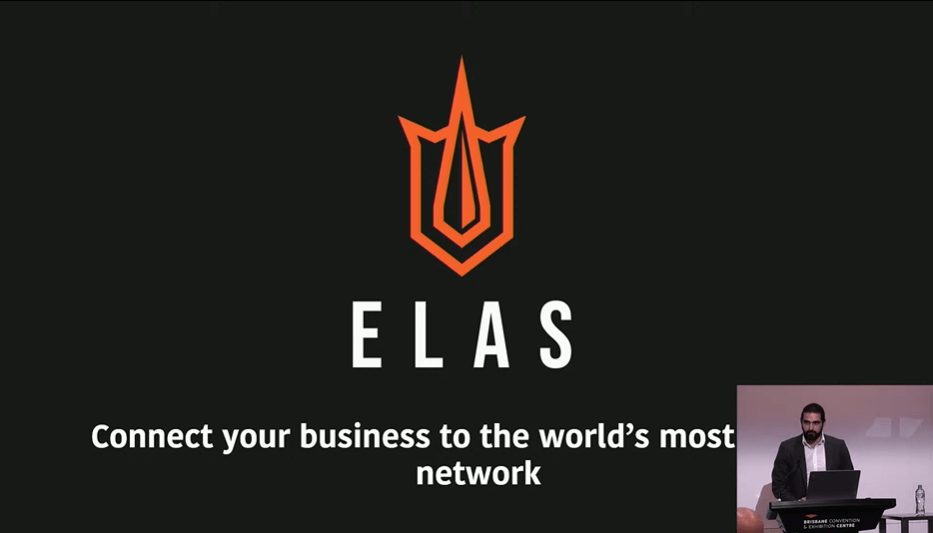 Throughout human history, where societies have flourished, it's been the ones that kept detailed and formal records of their activities, Lee said. We should stop thinking of Bitcoin as numbers or tokens, and imagine all forms of information/data. 
"Bitcoin could be anything from a bond or banknote to a national constitution," he added.
All business activities, and still much more
James Belding thoroughly described Tokenized's work in developing a full business suite for tokenizing various business processes and issued assets. He described it as a "foundation for all commercial activites between parties," explaining how a single dashboard interface could handle IP licenses, company interactions with governments and lawyers, and automated invoicing/payment functions. He said that the existing financial industry could gain a lot of stability by using BSV, and that industry is paying attention.
"We're actually talking to a lot of banks, real big players," he hinted.
Eli Afram spoke about his company AnonSurvey, explaining the importance of transparency and auditability in elections—a topic that hasn't been prominent in Australia historically but is gaining attention. 
"Absolutely, (vote) tallying should be transparent," and "transparency is a key strength of blockchain." Results can be audited years, even centuries into the future. Afram acknowledged the irony of the name AnonSurvey, but took the chance to explain how both formal elections and informal surveys could benefit from BSV technology. Results can be transparent and verifiable while protecting the identities of participants, he said.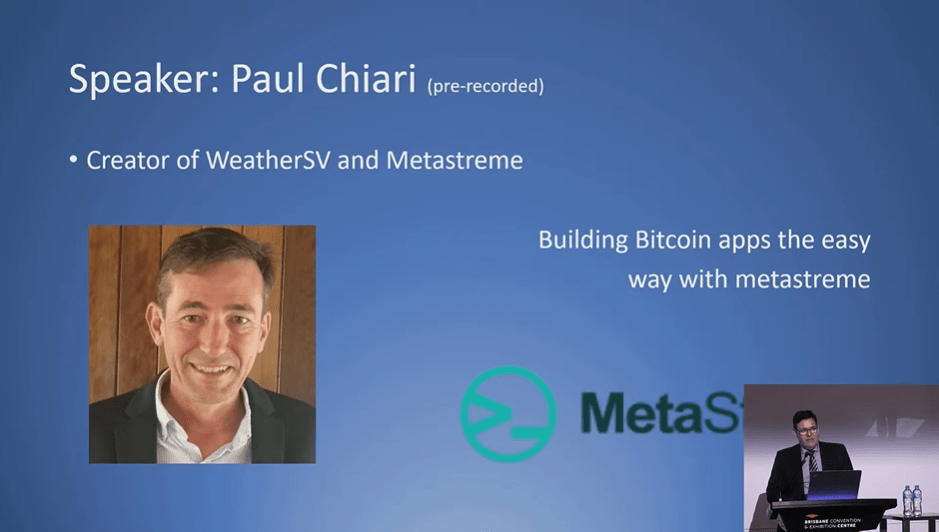 Paul Chiari and Daniel Keane spoke about BSV's role in processing environmental, agricultural and industrial data. Chiari's work with WeatherSV proved what could be done with simple weather data, and users can still use the system to record information for their own purposes via sponsored "channels." More recently, his MetaStreme project aims to make building on the BSV blockchain far more accessible for data-heavy users without previous technical knowledge or experience. His projects were borne from a desire to eliminate waste and inefficiencies by using an affordable, scalable blockchain—and from his dismay at how BTC developers had crippled the once-promising project.
Keane talked about Predict Ecology, his company that specializes in merging data from IoT devices with blockchain records to create useful and long-lasting environmental impact studies and other sustainability research. Using BSV allows for more interaction between different elements of a project, he said, eliminating the data silos of the past. He described various ways an environment could degrade (from physical to cultural) without its stakeholders being aware of problems until it's too late. BSV turns this complexity into something simple and far more cost-effective, he said.
Australia's Chinese Bitcoin contribution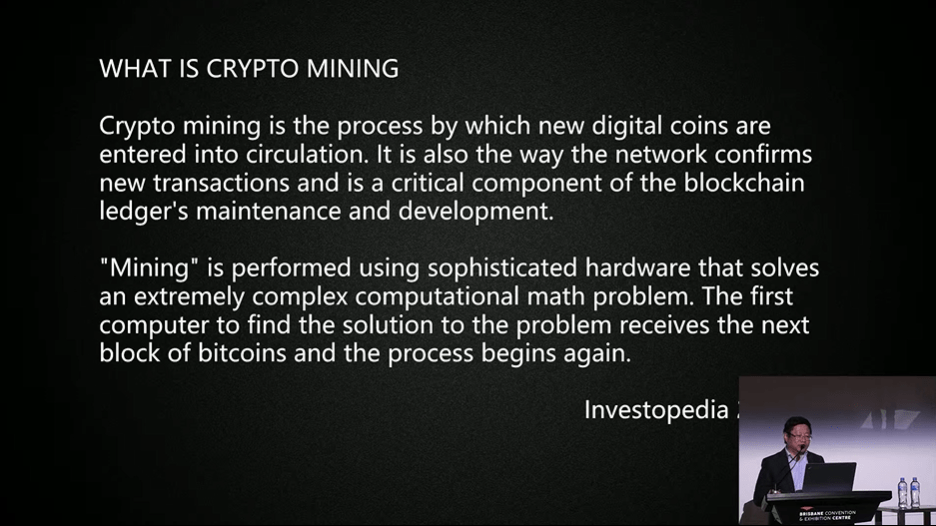 Throughout Bitcoin's history, there has been a high level of participation by the Chinese in Australia's local industry. This includes both resident Chinese expats and Australian-born citizens. That influence was evident in the event's speaker list, which was roughly 50% Chinese.
Australia has a large Chinese population (of both kinds), and this creates several opportunities for international blockchain businesses. Speaker Prof. Dr. Robert Lee highlighted this during his talk on the blockchain mining industry: it's a business that involves international interactions, but requires very local labor. This creates opportunities for anyone with bridging skills. Australia also has a current skills shortage in the (blockchain) mining sector, creating more employment opportunities.
CEO of Panda Angel Michael Choi provided the most novel use for the BSV blockchain at the event. His startup "myFabula" is a kind of posthumous Facebook experience where users can share their special moments and life stories with their descendants. myFabula allows them to upload images, audio, movies, and text to the BSV chain, deciding when or by whom they can be accessed. It's a shame that most people will leave no more than a plaque for others to remember them when we have the technology to tell our full life stories, he said.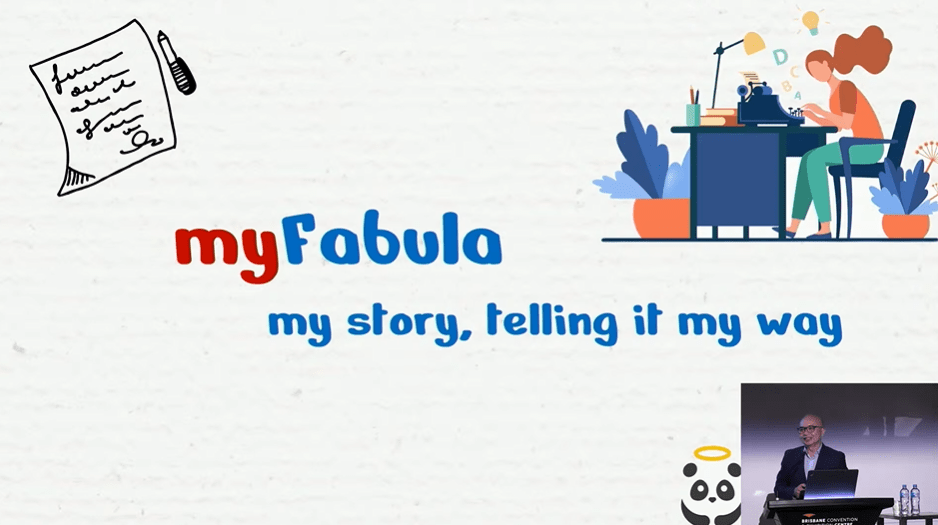 Wrapping up the day was Lise Li, head of the China/APAC Hub at Bitcoin Association and new startup Keyi Tech. Li shared some of BSV's vital statistics and numbers, comparing older presentation slides and their predictions with current network performance. 
On the day before her presentation last July 17, the BSV network processed 1.79 million transactions and over 17GB of data, with an average of 112.3MB per block. What's staggering was the cost—a BSV transaction on that day cost an average of US$0.00016, a number almost unheard of in proof-of-work blockchain networks. PoW is essential for security and (legal) accountability, she noted.
For a smaller-scale and local conference, the Enterprise Blockchain Conference Australia featured a compelling variety of speakers and topics, all of which showed a depth of knowledge and experience in their fields. It also showed how local industries have grown and matured. If the conference becomes an actual event, it will certainly be one to watch for both the Australian BSV blockchain industry and those from the wider geographic region. 
Checkout the Enterprise Blockchain Conference Australia – Brisbane 2022 here:
New to blockchain? Check out CoinGeek's Blockchain for Beginners section, the ultimate resource guide to learn more about blockchain technology.