Lise Li, head of BSV Hub – China, joined Day 3 of the CoinGeek Conference in New York to talk about the progress of BSV blockchain and the work of Bitcoin Association in China.
At a time when new block records are consistently being broken, and the ecosystem continues to expand globally, Li said BSV was already showing the world its ambition to become the one world blockchain.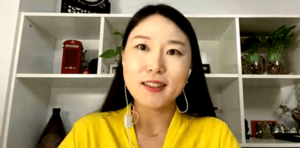 Li began the presentation with a quick overview of BSV development in China, with an eye on future plans for BSV and Bitcoin Association in China and wider Asian regions.
Li spoke of MetaID, DotWallet, Mempool, ShowPay, sCrypt—a selection of some of the BSV developments in China that are already making waves further afield. In particular, MetaID, which has come to account for as much as 70% of all daily mining fees in BSV since the summer, reflecting the rapid growth of Chinese developer influence in the ecosystem in just a few short months.
She went on to predict a surge of more development activity and new applications coming in the near future from China, due to the extensive innovator and developer communities in the country—all ably supported by the work of Li and Bitcoin Association.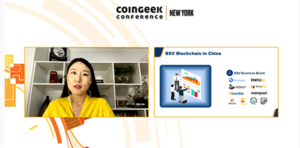 Since joining Bitcoin Association in 2019, Li said the image of BSV has been widely enhanced around China. Bitcoin Association has hosted a number of conference events in the country in recent months, as well as striking partnerships with academia and blockchain specializing universities.
The number of data transactions on the network has increased rapidly, with China accounting for strong growth here, notably through MetaID and in the creation of ever-bigger blocks on-chain.
In innovation, China has emerged as a world leader, particularly in NFTs, with 3 new BSV token solutions currently in progress with developers based in the country. At the same time, the number of users onboarded via consumer apps, workshops, meetups, and other events has skyrocketed.
Bitcoin Association has also worked closely with miners in facilitating smooth upgrades, as well as educating the mining community on how BSV works and why they should be involved in supporting the network. 
Li said the role of Bitcoin Association in delivering on BSV's objectives in China was to act as the bridge between the Chinese BSV community and the wider world. The success of BSV in China can also be seen in the successes of its apps. Like DotWallet, which has secured 1 million registered users and is integrated into a large number of BSV consumer apps. Sensible, which has issued over 5000 NFTs. Or sCrypt, which is making it easier to build smart contracts for BSV, with its IDE downloaded over 2100 times since launch.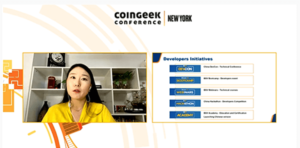 Bitcoin Association has made great efforts to expand the ecosystem in China, with a range of meetups and other events held over the past year, including the China DevCon technical conference, the BSV Bootcamp event for developers, the China Hackathon and training resources like BSV Webinars and BSV Academy. 
Later this month, Li announced the launch of the new BSV China Hub Shanghai, which will provide further developer support in helping advance the cause of BSV Blockchain within China. 
With so much going on in BSV in China and around the wider world, Li predicted a big year to come for the BSV blockchain, and the Bitcoin SV ecosystem. As China emerges as one of the world's most significant contributing regions to the development of Bitcoin SV, Li anticipates a growing workload for Bitcoin Association in supporting the developments, applications, and innovators of tomorrow in working with BSV.
Watch CoinGeek New York 2021 Day 3 here:
New to blockchain? Check out CoinGeek's Blockchain for Beginners section, the ultimate resource guide to learn more about blockchain technology.