As part of its Cybersecurity Month 2023 Kick-off, Digital Pilipinas has partnered with the Department of Information and Communications Technology (DICT) to discuss the importance of cybersecurity as Southeast Asia makes headways in its digital transformation.
The by-invite program was opened by Digital Pilipinas Convenor Amor Maclang, who extended her gratitude to industry players and enthusiasts who attended the event at the DICT office headquarters in Diliman, Quezon City.
"We want to have you work within the ecosystem," Maclang said, addressing attendees who wish to team up with Digital Pilipinas and the government in supporting the country's 12 key industries, which include agritech, edutech, fintech, wealthtech, SME digitalization and commerce, blockchain and digital assets, and ESG and green finance.
Maclang also took the opportunity to tackle the ongoing efforts of Digital Pilipinas to boost the country's collaboration with not only the Association of Southeast Asian Nations (ASEAN) member states but also with economies sharing the same vision as the Philippines as the world enters a new era of innovation.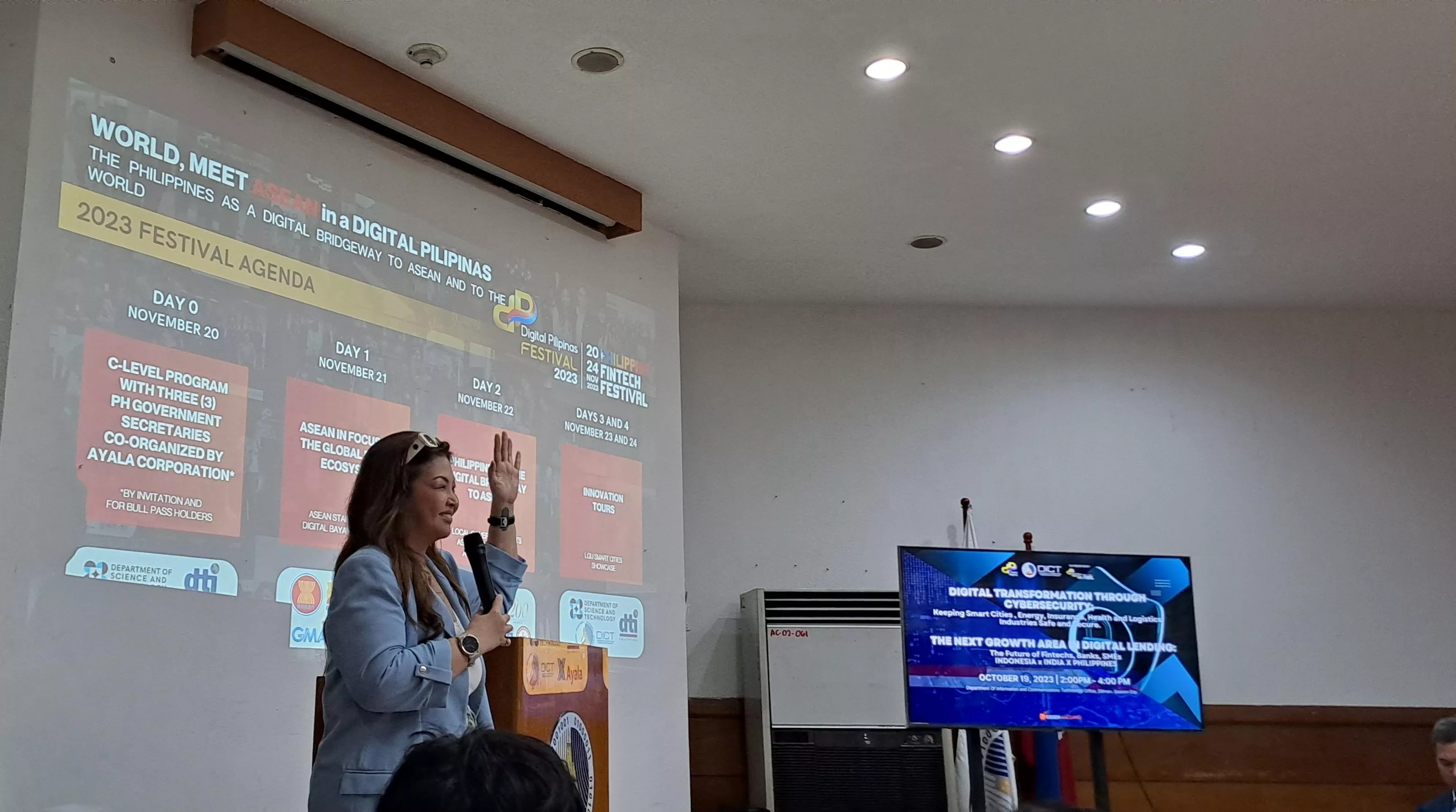 Speaking to a room packed with key players in the traditional finance and fintech industries, the largest estimated by organizers since the private-led movement began setting up conferences to encourage more to support its initiatives, Maclang gave a brief rundown of what's in store for ASEAN in the coming months and introduced its latest collaboration with state-backed agency DICT in promoting a digital economy ecosystem for the Philippines.
Maclang said the Digital Pilipinas partnership with the DICT is a strong testament of the national government's support to the local private sector. With this, Filipinos and tech disruptors can expect a variety of events targeted to support the planned and ongoing projects developed to ease and swiftly help the Philippines' digitalization. One particular event to look forward to is the Philippine Fintech Festival, slated to take place in November.
"The Philippine Fintech Festival will still be our strongest, but we are also rolling out multiple other festivals," she pointed out.
While fostering cooperation in the ecosystem is crucial to help industries adapt to technological advancements, Maclang stressed the need to prepare them for any risks that may come with embracing change. One such risk is cyberattacks, with financial institutions as the major targets of bad actors. While banks may be the most vulnerable to hacking, other sectors remain unsafe without the proper infrastructure to shield themselves from such a threat.
Just recently, DICT Undersecretary Jeffrey Ian Dy confirmed to local media that the country's state insurer, Philippine Health Insurance Corporation (PhilHealth), suffered from a data breach, with hackers demanding $300,000 in exchange for the compromised information of users. More reported incidents of hacking followed this, with bad actors infiltrating government websites and the Philippine Statistics Authority (PSA).
But these incidences are only a fraction of what media outlets report globally, with Collabera Digital Director of Sales Ivan Dianga saying at least 2,200 cyberattacks have been recorded daily so far this year, with an estimated $8 trillion lost in the process.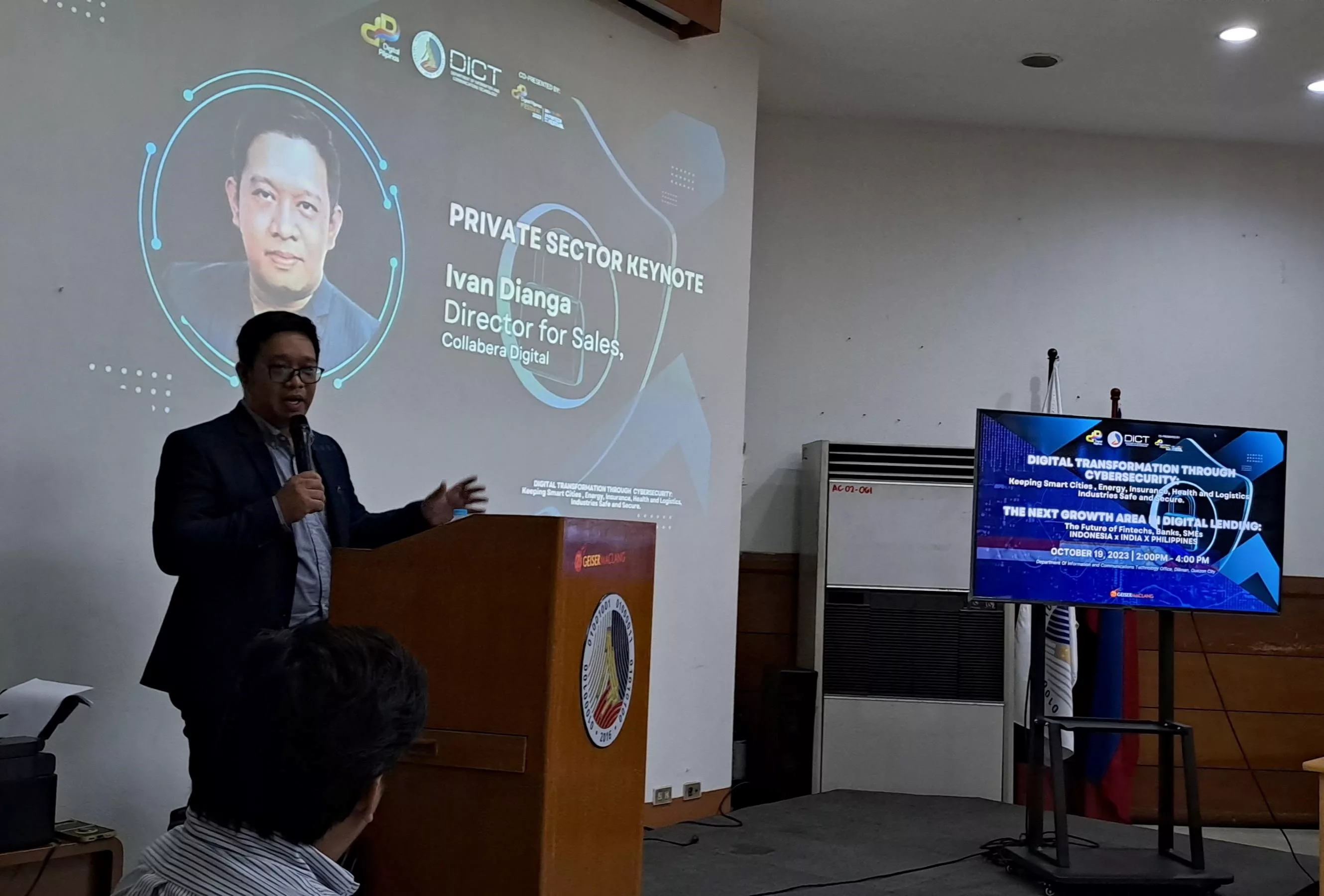 "The attacks are consistent, and the need for our persistence to preserve our systems is much needed," said Dianga during his short presentation on the significance of boosting the Philippines' cybersecurity measures.
"Everyone is now a target—me, you, everyone," he pointed out, adding that no geographical boundaries prevent attackers from infiltrating cyberspace nowadays.
Dianga emphasized the need for institutions to build their defensive systems to avoid becoming victims of such attacks.
"Do a maturity check… They should be able to identify the risks…and, more importantly, to respond in any incident," he said.
While ramping up cybersecurity measures can be costly, Dianga said this is crucial in safeguarding users and the integrity of the institutions, adding that being resilient to cyberattacks isn't always a good thing.
A panel with Quick Loans Online (QLO) General Manager Mary Ruth Oquendo, Digital Lenders Association of India CEO Jatinder Handoo, Global Dominion Financing Inc. Head of Business Development Aian Guanzon, Head of E-channel at Etiqa Noel Tordesillas, MyKartero President Arlene Martinez, Insight and Supply Chain Solutions Co-founder and CEO Pierre Carlo Curay, LABX CEO Tom Navasero, and Collabera's Dianga, also shared their best practices for keeping their databases secure.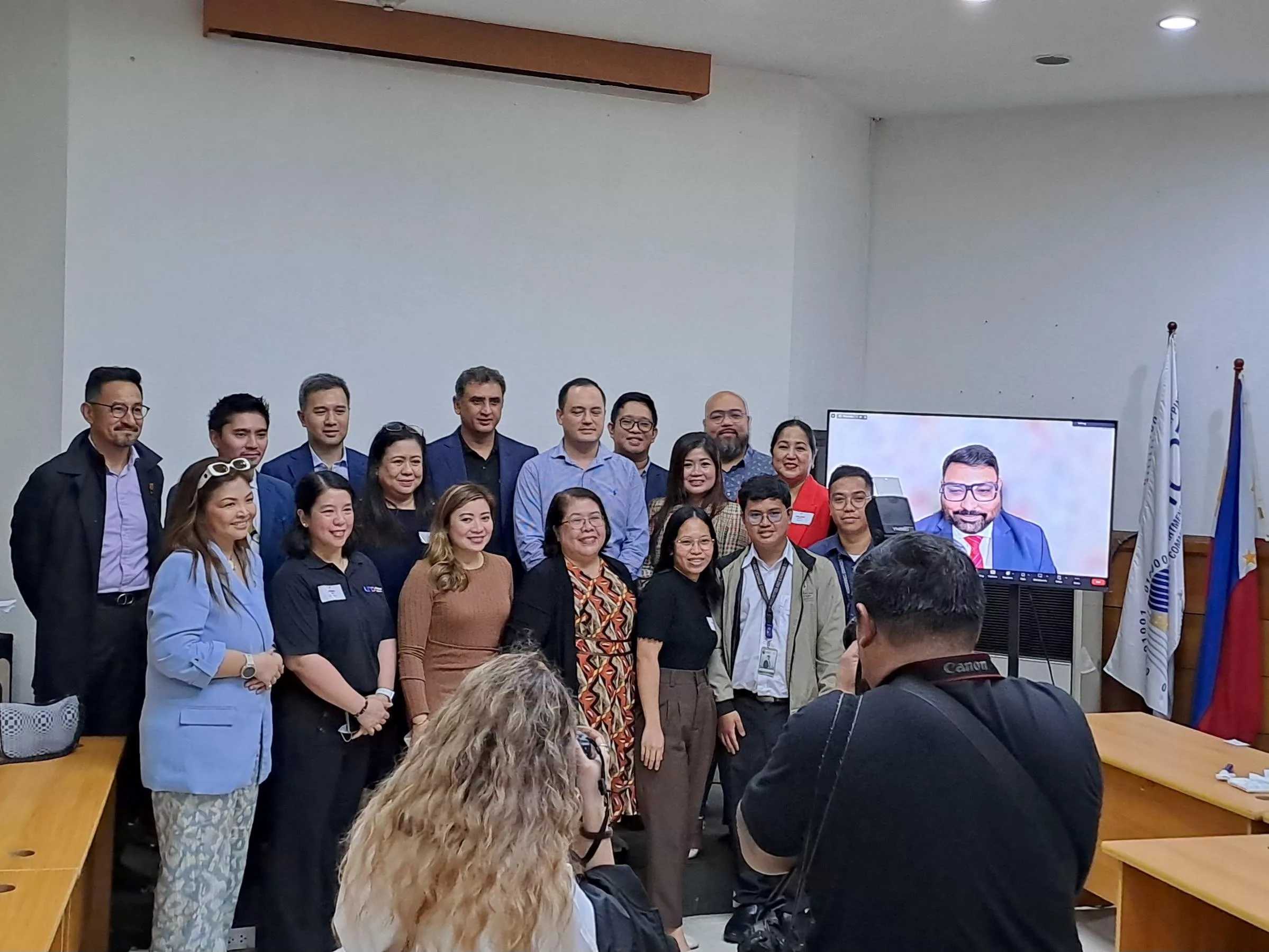 Tordesillas said while it is critical to invest in the best technology, it is equally vital to have the people guarding the system know how to use the advanced tools properly.
Dianga also emphasized the importance of understanding one's data system and products, as well as raising workers' awareness of cyberattacks.
The clamor for financial inclusivity
From cybersecurity, Digital Pilipinas also tackled the growing digital lending ecosystem in the Philippines, setting aside a fireside chat with leaders in the fintech space.
While traditional banking institutions continue to play a vital role in developing the Philippines' finance ecosystem, experts were quick to point out the massive contribution of digital banks in attaining financial inclusivity.
Unlike traditional banks, digital banks offer users quick and easy access to financial services, including credit and money lending.
Founder and CEO of UNO Digital Bank Manish Bhai said developing Filipinos' credit is crucial for the growth of the country and the economy.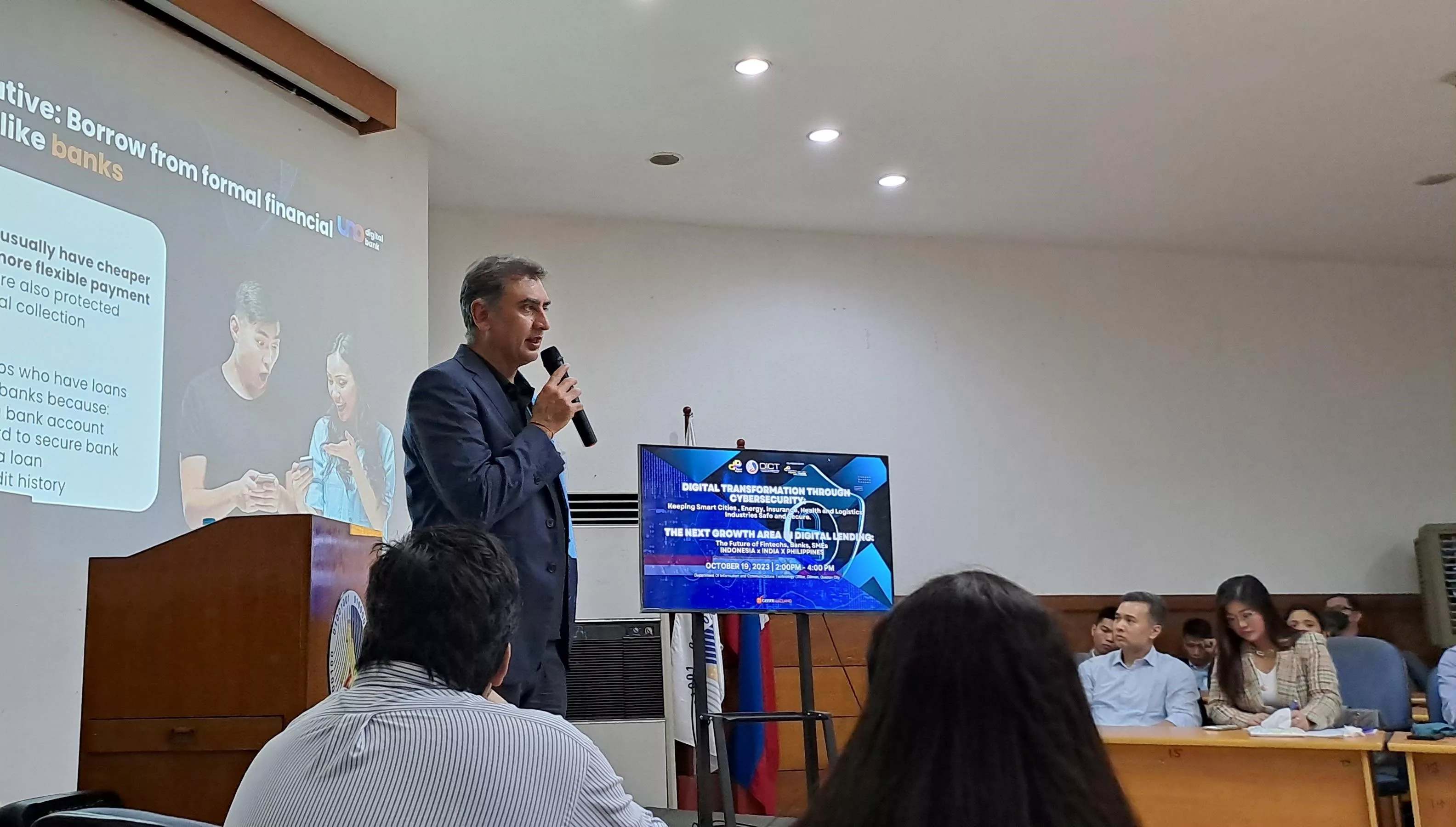 "Credit inclusion continues to be one of the biggest challenge" that the Philippines must address before it can fully achieve financial inclusion, Bhai said.
Currently, only 42% of adult Filipinos have credit cards. Bhai said this figure can be improved by tackling common issues that make it hard for locals to apply for credit, which can be done by:
Implementing single ID and API-based validation
Have an effective credit bureau
Income verification via open finance initiatives and direct API
SIM registration to counter fraud; and
Crafting online loan installment default laws/penalties aligned with physical cheque bounce
While these are crucial to achieving credit inclusion, Bhai stressed that collaboration with banks and the national government remains the most important.
Apart from building one's credit, the state of digital lending should also be improved, said the panelists moderated by PropTech Consortium Executive Director AJ Rocero.
While digital lending in the Philippines has grown immensely over the past five years with the advent of digital banks and digital wallets, panelists said several factors must be considered to maintain this growth, and one factor is to be able to provide users—particularly small- and medium-sized enterprises (SMEs), which are considered to be the backbone of the economy—accessibility to financial services, including loans.
Loans provide SMEs with the money that they need to continue operating amidst their limited cash, Guanzon said.
"It's fast, it's efficient with low interest rates," said Guanzon of loans offered by digital banks.
"SMEs need the cash here and now," he added.
Although digital banks offer low interest rates, Guanzon admitted that these are technically higher than what traditional banks provide. The edge, however, is in the technology.
At the height of the COVID-19 pandemic, several traditional banking institutions were forced to hike their interest rates while the majority of digital banks retained their pre-pandemic rates.
"Part of that is because we improve our efficiency in incorporating new technologies," said Guanzon.
Watch: Philippines needs to create more blockchain use cases
New to blockchain? Check out CoinGeek's Blockchain for Beginners section, the ultimate resource guide to learn more about blockchain technology.