One of the key focuses of using the BSV blockchain is environmental sustainability. If we can massively increase the number of transactions Bitcoin is capable of per second while keeping the energy usage in check, then Bitcoin can become the world's greenest technology.
On Day 2 of CoinGeek New York, movie star and environmental activist Adrian Grenier joined Lars Jorgensen of TAAL Distributed Information Technologies Inc. (CSE:TAAL | FWB:9SQ1 | OTC: TAALF), Dave Perrill of Compute North, Hassan "Hash" Qureshi of MNP, Steve Shadders of nChain, and Dr. Dhirendra Shukla of Gray Wolf Analytics for a panel moderated by Sean Griffin, the Director of Communications & Corporate Development at nChain for a discussion on how to achieve green Bitcoin.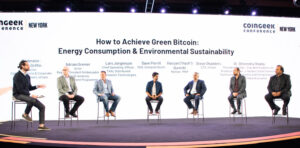 A brief introduction to the panelists
First, let's briefly cover who the panelists are and why they're interested in BSV and blockchain technology, and specifically how it can help with environmental sustainability.
Adrian Grenier needs no introduction to fans of movies and those who move in environmental circles. The star of the hit Netflix series Clickbait and the popular series Entourage introduced himself by explaining his passion for creating hyper-local, sustainable communities and businesses. It's a theme he hit on multiple times throughout the panel, explaining why these tents are crucial to environmental sustainability.
Dr. Dhirendra Shukla opened with some insights on the mindset changes required to attain goals related to sustainability. He spoke of his engagement with communities and his efforts to raise awareness of how they could not only help make the world a more sustainable place but how they could ultimately empower themselves and gain more control over their lives and local infrastructure in the process.
Hassan "Hash" Qureshi opened by noting how he's seeing an increasing number of questions about ESG from clients. This is particularly pronounced in the corporate sector and among publicly traded companies working towards ESG as part of a branding process as well as out of genuine concern from their consumers.
Lars Jorgensen of TAAL highlighted how miners need to play a role in environmental sustainability in BSV. He mentioned regularly upgrading systems, innovating and creating new, more energy-efficient hardware, increasing the longevity of hardware, and more.
Dave Perrill echoed the sentiments of Qureshi by explaining how large numbers of clients across a wide spectrum of the computing industry are digging, asking questions about environmental issues, and are increasingly concerned about their environmental footprints.
Steve Shadders is already well-known to those who operate within the BSV ecosystem. nChain's CTO covered a wide variety of topics, including an innovative idea about how mining rigs could be repurposed as heaters in certain parts of the world. This out-of-the-box thinking is what's needed in thinking of ways to turn some of Bitcoin's perceived weak points into strengths.
All in all, this panel brought together guests from a wide variety of viewpoints with insights into how the quest for environmental sustainability is driving change across industries of all kinds.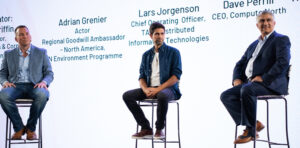 How can BSV become greener?
This being a CoinGeek conference, the conversion naturally drifted to how BSV could become greener. There were some interesting insights.
Jorgensen offered up a key insight into how miners need to not only think about the energy sources they use today but how future generations might have to deal with the waste of these energy sources. He mentioned how going nuclear was tempting, but that so far, TAAL had not done so and was still evaluating the situation. He also mentioned how, being in Canada, the BSV mining firm had access to hydroelectric power and was weighing up the short versus long-term benefits of various renewable options.
Perrill highlighted how it's important to remember that "not all green is created equal." This is an important point and highlights the need for BSV ecosystem participants to seriously weigh up the various options, considering not only immediate-term energy use but secondary factors like e-waste.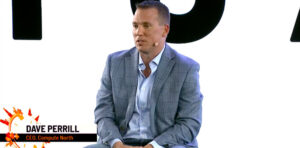 Dr. Shukla highlighted that BSV is already greener than many people think and that much of the debate is misguided to begin with. He emphasized the need to measure, quantify, and compare various industries. By doing so, he believes that the false narrative that Bitcoin (BSV) is environmentally unsustainable will be exposed as flawed. Grenier emphasized this point by pointing out that we still mint pennies at a great loss and that we should compare the energy usage of Bitcoin to the currency economic system before jumping to conclusions.
The need to differentiate between BSV and BTC
A key point that was made repeatedly by several panelists was the need to differentiate between BSV, BTC, and the different Bitcoin forks.
Much of the environmental concern surrounding Bitcoin is due to the BTC camp's decision to limit the block size to 1MB to achieve political decentralization. This limits BTC to 7 transactions per second, which makes the energy cost per transaction untenable. With governments and more and more companies making ESG a priority, such a system will never be allowed to stand in the long term.
However, BSV, which is the original Bitcoin protocol, doesn't have a scaling limit. It's already capable of 50,000 transactions per second and is scaling rapidly. Naturally, as you multiply the transactions per second, you reduce the energy cost per transaction. However, as multiple panelists pointed out, the differences between these two Bitcoin systems aren't widely understood by the public yet, and when they're made aware of them, many of the environmental concerns are dropped.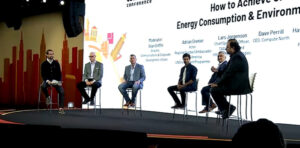 Both Jorgensen and Shadders emphasized this by pointing out that an educated analysis of Bitcoin's environmental impacts needs to consider its benefits and utility as well as its costs. Right now, the media tends to focus on energy use, and since BTC doesn't provide any utility whatsoever, it doesn't cover the potential benefits of Bitcoin. However, all of that can change when people become aware of the benefits of BSV, such as data integrity, greater transparency in the world, and the ability to conduct unlimited transactions per second with a fixed energy input.
What can people do to drive Bitcoin adoption?
The panel closed with an overview of what BSV enthusiasts, application developers, and others can do to drive adoption.
The general consensus was as follows; we're still in the infancy of this technological revolution. The best thing everyone can do is educate, build, and highlight the benefits of the system and how blockchain technology can change the world for the better.
Grenier closed by saying how excited he was for what this technology means for artists like filmmakers and how it can lead to a more equitable distribution of the rewards for creating art. Dr. Shukla pointed out that we've been through both the computing and internet revolutions before, and that this was similar in that it would reach a tipping point and then explode.
Shadders closed by noting how end-users don't even need to know they're using Bitcoin, a point made many times by Dr Craig Wright, who likens it to plumbing infrastructure.
Watch CoinGeek New York 2021 Day 2 here:
New to Bitcoin? Check out CoinGeek's Bitcoin for Beginners section, the ultimate resource guide to learn more about Bitcoin—as originally envisioned by Satoshi Nakamoto—and blockchain.