09:02 in the morning. I'm on YouTube along with 156 other people, waiting for Dr. Craig Wright's first The Bitcoin Masterclasses. The chat feed is busy:
"Good evening from Fukuoka, Japan"
"Hello from Melbourne Australia :)"
"​Hi Dale haven't seen your name lately!"
"Has it started yet?"
09.12. Musak begins, with a shot of Dr. Wright acknowledging applause (above)—or showing off his waistcoat.
09.30. The show starts—on time! Owen Vaughan from nChain introduces Dr. Wright. He's at a podium in front of a bookcase of academic-looking volumes. He tells us "I used to be a lecturer."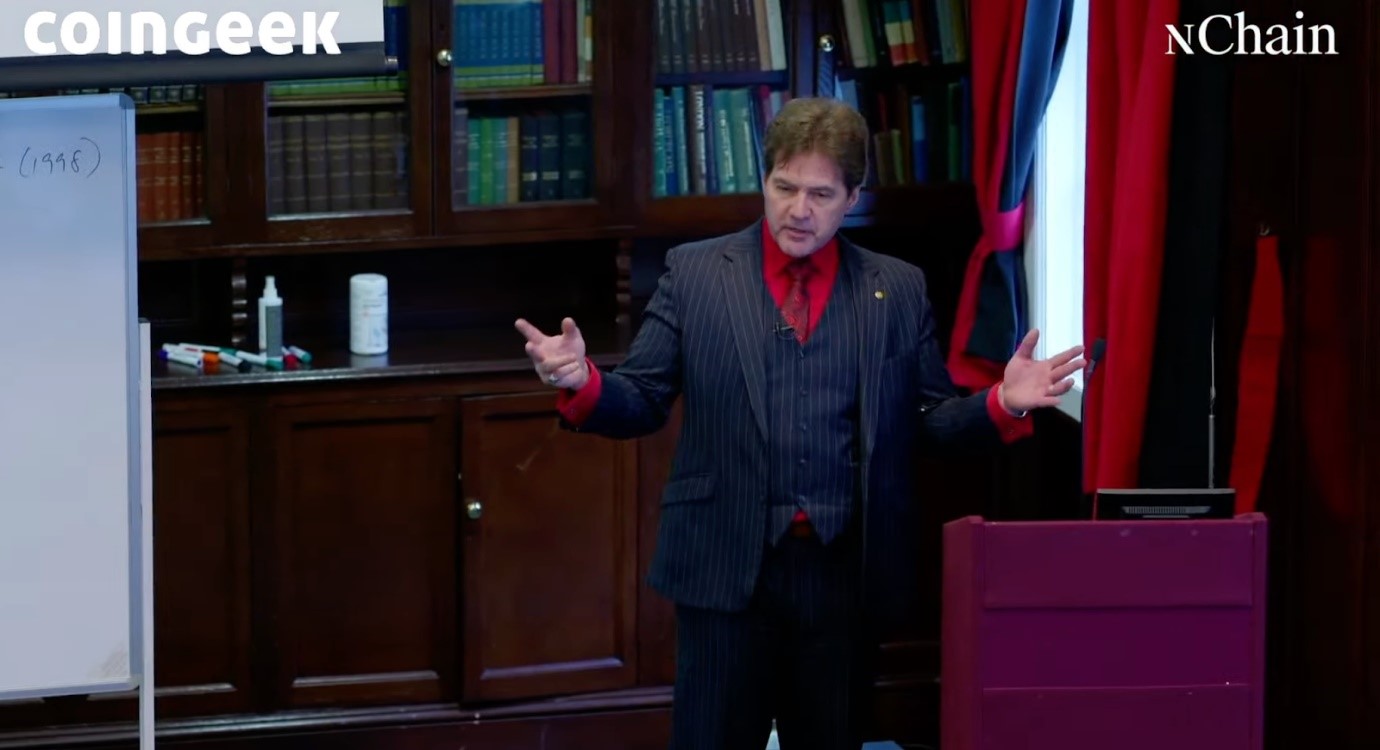 This is going to be interactive—so the audience had better stay alert. Can anyone tell him the most important aspects of a security system?
Yes …thank you (he writes them on the whiteboard in proper lecturer style):
Confidential
Integrity
Authentic
That spells CIA so today it's often now presented as "AIC," he tells us. (Why? Political correctness gone mad?)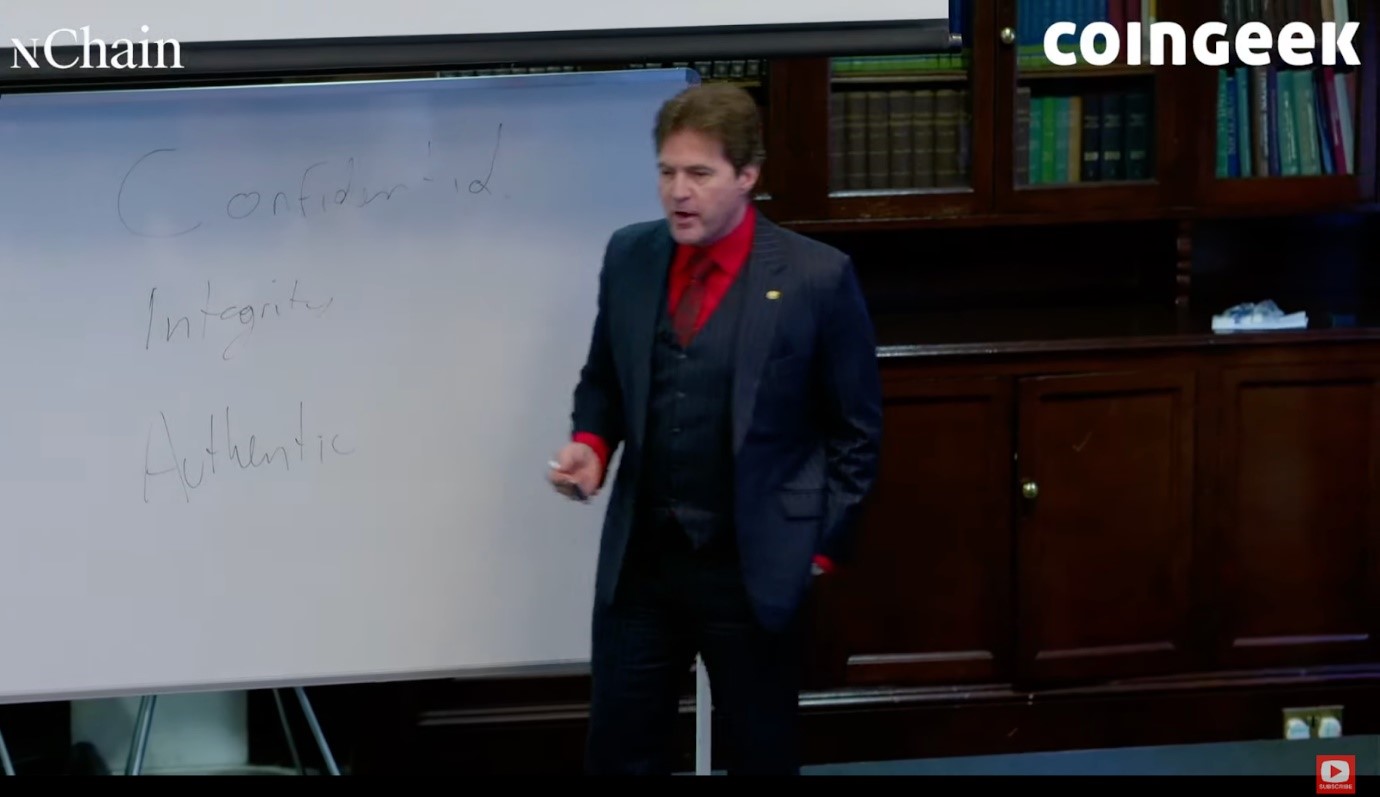 Now we're getting down to Bitcoin business: he's talking about how to improve on security systems which today are typically restricted to 'all or nothing' sharing. If you go to a hospital, 1,500 hospital workers can access all your confidential health records. But most of them don't need to know most of what's in them.
"Confidential means we share with the right people," he says. The Bitcoin White Paper "firewalls" identity from Bitcoin transactions, but "firewalling identity doesn't mean it doesn't exist." nChain is working on selective disclosure products, using the term "translucent" to mean seeing enough, as opposed to "transparent."
The audience in the hall was either shy or not fully qualified to be there. Questions like "how big is my TCP header in IPv6?" produced little more than some awkward shuffling. I don't know how many of us at home would have done better. I was lost when he got onto ECDH Diffie–Hellman signatures and announced "we're going to concatenate that."
To be fair, there was also plenty that the non-specialist could tune in to: how today's law around signing a document (digitally or otherwise) goes back to principles worked out by Livy and Cicero in Rome; how there were 300 attempts to make a cryptocurrency before Bitcoin; and how he has no time for the NFT hype—"nobody in their right mind is going to pay a quarter of a million dollars for 8-bit art."
He also told us that a typical passport today encodes lots of your private information in a form that can be read by an NFC reader (about £50 from Amazon). So if you wander round an airport with one of those, you can get to know your fellow passengers without them knowing you.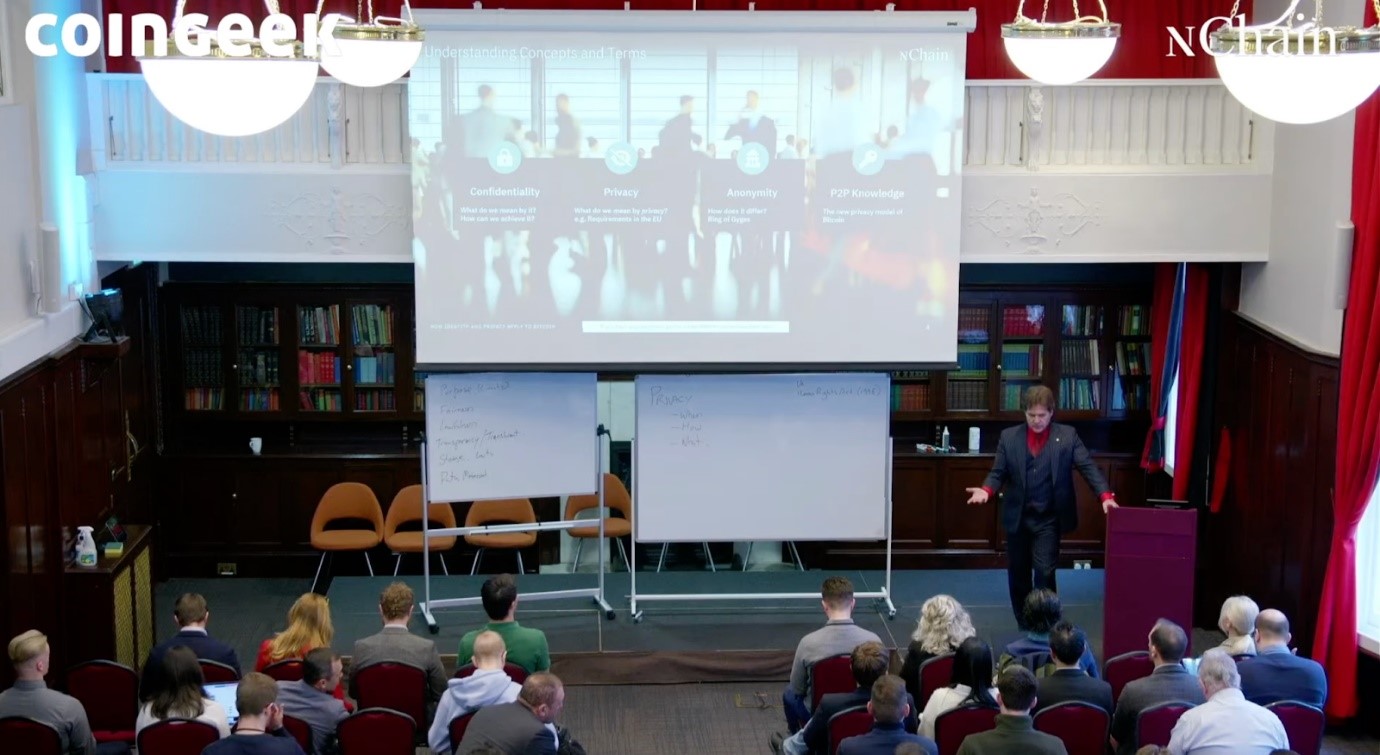 Behind the technology, there were some obviously heartfelt beliefs about how society should work. Instead of the anonymity of today's social media, Dr. Wright talked with approval of the 'coffee shops' of previous centuries (which were actually more popular for alcohol than coffee, he said). They were places where genuine debate took place—by people who knew who each other were. He praised Gandhi, Martin Luther King and Nelson Mandela for having the courage to speak out, at risk to themselves, for what they believed.
And he referred to Hari Seldon, the hero of Isaac Asimov's Foundation series of novels who invented the (fictional) science of psychohistory, which involves mapping events to keep a record of the world and predict its future. "Some of the ideas of blockchain came from that," he said.
There were also a few personal insights. About how after one CoinGeek conference, Dr. Wright ended up in a bar, having to settle a drinks bill for $25,000. And how he believes he's picked on by tax inspectors because of all the money he's acquired during his working life: "The fun bit of going from nothing to having wealth is the tax office loves you." And how his wife looks after their bank account—which makes it difficult for him to buy her a piece of jewellery for Christmas because she'd see it on the statement before he'd given it. Awww!
And that was just the first morning of the two-day The Bitcoin Masterclasses. So much more to come!
Tune in for The Bitcoin Masterclasses Day Two here.
Watch: The Bitcoin Masterclasses Day 1: Confidentiality, Privacy, Anonymity & Party to Party
New to Bitcoin? Check out CoinGeek's Bitcoin for Beginners section, the ultimate resource guide to learn more about Bitcoin—as originally envisioned by Satoshi Nakamoto—and blockchain.