CoinGeek's Chief Bitcoin Historian Kurt Wuckert wrapped up CoinGeek New York's Day 1 proceedings by catching up with Codugh founder and CEO Shashank Singhal on CoinGeek TV.
A BSV Hackathon winner in 2019, Singhal has gone on to develop his winning idea Codugh into an API marketplace where developers can exchange data and pay per call in BSV microtransactions.
He said his personal highlight of the event was watching this year's Hackathon finalists and picked Bitcoin Phone as his favorite. He said this stood out because the idea comes with a solid business plan and goes beyond just a cool development. Wuckert agreed that this was a fundamental element, often missing from exciting BSV developments. Where developers have focused on the tech side only, without paying enough attention to developing the business model. 
 In agreement, Singhal said companies leading with their business use case in BSV are standing out at the hackathons, and will ultimately win the day over those that are purely focused on the tech.
 For Codugh, the conference brought a number of new announcements about the business. Singhal said they released the public marketplace two months ago, and were preparing to launch a microtransaction token, as well as expanding their payment gateway to include data storage, renting compute functions, support for Internet of Things, and loads more—all tied back to the same central payment gateway.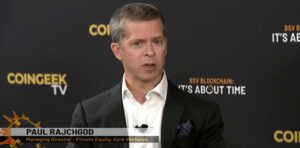 Wuckert also chatted with Paul Rajchgod of Ayre Ventures, who spoke about their investment strategy in the BSV space. He noted most prospective deals were rejected, as many as 90+% of the ideas being submitted to Ayre Ventures being deemed unsuitable for investment—for now.
Rajchgod said the firm was taking a long-term view and would consider backing companies at different stages of their development. In many instances, he said this was more about timing, noting that the firm works with other VCs in 'co-opetition' to advance their common interest in building up the BSV ecosystem. 
On his timelines for investment, Rajchgod said they typically looked at three to five years for BSV businesses to develop. He noted the enterprise rollout cycle is very long – but with sectors like gaming, where you need Bitcoin to play it, things move much quicker. 
Ayre Ventures is looking at expanding its portfolio across multiple sectors, seeding companies in as many industries as possible to advance the cause of Bitcoin SV. Now thinking about enterprise versus consumer use cases, he said Ayre Ventures are huge believers that this was the winning blockchain for enterprise.
Watch CoinGeek New York 2021 Day 1 here:
Watch CoinGeek New York 2021 Day 2 here:
Watch CoinGeek New York 2021 Day 3 here:
New to Bitcoin? Check out CoinGeek's Bitcoin for Beginners section, the ultimate resource guide to learn more about Bitcoin—as originally envisioned by Satoshi Nakamoto—and blockchain.