Day 1 of CoinGeek's New York conference kicked off with a range of exciting speakers from multiple industries. The day's presentations showcased Shashank Singhal, co-founder and CEO of Codugh. Born from Bitcoin Association's Bitcoin SV Hackathon at CoinGeek Seoul in 2019, Codugh brings a revolutionary solution to developers in the monetisation of their APIs. This is achieved through an API marketplace in which developers can earn from their code in real-time. All thanks to the instant microtransaction capabilities of the BSV protocol.
Application Programming Interface (API) is a software middleman between two programs, allowing them to share information and communicate with each other. "Think of it like hiring a plumber to fix your plumbing," Singhal said. "A program can hire an API to perform a function that it itself cannot do. Such as to get the latest Forex exchange rates or deliver the latest COVID-19 data."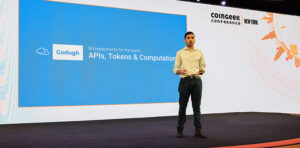 Currently, most traditional API marketplaces offer subscription-based plans to the API provider as the primary method of monetization. Codugh, however, allows users of the platform to call APIs in an on-demand 'pay-per-use' process implemented via microtransactions.
How does it work?
The process is simple. Firstly, a developer or business codes an API and then uploads their endpoints to the Codugh API marketplace. Once uploaded, secondary developers using the platform can then search, find, and call the API routed through Codugh's gateway. Once the secondary developer has called the API and the call is returned successfully, the gateway instantly bills the secondary developer. Microtransactional payments are then sent to the primary developer every time their API is called.
"The Codugh gateway handles authentication, security, logging and billing processes," Singhal said. "APIs are sorted based on the number of calls they receive and delivered to users based on their specific preferences and requirements."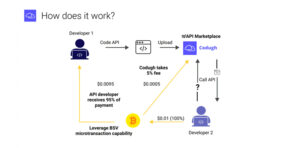 Some APIs currently available now on Codugh's marketplace include COVID-19 data, stock and cryptocurrency market tracking and food/recipe APIs. Most notably, blockchain explorer WhatsonChain will list parts of their API set, available to users of Codugh soon. Such listings allow developers access to reliable data that can be seamlessly integrated into their applications.
Codugh's array of features allow developers to focus on building instead of the management or logistical hurdles many developers face today. Codugh handles everything from API and user management to providing analytics, security, distribution, and marketing. Additionally, Codugh is fully compliant with international standards relating to AML and CTF legislation.
Token solution to customer friction
55% of Codugh's current customer base are non-digital currency developers. As such, Singhal points out a major friction point in Codugh's onboarding. These developers may be unfamiliar with the digital currency space. They would need to use a digital currency exchange, to then transfer money between the exchange and Codugh's platform. These additional steps deter customers and make for a tedious customer experience.
The solution to this problem lies within tokenization. Codugh has announced the world's first and only microtransaction token, CUSD. This allows BSV to become the internal plumbing as a payment processing network, rather than the primary medium of exchange between users.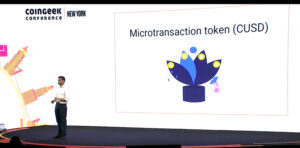 As such, a user can deposit fiat currency via credit card directly into Codugh's platform. In exchange for fiat, the user will be issued an equivalent amount of the CUSD fungible token. The conversion rate for $1USD is fixed and equal to 10,000CUSD. This corresponds to 1CUSD = 1/100th of a US cent. Once users have converted to CUSD, they can then interact within Codugh's economy. Withdrawing is just as easy, simply reversing the conversion process back to fiat currency and directly into the user's bank account.
"Non-cryptocurrency developers can use BSV as a payment-processing network to send microtransactions, without even realising that they are using BSV," Singhal said. The CUSD token operates via the STAS token protocol, providing Codugh with a decoupled functionality from Bitcoin's price fluctuations and volatility.   
What will the future hold for Codugh?
Codugh's vision is vast, and their in-house payment gateway opens the door for many opportunities in future. Such technological innovations include cloud storage. This "will allow users to store data, pay per hour/per kilobyte in real-time microtransactions for their storage."
Additionally, computing services can be implemented through Codugh's future compute platform. Users of the platform can rent another user's hashpower and 'pay per function for its use.' Similarly, the Codugh platform can be implemented into IoT devices and allow users the same pay-per-use method when renting an IoT device.
Finally, Codugh's future vision includes an internal service management (ISM) platform. "The Codugh ISM platform will allow companies to manage their internal microservices in a secure and hassle-free manner," Singhal said. "This means that companies with complex microservice infrastructures can implement the Codugh gateway into their microservices themselves. The Codugh gateway can then handle authentication, logging and security in inter-microservice calls."
The release of Codugh's microtransaction token creates a streamlined onboarding process within Codugh's platform that will help tap into the larger developer space outside of BSV. We look forward to seeing the platform grow and provide economic opportunity to many developers in the future.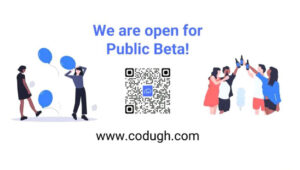 The Codugh public beta program is currently ready and available for any software developers and businesses here.
Watch CoinGeek New York 2021 Day 1 here:
New to Bitcoin? Check out CoinGeek's Bitcoin for Beginners section, the ultimate resource guide to learn more about Bitcoin—as originally envisioned by Satoshi Nakamoto—and blockchain.