The Consumer Electronics Show (CES) ended on Friday, January 7, and Kurt Wuckert Jr. was on hand once again to bring the latest from the Bitcoin SV booth at the three-day event. On the third special edition of the CoinGeek Weekly Livestream live from Las Vegas, Wuckert brought on representatives from HandCash, VXPASS, SmartLedger, and Built by Gamers and shed more light on the reception that Bitcoin SV startups were getting at the event.
CoinGeek's chief Bitcoin historian said that even on the last day of CES, the Bitcoin SV booth was still getting quite some traction.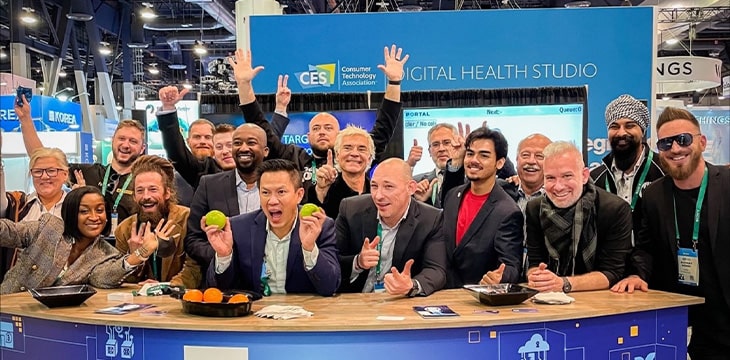 "I've probably talked to 200 people myself. We have many people here talking to the passersby about the power of a blockchain that can scale and change the world through frictionless transactions and increased data integrity," Wuckert said as he began the show.
Joining Wuckert was Zachary Weiner, the founder of VXPASS, a BSV-powered platform that allows users to own their data. During his interactions at CES, Zachary said he met people who admitted that they held fake COVID vaccination passports just to attend the event. This is what his company is working to finally stamp out, Weiner told Wuckert Jr.
VXPASS is at the heart of one of the most fiercely debated issues in recent years—whether the government should force the people to get vaccinated. At CES, Weiner was faced with questions on why he's helping the government with its anti-libertarian agenda, criticism which is often leveled against him and his company. As he revealed, he has focused on showcasing his company's ability to record and store user data without revealing any personal verifiable information. 
Data integrity is especially crucial at a time when we're facing a deadly pandemic that's taken over 5.5 million lives. It's even more critical for people who deal with at-risk groups such as the elderly or those affected by other infections. They "can't take reasonable risk mitigation measures if you're not working with real, actionable, verifiable data," noted Weiner.
VXPASS is one of the blockchain startups that have gone beyond the hype and have rolled out their products, brought in clients, and are making money already. According to Weiner, one of the pitfalls they have avoided is being a digital currency-only platform. Most blockchains startups target the Bitcoin ecosystem, even accepting payments only in digital currencies. VXPASS is already working with fiat currencies and is targeting people who are not necessarily blockchain fans.
SmartLedger's Shawn Ryan joined the livestream to reveal that the event had been a great success for his startup. In his interactions, he found that many people are interested in what blockchain technology can do for their enterprises, an area in which BSV has dominated.
One of the areas that SmartLedger has made the biggest strides in is environmental conservation through its proof of ESG. It has partnered with hemp farms that measure the amount of carbon being dissipated which is then turned to carbon credits for blockchain and digital currency firms.
SmartLedger has also made a splash in the online ticketing industry through TicketMINT, a solution that combines ticketing and blockchain NFTs to empower artists, venues, and management. 
"It mitigates fraud and greatly reduces the chances of third-party ticket gouging. It also adds a ton of key features, brings in the metaverse into live and virtual events, NFTs and more," Ryan outlined.
Built by Gamers (BBG) was also at CES and Taylor Searle joined the livestream to talk about his experience at the event. Unlike the other startups at the BSV booth, BBG is not a traditional blockchain company. Rather, it's an esports company that has been integrating the BSV blockchain.
One of the areas BBG is targeting is gamifying the fan experience by awarding fan tokens for certain predetermined actions. This creates different levels of fans, and ultimately, the super fans can earn discounts on merchandise or get free shows in time. 
Searle also talked about the growth that the BSV space has seen over the years. At first, there was a strong sense of direction being offered by developers such as nChain. However, Searle said projects are springing up to solve specific problems users encounter or fill a void. It's no longer about a unified approach to solutions but rather a diversified pool of competing ideas, projects, and personalities. This in itself is the ultimate mark of growth.
Brandon Bryant was just as impressed at the amount of attention that Bitcoin SV has received at CES. The HandCash software developer delved into how founders Alex Agut and Rafa Jimenez have made simplicity and ease of use the guiding lights at HandCash. This has been key in making HandCash the universal wallet, whether for just storing, sending, and receiving BSV or for use in other apps.
Bryant believes that the "let me tip you in Bitcoin" culture, which we have lost over the years, is about to make a comeback. This culture went down because it was based on altruism, where people were doing it just because they love Bitcoin. However, with HandCash launching fiat onramps, those who onboard new users will be getting some compensation for it, incentivizing them to be even more aggressive in their onboarding.
CoinGeek's Patrick Thompson revealed that he had dedicated the third day to a "man on the street" mission in which he talked to dozens of people on the streets about Bitcoin SV, blockchain technology, NFTs, the metaverse, and more.
really excited to be here in CES Las Vegas showcasing our really cool scanner and demo. @RealCoinGeek pic.twitter.com/Qq34dlBt92

— Mason Almazan (@MasonAlmazan) January 7, 2022
After three days of interactions, conversations, new partnerships, product launches, and more, the special edition of CoinGeek Weekly Livestream from the CES in Las Vegas came to an end with a goodbye wave by the entire BSV team at the event.
Watch: CoinGeek Weekly livestream coverage of CES Day 1
Watch: CoinGeek Weekly livestream coverage of CES Day 2
New to blockchain? Check out CoinGeek's Blockchain for Beginners section, the ultimate resource guide to learn more about blockchain technology.