The CoinGeek Weekly Livestream special coverage of the Consumer Electronics Show in Las Vegas continued into the second day. This time, host Kurt Wuckert Jr. broadcasted live from the event floor and brought special guests to talk about the show and the massive interest that Bitcoin SV startups had been getting for the second consecutive day.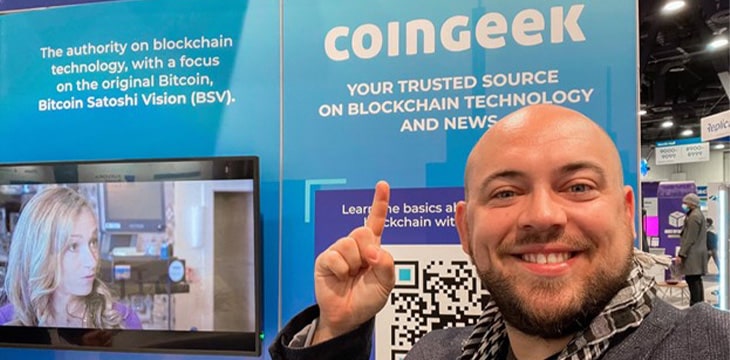 Like on Day 1 of the event, the BSV booth attracted quite some interest from the attendants, armed with all manner of questions and comments. 
They ranged from "Why should I care about blockchain?" to "Can you help me with my Pancakeswap transaction?" to "Where has the money I invested in a certain project (read scam) gone?"—all of which Wuckert Jr. and the BSV battalion were happy to answer. They also educated the people about Satoshi's vision of Bitcoin and how it was only being fulfilled through Bitcoin SV.
On Day 2, Wuckert Jr. brought special guests from the BSV booth: first was Bryan Daugherty, Bitcoin Association's technical outreach specialist and regional manager for North America. Daugherty said the CES had been one of the most productive events in terms of interacting with people who want to explore the Bitcoin blockchain. 
"Outside of CoinGeek Conferences, I'd say this has been the most productive uses of my time. There has been a steady stream in not only the Bitcoin Association booth but some of the other entities that are here with us," said Daugherty, having attended quite a number of events because of his role at Bitcoin Association.
He also noted that the CES attendants were less interested in the politics of the blockchain world and more into what the technology can do for their businesses. This has been the mantra that the BSV ecosystem has based its growth on—building the applications as everyone else speculates on everything else.
In his interactions with the attendants at the event, Daugherty found that most people outside the blockchain space have no idea how powerful the BSV blockchain is. He blew people's minds when he told them that BSV is already doing tens of thousands of transactions per second, something that all these other blockchains can only aspire to deliver in the not-so-near future.
I have spoken to hundreds of people at #CES this week. None of them knew that blockchains could scale.

They asked why nobody ever showed them how powerful the technology was.

The answer: because most of the technology isn't powerful.

Bitcoin SV is! #BSV #bitcoin pic.twitter.com/hlMRIWplQi

— Kurt🍌🍌GorillaPool.com ✪ (@kurtwuckertjr) January 7, 2022
Greg Ward from SmartLedger also joined the livestream, describing the startup as a blockchain distribution channel focusing on enterprise solutions. As he revealed to Wuckert Jr., he began as a freelancer with a keen interest in blockchain solutions. After launching Dapp Institute to grow his passion, he linked up with the founders of SmartLedger and has been enthralled in the Bitcoin SV space ever since.
The environmental impact that digital currency mining is having has become the subject of intense debate the world over. It has led to the mining purge in China and constant disruptions in energy supply in Iran, Kazakhstan and now Kosovo. In the U.S., Congress is set to hold a hearing this month on this impact, as CoinGeek reported.
As Ward revealed, SmartLedger is working on a solution through its innovative Proof of ESG. It started with looking at the energy miners consume vis-à-vis the value they produce. The company then identified hemp as a unique plant that can offset carbon dioxide at a much higher rate than most plants. 
#CES2022 Bringing the power of #scalable #Blockchain #solutions #BitcoinSV #SmartLedger, @OmniscapeXr, @VXpass, @hastearcade, @builtbygamers, @BitcoinAssn, @JimmyWinSV, @kurtwuckertjr, @CryptoAmerican @foundrium, @rallieon, @TylerFarnsworth, @DevelopingZack https://t.co/i7j0IHD361 pic.twitter.com/9tfrMc5lLg

— Greg Ward (@Codenlighten1) January 6, 2022
SmartLedger has teamed up with a Virginia-based firm that's using IoT to monitor the carbon dioxide being offset at any one time. Once it's recorded on the blockchain, it's easily verifiable, and miners can then claim the carbon credits from their involvement in the project.
Haste Arcade's Eric LaForce jumped on as well to talk about how his startup is changing the multi-billion dollar gaming industry. As Wuckert Jr. observed, Haste is one of the biggest beacons of BSV's "Earn and Use" model, which breaks away from industry-wide speculation and focuses on real use cases.
Haste has managed to navigate the Bitcoin ecosystem while steering clear of the politics in the space. Eric attributes this to the fact that he and many other developers are new to the space and all they want to do is build.
The BSV startup that has attracted the biggest crowd at CES has definitely been Omniscape, and Transmira's mobile developer Mason Almazan joined the livestream to narrate his experience at the event. For him, the Bitcoin SV journey started in earnest at CoinGeek New York Conference, and he's now part of a team that's pioneering what has been billed as the future of tech—the metaverse.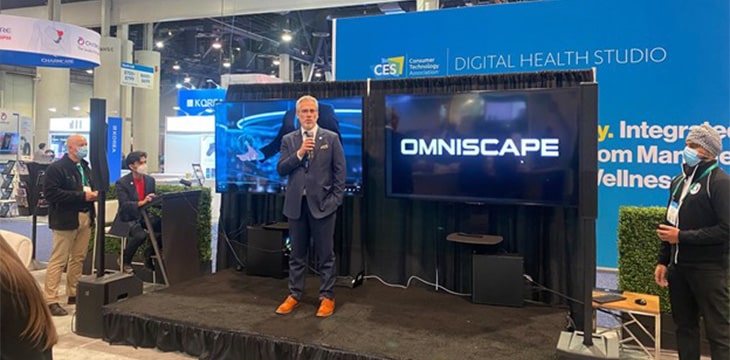 "I like to describe the metaverse as something that anyone can enter and create within themselves, but our big goal is to give a nice platform for the metaverse itself, so that people can come in with their own experiences." he told Wuckert Jr.
CoinGeek's Patrick Thompson was part of the BSV group at CES as well. He revealed that he had spent much of his time at the event looking into metaverse-related projects and singled out Omniscape for making a big impression in the space at CES.
Thompson said that in his interactions, he had found that most people are interested in the utility of a blockchain network, looking beyond the quick dollar. 
Watch: CoinGeek New York panel, Investing in Blockchain Ventures
New to Bitcoin? Check out CoinGeek's Bitcoin for Beginners section, the ultimate resource guide to learn more about Bitcoin—as originally envisioned by Satoshi Nakamoto—and blockchain.