The future may be unwritten, but Bitcoin SV blockchain technology has a major role to play in its writing.
The final panel of the final day of the BSV Global Blockchain Convention in Dubai was all about The Future World with Blockchain, in which BSV Blockchain Association founding president Jimmy Nguyen probed a select group on both what they expected the future would look like and what they wanted it to look like.
On hand to answer these existential questions were Somi Arian (Founder/CEO, FemPeak), Latif Ladid (Chair, 5G World Alliance and President, IPv6 Forum), Quirze Salomó (CEO, Blockchain Center of Catalonia), Dr. Usman Gambo Abdullahi (Director, IT Infrastructure Solutions and Chairman, Nigeria Blockchain Adoption Strategy Committee, National IT Development Agency), and Dr. Craig S. Wright (Chief Scientist, nChain).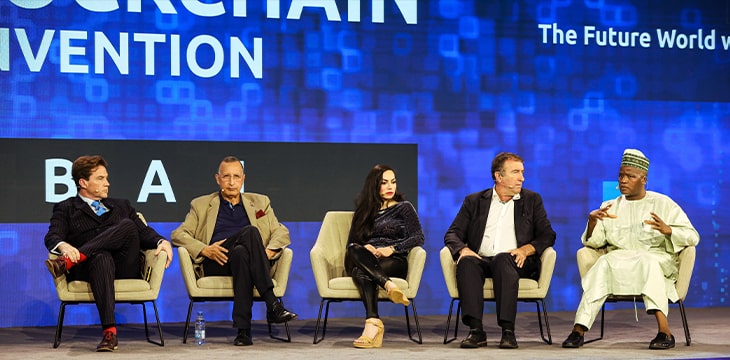 Wright is the real-world identity behind Satoshi Nakamoto, the pseudonymous author of the 2008 Bitcoin white paper, and Nguyen queried him on what kind of world he envisioned when he was still developing what would become his life's work.
"More honest," was Wright's reply, recalling his previous work doing fraud audits and educating companies on data protection and defending against cyberattacks. "The problem with fraud is the amount of loss and damage it does … it devastates lives. When people have money taken from them, companies can go bankrupt, people can have their entire life ruined as companies collapse and their investments go." 
Nguyen asked if honesty was a more important goal than creating an efficient digital cash, to which Wright replied "the only way to do all of this was to have that tool. Why do you have a hammer? I want to put nails in. So I created the hammer to help build the house." 
Ladid, who earlier gave a presentation on how IPv6 and BSV will work together to remake the current internet, was asked what sparked his fascination with blockchain. Ladid said security on the current internet was "an investment with zero return," hence it's something only rich enterprises can afford to implement while the rest of us lie exposed to all manner of prying eyes.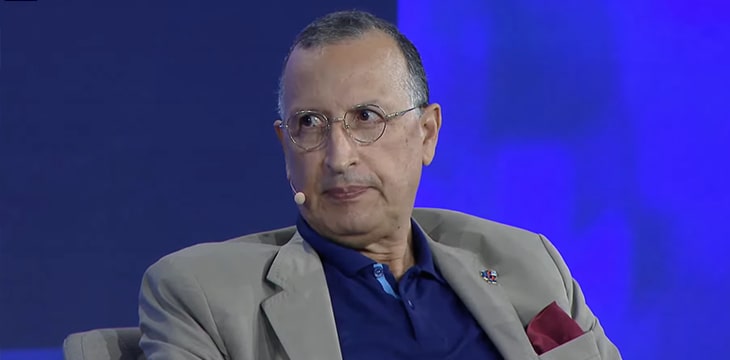 But times are changing. Ladid said the German government is implementing IPv6 across the country, with unique IP addresses that will allow individual ministries to control their own data "and define who gets what." Ladid noted that this is a model that the U.S. government has long employed while other countries relied on U.S.-based cloud storage that effectively left their data open to U.S. agencies to peruse at their leisure. The addition of a blockchain layer to IPv6 adds an additional level of encryption to this process that will further secure networks from unauthorized snooping.
FemPeak is a female-focused 'lifelong learning platform for emerging technologies' and Nguyen asked Somi what role blockchain had in this process. Somi said "ownership" was the main contribution blockchain brought to the table, noting that women in many cultures have for too long been brought up "to not think of ourselves in terms of being owners of things." Somi said that giving young women the opportunity to own a wallet and create businesses would help "change the synonymity of money with men." 
Quirze's organization runs an annual event called Democracy for All and Nguyen asked how blockchain could advance goals of better governance. Quirze said an integral aspect of democracy was voting, which "involves a lot of transactions, and we need secure blockchains with a capacity for transactions," adding that BSV may have "an interesting role" to play in future civic participation in Catalonia.
Dr. Abdullahi, who is developing Nigeria's national blockchain strategy, identified three key goals of the current administration: security, economic diversification and fighting corruption. The economic angle is of particular interest in a country of 200 million, many of whom are young people, and Abdullahi sees blockchain as a way to empower youth to play a role in creating economic prosperity. Abdullahi stressed that the government wasn't taking a unilateral path toward implementing its blockchain strategy but was instead looking to "co-create with all the players within the country."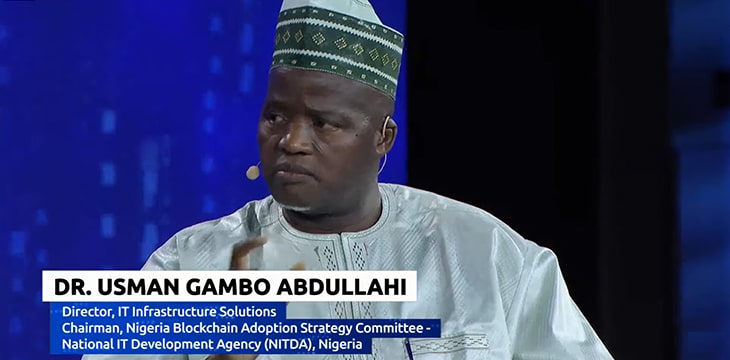 Do you know where your kids are? 
Picking up on Abdullahi's comments, Wright said Bitcoin/blockchain could help arrest the 'brain drain' that has plagued so many developing countries, which have seen their best and brightest young people leave for better opportunities abroad. As Covid amply demonstrated, blockchain-based work is increasingly done from one's home, offering the promise that young workers can "stay where they are with their family and still engage, and earn and work."
While Ladid called the digital transformation in developing countries "a huge opportunity to leapfrog and create their own wealth," he added that education needed to keep pace with technological change. Ladid said too many university professors "are still teaching their PhD from 20-30 years back … The curriculum at universities has to be updated to give every kid a chance to learn something new and do something locally." 
Quirze said politicians in his country were reacting to the rise of blockchain by "criminalizing our teenagers" because of their interest in buying and selling various 'cryptocurrencies.' Quirze warned that this can't be the government's only response, as it was "important to on-board this generation because they're crypto-native."
As humanity changes, so must the rules 
Somi theorized that homo sapiens were "evolving into something new in this century" and a "technological singularity" was just over the horizon. This will lead to "a breakdown of social and economic orders" and blockchain was empowering individuals – "not just women, but the individual as a whole to participate and be active participants, not passive observers as we go through this phase of human evolution."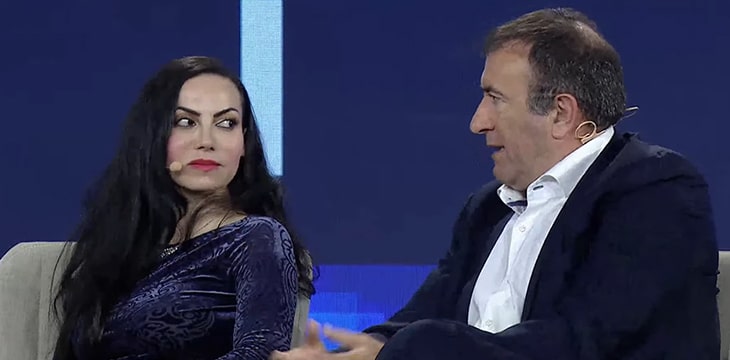 Quirze build on Somi's theme, noting that the metaverse was no longer something on the horizon, that "we are beginning to live inside the internet." Living inside an alternate reality requires "a more trusting place, and that's the challenge for blockchain, to become this trust layer."
Abdullahi agreed that "everybody is moving to the metaverse, buying land, etc. As a government, the important thing is to protect citizens," regardless of whether they're in a real or virtual world. Abdullahi noted that "whatever's happening in the physical world will be replicated in the virtual world. If you commit a crime in the physical world, you'll be sanctioned. In the virtual world, that doesn't yet apply."
Abdullahi stressed the importance for governments to ensure the metaverse is "adequately regulated, that there are regulatory instruments that guide the activity within the space. We think it's important for BSV to support us in looking at it and coming up with adequate regulatory instruments that will help effectively harness the benefits" of the metaverse. 
Turnoffs 
As for what then panel dislikes about the current state of blockchain affairs, Wright lamented the hordes of people treating it as just the latest 'get rich quick' scheme, thanks in part to an endless supply of promoters encouraging the "hype cycle." Wright singled out the 'Boring Apes' as part of this problem, while stating for the record that he preferred 'Exciting Apes.'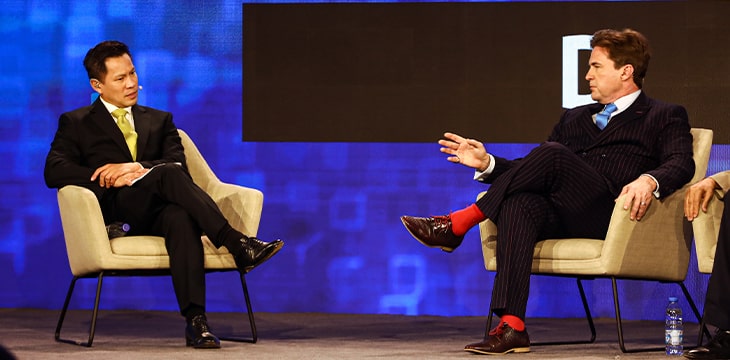 Nguyen wondered if the high price of some in-demand NFTs hadn't created an elitist membership club. Somi noted that she is a holder of some high-value NFTs but said it was "like any other luxury item, you pay for a luxury item, you become part of a club." That said, Somi believes "these technologies need to serve everybody" but "the NFT community, particularly within Ethereum, is not necessarily serving the rest of society." Nguyen noted that Ethereum's gas fees "make selling a $10 NFT impossible," to which Wright chimed in with "don't worry, we have a solution for that."
Just as blockchain tech is being misused by those flipping speculative tokens in pursuit of quick riches, Ladid said there was "a lot of misuse of information" on the current internet. Ladid believes "we're at the beginning of the internet, just learning how to communicate," which has contributed to the current ruinous state of our online discourse.
By combining blockchain with IPv6, Ladid believes we can achieve "a wonderful worldwide end-to-end transparent internet that can facilitate the creation of jobs and knowledge in a very democratic way, and give a new shot into democracy, which is now really eroding."
Takeaways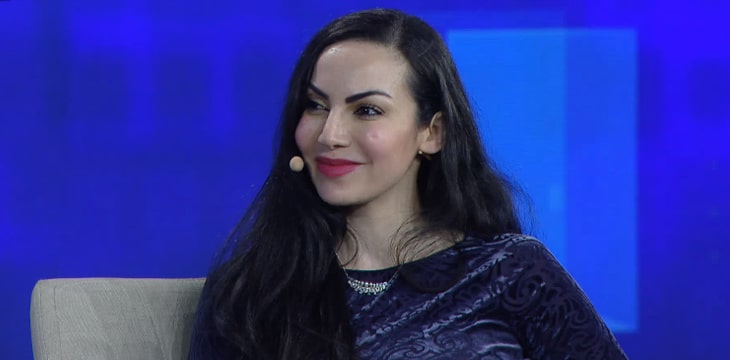 Somi stated that in her visits to the Convention's booth section, "everybody is thinking about how do I create a business that will serve as many people as possible, everyone's thinking about scalability." She said she'd been struck that "nobody seems to care about price here," but Nguyen clarified "it's not that we don't care about BSV's coin price, we care about the coin price of BSV rising for the right reasons."
This was Abdullahi's first BSV event and he said he'd been "encouraged" because "the most important thing is collaboration, partnership, if we want to build a better world, there's a need for all to collaborate and build that better world." He said his main takeaway from the Convention was of "people willing to work together, to share knowledge and experience" and he was "glad we've started building relationships and partnerships with people we've met here."
Ladid concurred, saying BSV has "a great community" and that builders who "focus on a business case can make a big difference." Asked by Nguyen if Ladid had any advice for Wright, Ladid just laughed and said: "He will still be a mystery for a lot of people but I think we'll get there."
Watch the BSV Global Blockchain Convention Dubai 2022 Day 1 here:
Watch the BSV Global Blockchain Convention Dubai 2022 Day 2 here:
Watch the BSV Global Blockchain Convention Dubai 2022 Day 3 here:
New to blockchain? Check out CoinGeek's Blockchain for Beginners section, the ultimate resource guide to learn more about blockchain technology.