Africa has long been looked at as a region in need of help despite having some of the most vast resources in the world. At the BSV Global Blockchain Convention, a panel of experts pooled from across the continent shed light on how blockchain technology can enable the continent to harness its resources, eradicate corruption and poverty while being on the frontline in the world of technology.
"We need to embrace technology. We need to lead African countries and their authority figures to appreciate and adopt these new technologies that can leapfrog the existing technologies," Dr. Catherine Lephoto told the audience. Born in Lesotho and residing in Johannesburg, South Africa, Lephoto currently serves as the Director of Sales (Africa) for VX Technologies, a company that uses BSV blockchain to verify all manner of records.
The panel was moderated by Ahmed Yousif, the Middle East Lead for the BSV Blockchain for Government Initiative. Jibril Aku, the group vice chair for Nigeria's securities market operator FMDQ Group and BSV-based Domineum Blockchain Solutions; Reginald Tumusiime, the CEO of CapitalSavvy; and Kashifu Inuwa Abdullahi, the director general of Nigeria's National Information Technology Development Agency were the other panelists.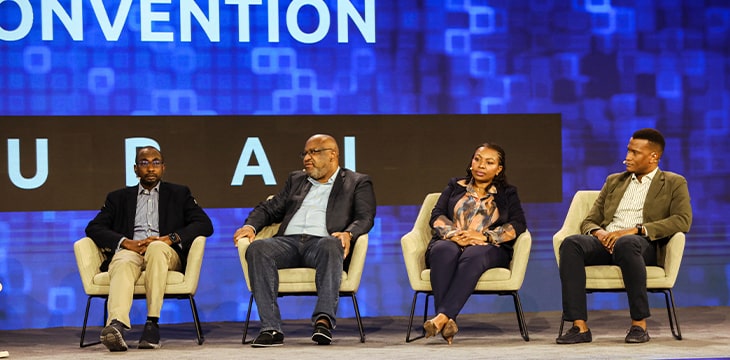 For Africa, one of the biggest challenges is the lack of financial inclusion, and to date, many governments are still struggling to bank their citizens. But as Aku pointed out, this challenge is two-pronged—availing the banking services and making them affordable for all.
Blockchain technology could play a great role, Aku noted. The BSV network could lower the costs to a few cents when integrated into the financial system, he added. However, there's a lot to be done to bring the regulators onboard.
Lephoto noted that blockchain could change data ownership and integrity for the region. The molecular biologist was recently appointed to lead the COVID-19 relief efforts for her home country of Lesotho, a process in which VX Technologies played a key part in.
With 1.3 billion people, Africa produces vast amounts of data that is harvested and monetized by companies located outside the continent. With VX Technologies, Lephoto is working to change this, she told the audience.
"For me what it [blockchain] says is that data is currency. At VX Technologies, our solutions are about putting that data in the hands of the owner so that they can use it to empower their lives."
And while some may choose to look at Africa as a region with many challenges, Tumusiime looks at it as one with many opportunities. One such opportunity is in cross-border funds transfer which costs Africans an average of 8-10%, by far the highest in the world. Tumusiime told the audience that with over 60% of the region's population under the age of 25, tech-based solutions are the way to go and that those that are available in the market are seeing aggressive uptake.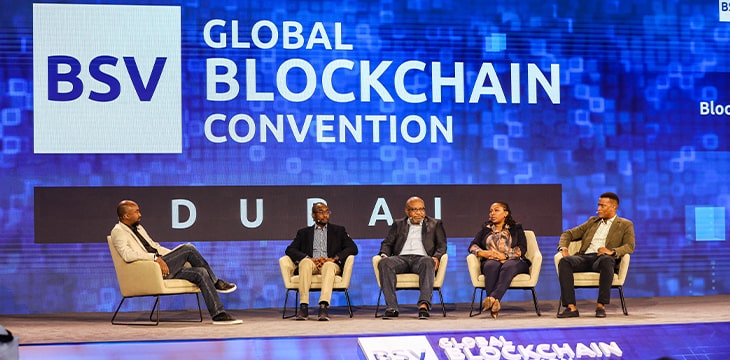 One of these is Centbee's Minit Money which lets users send money across the region from the Centbee app. Minit Money leverages the very low fees and real-time transaction capability of the Bitcoin SV blockchain to make cross-border funds transfers not only fast but also extremely cheap.
African governments are also known for their bureaucratic nature and as the panelists concurred, this opens them up to corruption. Blockchain technology can prove effective in easing these processes as well, Abdullahi believes.
"Blockchain, being the network for value, can help address that. It will remove the middleman and people will trust the system," he said.
Ultimately, any technology is as good as the results it has. Blockchain will be judged by what it can do for Africa and as such, Bitcoin developers must build applications that solve real-world problems, Aku opined.
"Any technology that can lower the cost [of doing business] and introduce efficiency, will go a long way in bringing investors into Africa. That's the challenge we have to solve," he stated.
His company, Domineum, is already using blockchain to solve real challenges, Aku continued. The company, headed by BSV Blockchain Association ambassadors Mohammed Jega and Geoffrey Weli-Wosu, is using BSV in the marine industry, allowing governments and private enterprises to easily take stock of what comes in and goes out at the ports, all on-chain.
Watch the BSV Global Blockchain Convention Dubai 2022 Day 1 here:
Watch the BSV Global Blockchain Convention Dubai 2022 Day 2 here:
Watch the BSV Global Blockchain Convention Dubai 2022 Day 3 here:
New to blockchain? Check out CoinGeek's Blockchain for Beginners section, the ultimate resource guide to learn more about blockchain technology.