The BSV blockchain allows us to verify every monetary and data transaction. On day three of the BSV Global Blockchain Convention, Justin Pauly, the President of VX Technologies, gave a presentation on this subject, explaining how the products his company has already released and others they are working on can bring about a world of verifiably authentic records.
VX Technologies—how it all began
Pauly begins by explaining how VX Technologies came into existence the same way most companies do: by solving a problem. The company's Founder Zachary Weiner created a system to verify one type of record, and the team quickly saw that this solution could be applied elsewhere, utilizing the BSV blockchain to verify records of all kinds. They realized they could develop an enterprise-level company based on the process they had developed, and it went from there.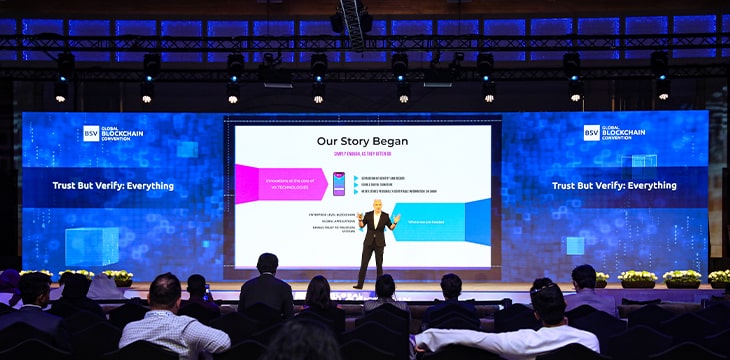 Pauly then explains the process VX Technologies uses. It begins by getting a trusted source to verify a record (e.g., a doctor). From there, the ownership of the record is transferred to the end-user, and from that point, the record is verifiable anywhere using a simple QR code.
The company's solutions are based on this same core technology, utilizing the blockchain to create globally verifiable records. Credentials, achievements, and important health records are just a few that Pauly mentions in his presentation.
Addressing global issues on a global scale
"The authenticity of records has been a trouble spot for many years and in many places," Pauly tells us, identifying the key problem VX Technologies is working to solve. He says that the company is providing an exit from the cloud-based systems, which are expensive and vulnerable to manipulation and not private.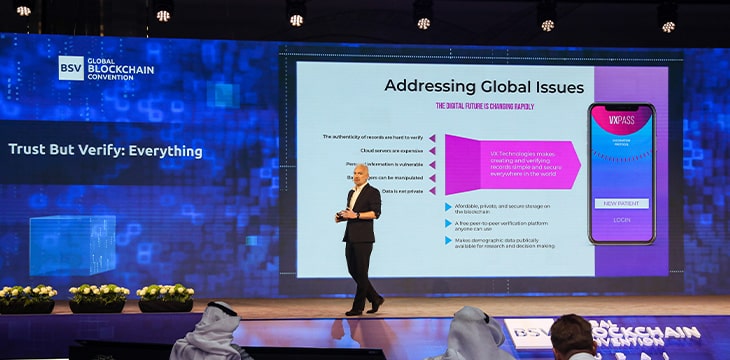 VX Technologies' solution, on the other hand, is affordable, private, and secure. When records are stored on the blockchain, there's no personally identifiable data, meaning researchers, governments, and scientists can access solid, trustworthy data for research without privacy concerns. Pauly explains how the company hopes to use these data sets to facilitate research in artificial intelligence and other important areas.
The key point here is that the BSV blockchain offers a new way to store data, and the VX Technologies team harnesses that power to deliver solutions.
Empowerment and digital sovereignty 
Getting into the core values at the heart of the VX Technologies mission, Pauly talks about how they want to empower nations, corporations, and people (end users) so that they have sovereignty. For example, someone who moves abroad will be able to instantly prove they have had a polio vaccine as these critical records will be both accessible and verifiable. The key to all of this is trusted, verifiable records, he explains. Individuals and organizations having easy access to these sorts of records will give them what he calls "digital sovereignty."
As of right now, VX Technologies has agents in 32 countries, and with the partnerships they've been signing, that number goes to 80, Pauly tells us. He notes that the combined population of these countries is 4.5 billion, and for the first time, the children born in these places will begin life with digital sovereignty, including vaccine records and more.
VXLock—showing what blockchain technology can do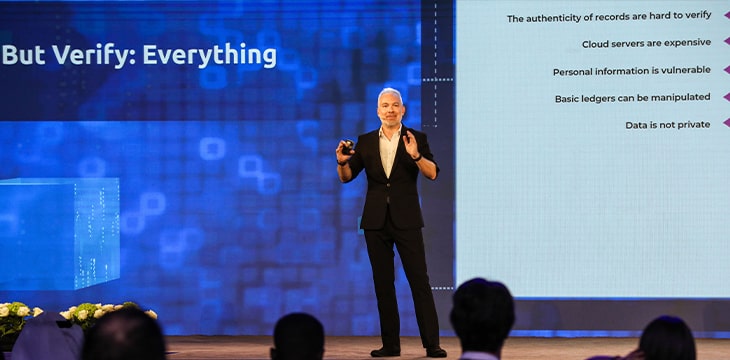 Pauly rightly states that it can be challenging to get people to understand the power of blockchain technology and how it can positively impact the world. He announces that the VX Technologies team developed VXLock to make it easy and simple to showcase blockchain's power and utility. 
What is VXLock? "It's a text block that goes on the blockchain," Pauly informs us. Essentially, it's a user-friendly tool that allows anyone with an account to post simple text to the immutable blockchain.
In keeping with the theme laid out by Jimmy Nguyen at the beginning of this convention, Pauly ends his presentation by asking us to "go out and do some good in the world." It's not difficult to see how verifiable, authentic, globally accessible records can help achieve that goal.
Watch the BSV Global Blockchain Convention Dubai 2022 Day 1 here:
Watch the BSV Global Blockchain Convention Dubai 2022 Day 2 here:
Watch the BSV Global Blockchain Convention Dubai 2022 Day 3 here:
New to Bitcoin? Check out CoinGeek's Bitcoin for Beginners section, the ultimate resource guide to learn more about Bitcoin—as originally envisioned by Satoshi Nakamoto—and blockchain.