The blockchain ecosystem is full of 'coming soons,' with most of these promises being too ambitious to achieve or the blockchains they're based on being unable to deliver. For UNISOT, that 'soon' is now, and at the BSV Global Blockchain Convention, CEO Stephan Nilsson welcomed to the stage Local2Local, one of the companies UNISOT is working with to solve supply chain challenges through Bitcoin SV.
Local2Local is the brainchild of Mark Frederiks, a Dutch innovator and entrepreneur who believes "that if you look at the existing systems upside down, there are answers that can help us solve ecological, economic and social challenges," he told the audience.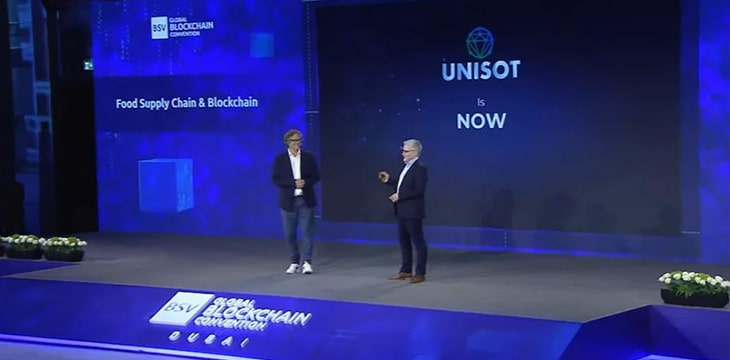 Frederiks has partnered with UNISOT to even out the supply chain for farmers in the Netherlands. As the UNISOT CEO revealed, over the past week or two, this partnership has generated the most transactions on the Bitcoin SV blockchain. 
Local2Local focuses on small-scale farmers, who produce over a third of the world's food, despite operating only about 12% of all agricultural land. However, these farmers are preyed upon by middlemen who do none of the work but pocket the most money from the sale of the food. 
This predatory nature of the food supply chain has seen more small-scale farmers abandon their trade for more lucrative activities. In the Netherlands, for instance, there only exists about 50,000 small-scale farmers today, down from 400,000 at the end of World War II, and each year, this number is dropping by 10%.
Frederiks' company is out to cut these middlemen and give the farmers a direct channel to sell their food and store their own data.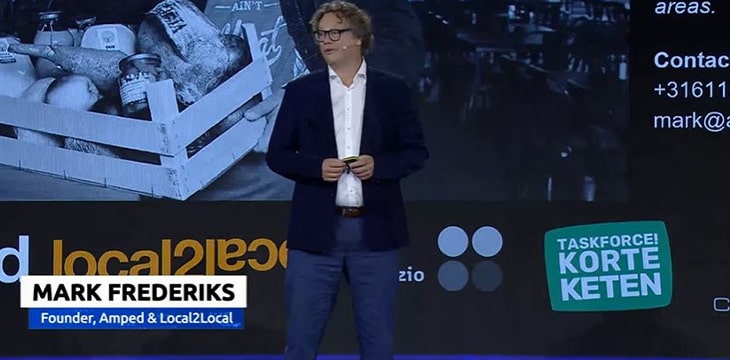 "We are in to cut out the middlemen in logistics, in trade, but also and especially in data. I think we can create a future for our farmers in which we can increase biodiversity and also provide healthy affordable food for all," Frederiks said.
Local2Local is only active in the central province of Utrecht in the Netherlands and has only recently started exploring other regions, including Amsterdam. However, it was able to hit a million euros in revenue last year, showing the demand for a sustainable food supply chain.
Through UNISOT, Local2Local is now utilizing the massively scaling BSV blockchain, and as Frederik revealed, it goes beyond micropayments and functions as a data ledger.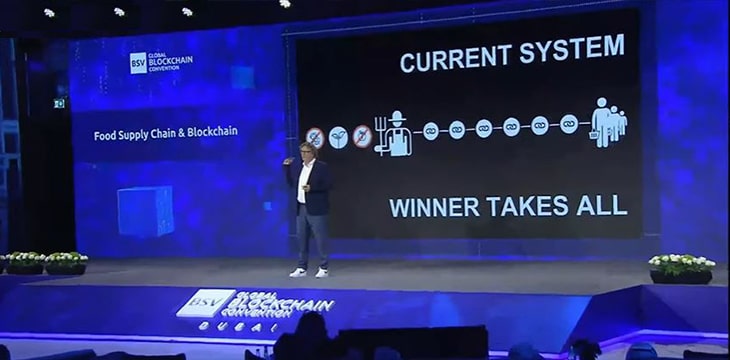 "Using the BSV ledger, I can facilitate farmers in collecting their data and also connect with the local food chain in Amsterdam, or in Stuttgart, or in Dubai, or any other city. The UNISOT partnership that Local2Local has will help us open up this world of abundance so we can scale up and create new products based on added value and real human connections," Frederiks revealed. 
Sustainable food supply chains and ecosystems have always been a big need globally. However, the COVID-19 pandemic has shown us all just how broken our systems are and how significant the need for platforms like Local2Local really is, Frederiks went on. 
"Local2Local wants to be the Airbnb of local food by reestablishing the connection between the producer and consumer of the food," he ended.
Watch the BSV Global Blockchain Convention Dubai 2022 Day 1 here:
Watch the BSV Global Blockchain Convention Dubai 2022 Day 2 here:
Watch the BSV Global Blockchain Convention Dubai 2022 Day 3 here:
New to blockchain? Check out CoinGeek's Blockchain for Beginners section, the ultimate resource guide to learn more about blockchain technology.