At the current BSV Global Blockchain Convention in Dubai, entrepreneurs and enterprises agree that Bitcoin SV, as in the BSV blockchain, offers the right infrastructure for data processing and payments related challenges. 
However, it is not enough to have BSV ready as the underlying infrastructure. Any real-world application of the BSV blockchain needs to be easy to use to disrupt the existing data handling mechanisms of today's connected world. 
Co-Founder and COO of Gate2Chain, Joe Holles de Peyer, presented Gate2Chain's vision and solutions to make the BSV blockchain accessible for commercial and private use.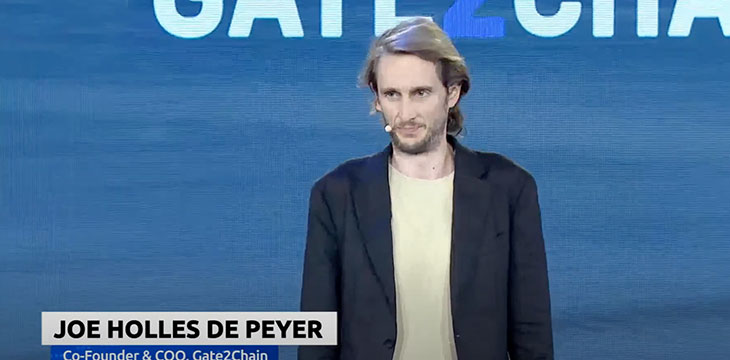 The existence of technology itself does not lead to mass adoption
"All world-changing breakthroughs come in two waves. The first is one of hopes, dreams and promises. The second is one of real-world use," said Holles de Peyer in his introduction. He referred to the car and the combustion engine as an example of a technology that had obstacles to be adopted. 
Holles de Peyer explained that the technological breakthrough with the invention of the combustion engine did not lead to a full functioning car right away. People were still used to traveling long distances by horses and camels and had no access to the technology of the combustion engine itself yet. Only when industrial mass production occurred did the course change. Due to the mass production of the combustion engine, the car became available to everyone.
"People no longer needed to understand the science behind it, how the engine worked, the physics. Instead, they were provided with a human scale frame, a set of controls that quickly became intuitive, and over time they were able to travel distances that they have never even dreamt of," Holles de Peyer said.
According to him, the key to adopting new technology is not the invention of technology in itself, but making that invention available and accessible for real-world use by the users. It is about delivering the promises of the newly invented technology.
Bitcoin has been invented already, but how to make it ready to be used by the masses?
In his presentation, Holles de Peyer compares his example of the car and combustion engine to the situation of Bitcoin as technology nowadays. The hopes and dreams of the early Bitcoin users were chaotic, juvenile, and even lawless in some cases—a mass adoption did not happen as of yet. Trading digital assets on the market is not a real-world utilization of the blockchain itself, according to Holles de Peyer, so the real adoption is yet to come.
We have gone through the first wave of breakthrough technology with Bitcoin. Now we enter the second wave—the coming of age with the BSV blockchain.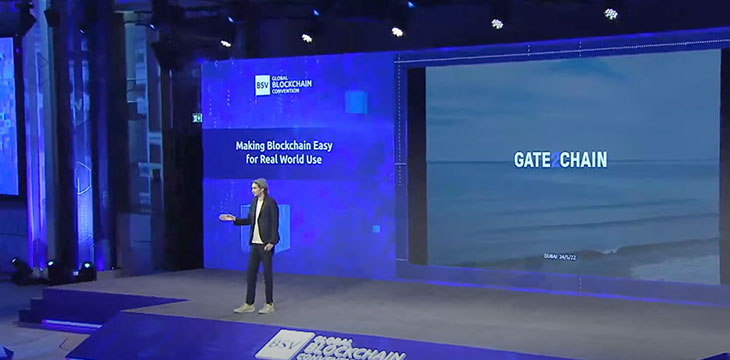 Holles de Peyer defined three major problems with the internet today: the lack of an inherent payment system as in digital cash, the ability to value data, and the lack of secured identities. 
"We know that the problems of the internet are the problems of society. A broken internet is a broken society. The stakes are high. But blockchain was born from high ideals. Do we think that it succeeded? Where is that universal truth machine that we hear so much about? Where are the anti-corruption tools? Where is that massive wealth that blockchain was supposed to unlock?" Holles de Peyer asked. 
With Bitcoin SV, Holles de Peyer and his team at Gate2Chain have found their tool to solve these problems of the current internet. On their website, Gate2Chain explains the reasoning behind choosing Bitcoin SV to fulfill the vision of making it easy to use Bitcoin for data management and payments:
The BSV blockchain offers high scalability with 10,000 transactions per second as of now, with successful test throughputs of 50.000 transactions per second (BSV Teranode testnet)
Ultra-low cost transaction fees at a fraction of a USD penny on Bitcoin SV
BSV comes with privacy, accountability, and instant transactions by default 
"For blockchain to really deliver, we need to get to work to change the mindset," Holles de Peyer said and emphasized the importance of navigating Bitcoin through its second wave as a breakthrough invention. Gate2Chain is dedicated to connecting current and new apps, websites, games, and other systems directly to the BSV blockchain. 
How Gate2Chain enables the utilization of the BSV blockchain
Holles de Peyer presented two Bitcoin SV driven tools of Gate2Chain: one to empower builders, and one to empower content creators:
Gate2Chain offers a development suite, which is described as a transformationally intuitive set of tools for connecting new or existing applications to the BSV blockchain. According to Holles de Peyer, builders will not need to understand the technological invention of Bitcoin when using the Gate2Chain development suite—just as the buyers of cars back then did not have to understand the technology of the combustion engine.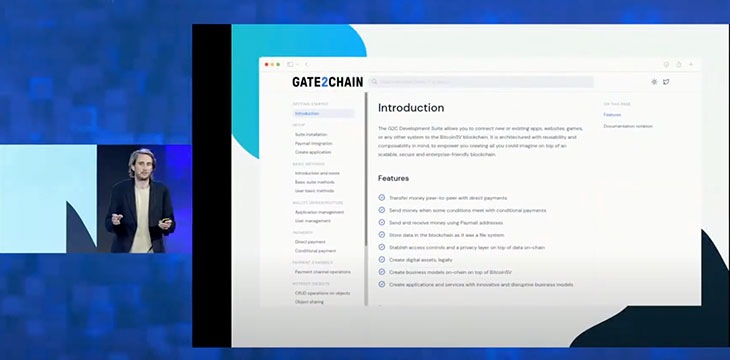 TrueWorld is already using the development suite, a close partner of Gate2Chain and the world's first United Nations recognized environmental management system. TrueWorld aims to use the BSV blockchain to create technology that could manage the climate crisis by tracking the vital signs of our planet earth.
Gate2Chain also launches Minta, a Bitcoin SV-driven content creator app. Minta is set to serve as a social marketplace for real-world NFTs. 
"This is literally the world's simplest, most intuitive but easy real-world NFT platform. For the first time, users will be able to buy and sell their NFTs with their credit card, with a bank transfer, in fiat currency—they can also use Bitcoin of course—but this is designed to work within legal frameworks," Holles de Peyer said.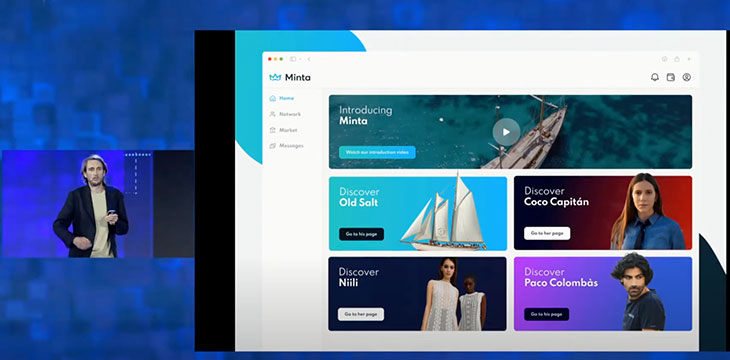 With Gate2Chain, builders and content creators will no longer need to understand the ins and outs of blockchain technology to make use of it. The BSV blockchain will be used without being noticed, just like we use the combustion engine nowadays without thinking about it. 
Interestingly, Gate2Chain's vision and solutions are in line with the ideas of Bitcoin inventor Dr. Craig Wright, who stated in his article Proof of Work:
"But mostly, I intend to see Bitcoin scale into a global economic system and become the plumbing for the information world."
Gate2Chain is on its way to utilizing Bitcoin as intended by its creator as an unnoticeable underlying technology for real-world use cases. 
Watch the BSV Global Blockchain Convention Dubai 2022 Day 1 here:
Watch the BSV Global Blockchain Convention Dubai 2022 Day 2 here:
Watch the BSV Global Blockchain Convention Dubai 2022 Day 3 here:
New to blockchain? Check out CoinGeek's Blockchain for Beginners section, the ultimate resource guide to learn more about blockchain technology.