🎉 Introducing BitSurf, launching today! Experience the future of social media at https://t.co/nyZE8E9jrC. To kick things off, here's our official launch video: pic.twitter.com/8bv3vgxMoF

— BitSurf (@BitSurfApp) May 1, 2023
BitSurf has resurfaced as its own social media client, integrating blockchain assets such as non-fungible tokens (NFTs), fungible tokens, and themes so users can customize their experience. Previously, BitSurf was an Open Social client, bootstrapping as an alternative Twetch skin. Now the app has relaunched as its own independent social network, with an interesting take on connecting users to one another and curating content.
Users sign up with a traditional username, email, and password instead of with a Bitcoin wallet. Users can still connect their Twetch and RelayX wallets to enable additional features. All the core social media functions exist, such as posting, following, etc., which are now off-chain. What is on-chain are the assets users can link to their profiles and market to form communities.
Token spaces are groups that any owner of the specific token can interact with. For example, if I hold SHUA, then I can interact in a private group that only other SHUA holders can see.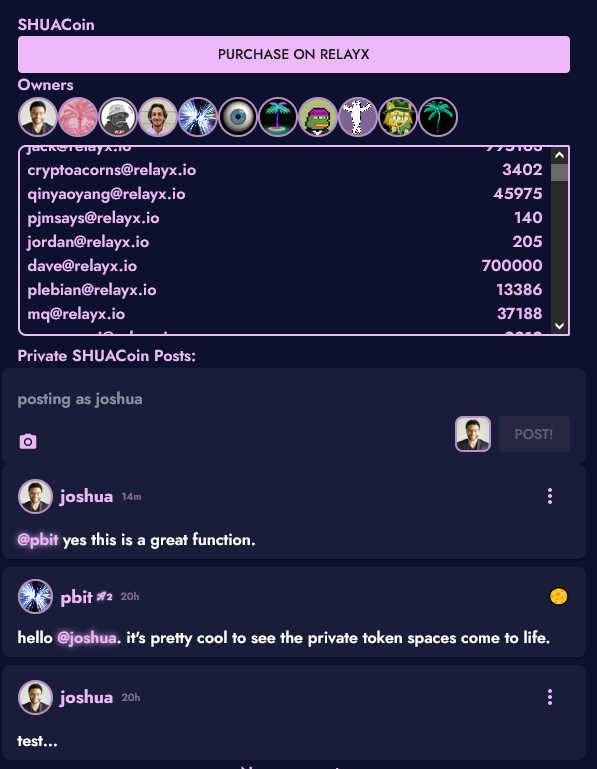 As BitSurf writes in their Twitter thread and introductory post, Token Spaces add value to every token created on RelayX. Users may buy a token now to be a part of an exclusive community if it thrives. Additionally, users can create NFTs as themes on RelayX, and sell them on BitSurf for others to use to customize the look of their client, as well as their posts. Themes also become Token Spaces since they are tokens themselves!
To test, I created a theme via RelayX and was able to select my color pallet. As a requirement, I must pay BitSurf 5% royalties on themes to be utilized on the site. Paste your contract ID from RelayX, then choose a palette modifier and click Mint Theme to list it in the Token Spaces tab.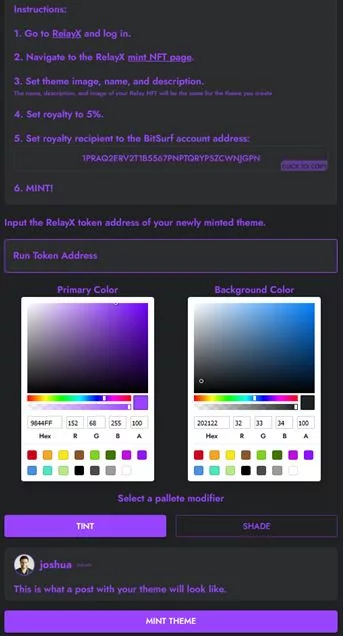 From there, users can visit your Token Space, buy your theme, and engage!
BitSurf has Galaxies (lists) where users can curate posts. Each user by default, has their own Favorites Galaxy but can add more via a Pro Subscription for $7.99 monthly or $69.99 yearly. A Pro Subscription also grants access to an in-app Image Generator as well.
After adding a few posts to your Galaxy, BitSurf has ChatGPT provide a Synthesized Summary atop that Galaxies' page.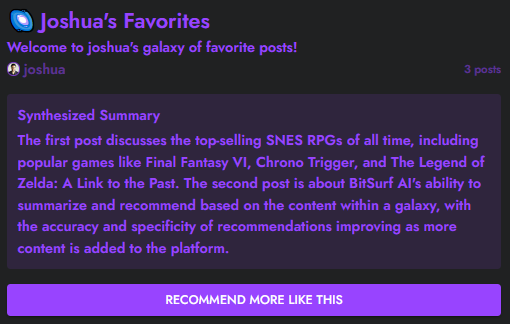 The platform also ships with a free ChatGPT bot. Simply start your question with !gpt, and upon completion, the bot's answer will be embedded in the post.
BitSurf has created an innovative social media experience with novel features and the ability to curate information and form communities. The subscription cost is slightly steep and understandably implements Stripe for ease of payment via credit card. A BSV payment option would be nice, or more interestingly, a luxury-membership style NFT that grants lifetime access. This way, users could sell out of access if they would like and allow the market to price membership based on supply and demand vs. experimenting with a fixed price point. Overall, I look forward to how the community uses these features and what further developments are in store.
Watch: Fixing Social Media with the BSV Blockchain
New to Bitcoin? Check out CoinGeek's Bitcoin for Beginners section, the ultimate resource guide to learn more about Bitcoin—as originally envisioned by Satoshi Nakamoto—and blockchain.