While the global digital asset industry reels from the "crypto winter" and the impact of the collapsing 'crypto' house of cards, all the while bracing for looming regulations, the Philippines continues spreading awareness about emerging technologies to support the national government's campaign to drive blockchain adoption and strive for an inclusive tech sector.
One of the groups at the forefront of this initiative is Bitskwela. The edu-tech platform officially opened the summer season as it held its Bull or Bear: Philippine Web3 Debate in the sunny municipality of San Juan, La Union, on March 17, where debaters engaged in a fiery discourse with an aim to educate the Filipino youth about the basics of emerging technologies and their use cases. This is the third event mounted by Bitskwela, with the first one set up in the bustling city of Taguig in Manila, followed by the one in the southern province of Davao.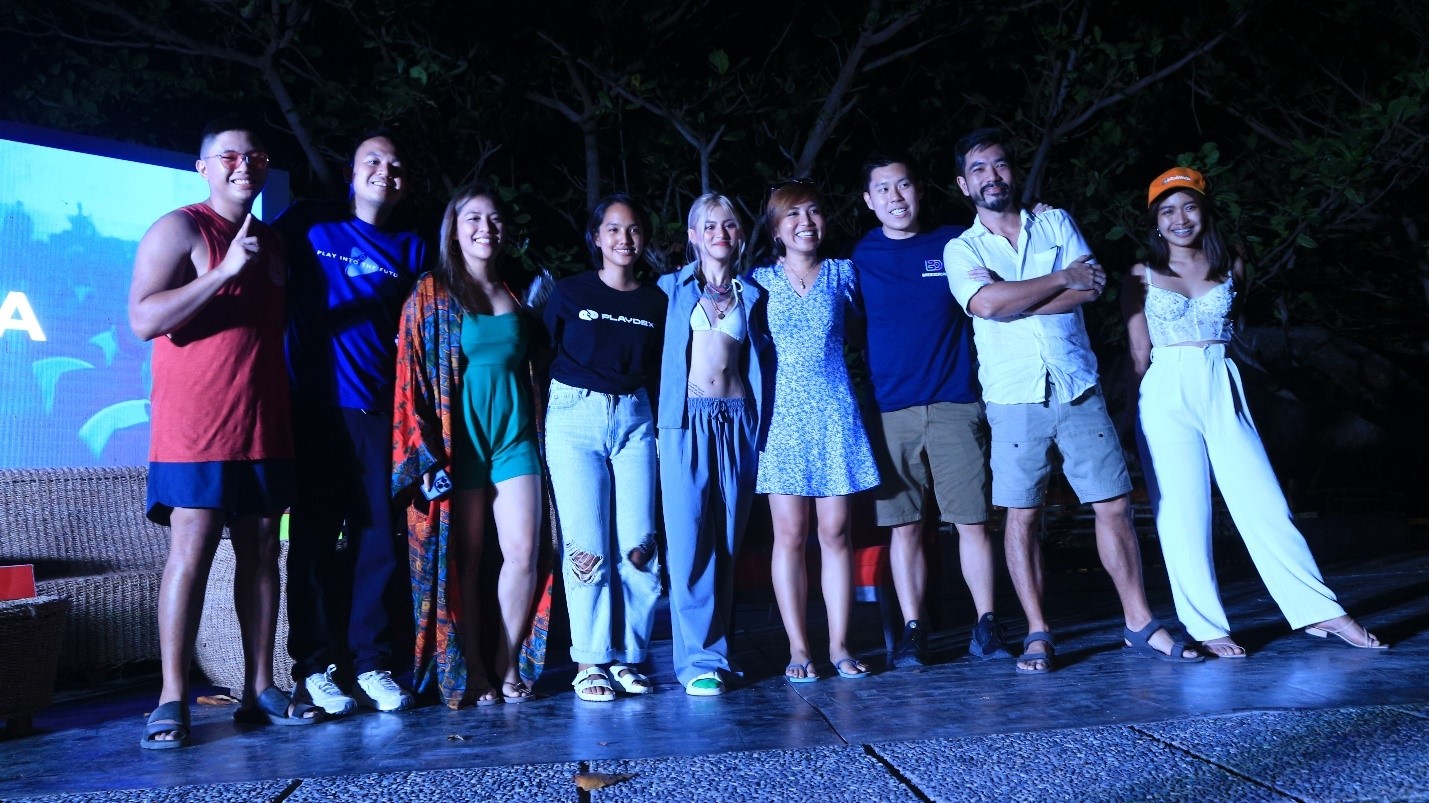 The Bull or Bear event in La Union, one of the Philippines' most famous surf spots, saw some familiar faces, including BlockchainSpace Guild Hub General Manager Jen Bilango, retired DJ and Web3 Ambassador Patty Tiu, and Senior Partnerships Manager for GCrypto Mark Nunez, who along with experts in the field, Women of Substance NFT Founder Chezka Gonzales, BreederDAO CEO and Co-founder Renz Chong, and Yield Guild Games (YGG) Country Manager for the Philippines Luis Buenaventura, provided participants an engaging discussion on all things Web3.
Decentralization as a foundation in digital currency adoption
Decentralization is among the talking points not only during the entirety of the debate but on the global stage as well, as key industry players rally for a decentralized tech industry that they promised will be more secure, accessible, and efficient while giving back power to the public to control their finances and transactions.
Unbeknownst to Filipinos only beginning their journey in the digital asset space, blockchain has been around for over a decade now, but many only paid attention to this nascent technology when Bitcoin shot to popularity in the West in 2017 and Play-to-Earn (P2E) games became mainstream in the Philippines during the height of the COVID-19 pandemic. Blockchain, the underlying technology behind digital currencies, has become synonymous with decentralization, with key industry players often toying with these terms side by side. Despite this, centralized networks remain a formidable force in the sector, posing the question of whether there is still a need to switch to a decentralized system.
Moderator Bernadette Misa, the co-founder of Playdex, tackled this in the first round of the debate with a focus on adopting digital currencies, firing up the first question: Is decentralization a good enough value add for people to adopt digital currencies?
Out of the six debaters, two said they were bullish, believing that decentralization will play a critical role in the Philippines' adoption of digital currencies; three said they were bearish, while one said she's 50/50 about this.
Explaining his stance, Nunez said with the recent happenings in the space, such as the FTX implosion and the demise of the Silicon Valley Bank, decentralization will help minimize the risks of these events from recurring, providing Filipinos a safer environment to trade or transact with their digital currencies. Another bullish debater was Bilango, who stressed that digital currency adoption in the country would be driven by decentralization as using such a network will provide an alternative means for Filipinos to have full control of their assets.
"I think there will be variations of decentralization. It's not going to be black and white, but having that technology that allows you to have full custody of your own assets is something that wasn't present before and has been a problem ever since the dawn of commerce," she pointed out.
Gonzales has a different take on the matter, claiming that while decentralization is good, it is not the primary basis that would help bolster the adoption of digital currencies in the country. She noted that many do not think about decentralization when transacting or using an application on their smartphones, and what is really needed is the utility of the products available. Buenaventura, meanwhile, countered Nunez's earlier argument, saying that while centralized networks carry with them the risks, they are crucial in helping with the goal of adopting 'cryptos.'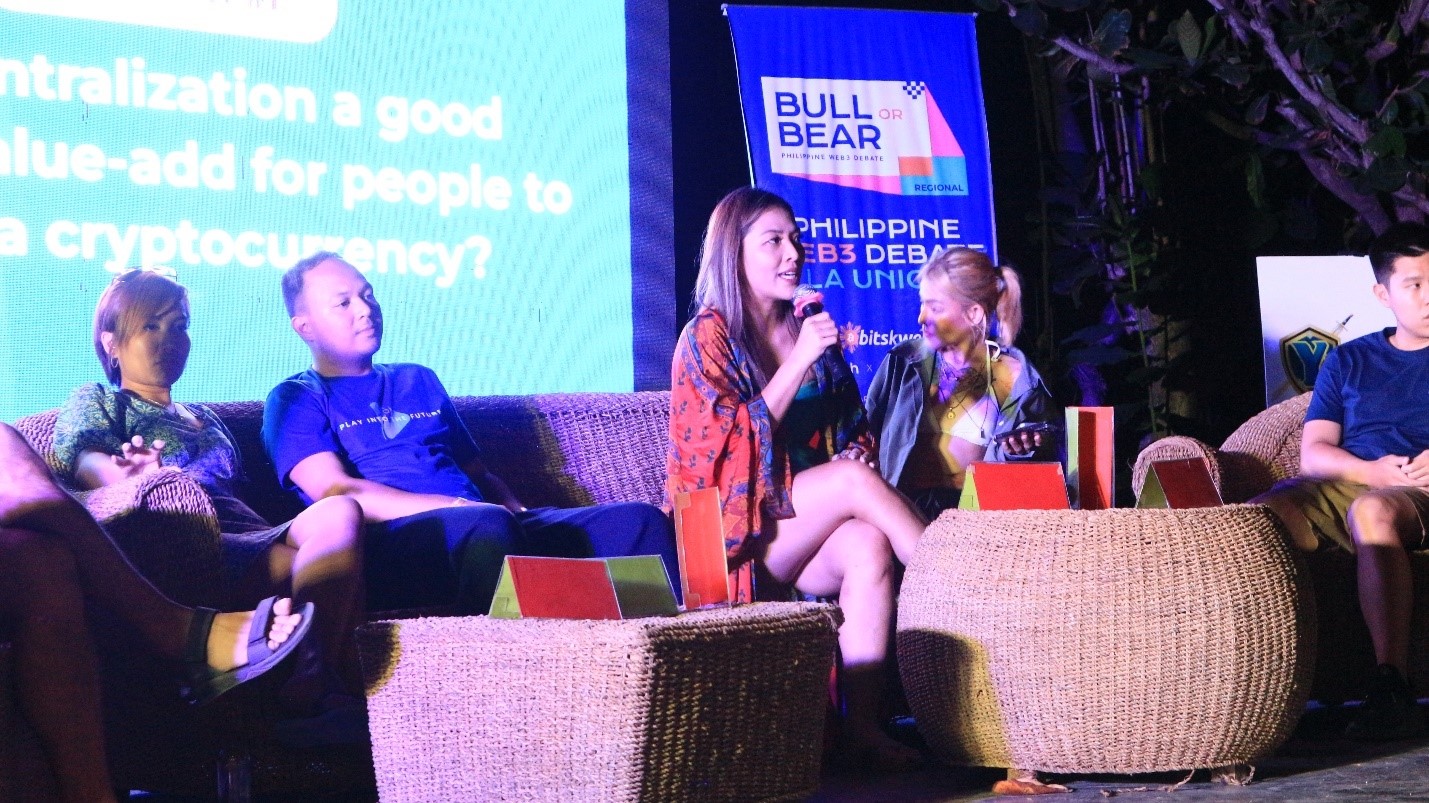 "Realistically speaking, the only way that you can transition humanity into crypto, assuming that that is the goal we want, is with centralization because there's no way you can think they're fiat and convert it into crypto without some form of centralized on-ramp or off-ramp," Buenaventura said, adding that centralized networks serve as a bridge to help with the adoption, noting that if there are no systems like this, Filipinos will have to embrace digital currencies via the black market.
Chong said decentralization is not enough to onboard people into using digital currencies as there are a lot of factors in play. Tiu, the only debater who answered either bull or bear, took Gonzales' argument and emphasized that the ease of using apps that would promote digital currencies is what would captivate Filipinos to embrace these assets.
Art in Web3
But blockchain is not limited to digital currencies, offering a surefire way to revitalize the arts and entertainment sector. But with everything going digital nowadays, we often ponder if arts are losing their meaning or soul connection as newer technologies allow more people to own a fraction of them way below their market sale compared to earlier days when enthusiasts needed to have millions—if not billions (PHP)—of cash to have their name stamped as the sole owner of a rare piece of art collection.
These days, non-fungible tokens (NFTs) have made it possible for people to own art, with Buenaventura saying that while this is good news for many, it does take away the essence of traditional art. Furthermore, he noted that "fractionalizing" an art piece adds to the complexity of adopting NFTs or blockchain for that matter. Chong, who liked Buenaventura, agreed that buying art in fractions loses its meaning, said that art has become more of like an investment in this style, with people only buying the fraction as they speculate that the price of even just that tiny bit could go up, similar to how speculation works in the digital currency industry.
Gonzales, however, believed that art does not depreciate despite being fractionalized, explaining that the more people eye a particular art, the greater the interest of others to take hold of that, possibly leading to a jump in its value.
But why fractionalize? This is the primary question asked by one Bitskwela attendee, who, like many others in the crowd, could not wrap their heads around why there is a need to fractionalize art.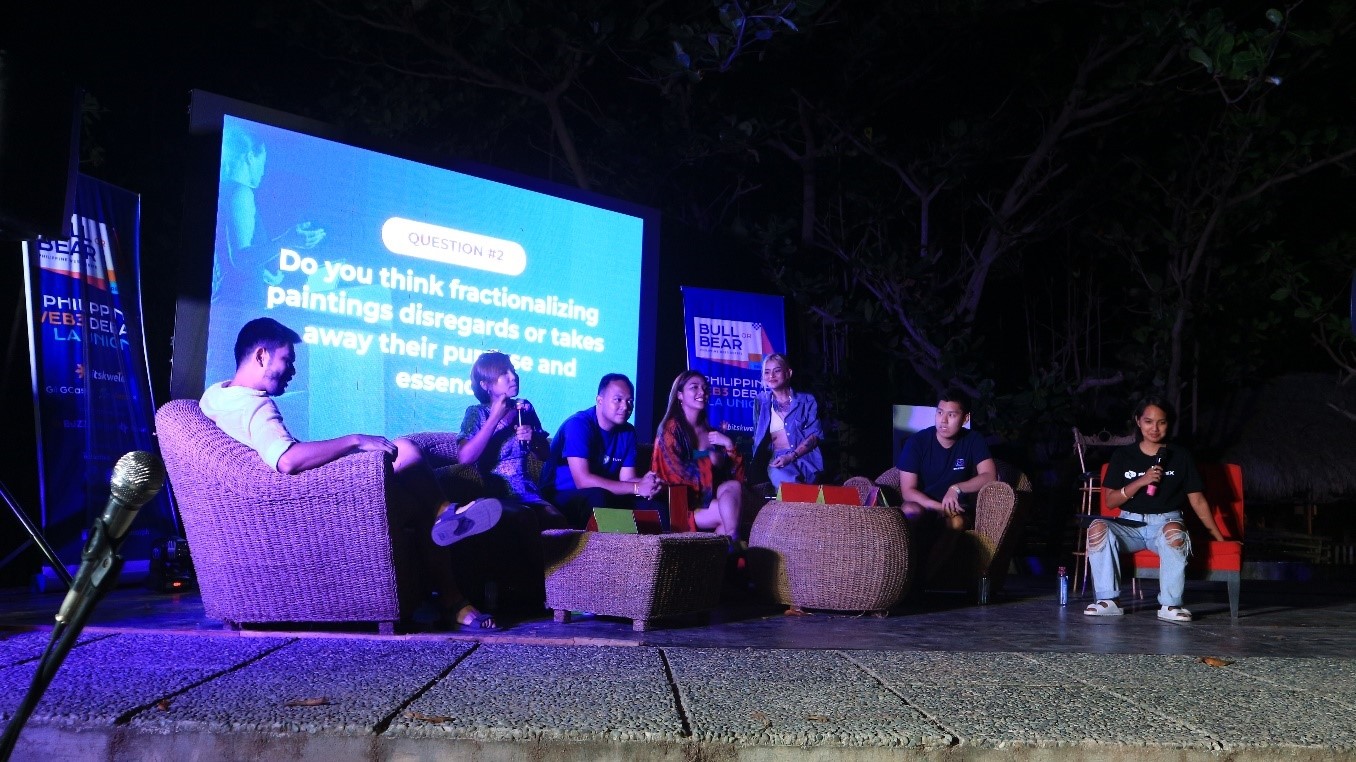 Bilango was quick to point out that art is created for two main reasons—as an outlet for artists to express their emotions and as a means to generate revenue. Some artists also use art to help propagate ideas, but with the rise of capitalism, this makes it harder for creators to do so; thereby, there is a need or urge to fractionalize art.
She added that fractionalizing art allows the public to "get a stake in something they deemed important from a cultural standpoint or from an ideology standpoint."
The future of stablecoins
Bitskwela also discussed stablecoins, the digital tokens pegged to different currencies to promote stability. However, with the latest events in the "crypto" community, the risks associated with stablecoins have been slowly brought to light, opening a can of worms that had many asking, is there a need for more regulations in the industry?
Bilango emphasized the need for clarity about stablecoins before moving ahead with crafting regulations and understanding whether there is a lack of oversight in the sector or is the existing frameworks enough to cover the market.
"The technology (stablecoins) went so fast in terms of iteration evolution that the regulators couldn't understand…and get a hold of the technology," she said, pointing out the major hurdle that led to the depegging of several stablecoins in the sector, adding that there is indeed a need for more regulations as the industry currently has none.
Chong agreed with Bilango that stablecoins should be regulated but stressed that he is unsure how much rules should be injected into the market. Buenaventura builds on this statement, explaining that stablecoins and altcoins are there in the first place because regulators, stakeholders, and the general public have a hard time understanding what Bitcoin truly is. This made it hard for all parties involved to navigate the waters, adding that some countries,' particularly the United States, have an unfriendly stance on digital currencies which has made it more challenging for networks and exchanges to operate, with or without regulation.
"As far as I can tell, regulation has not made stablecoins better," Buenaventura concluded.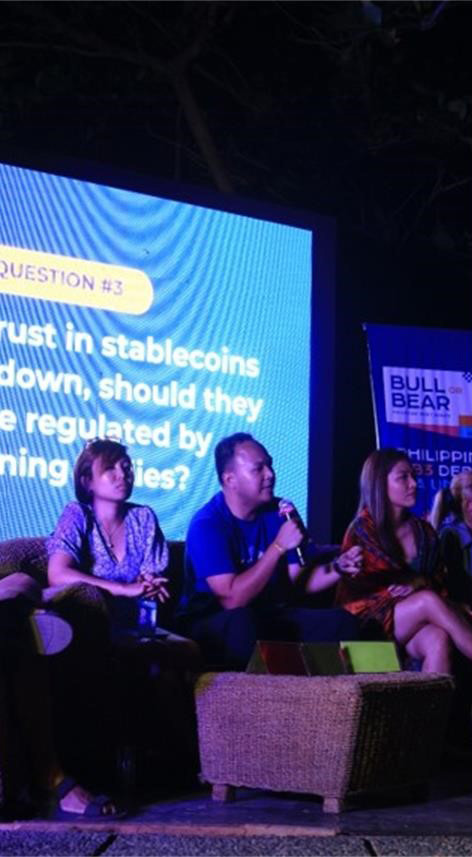 Nunez countered this argument, saying that the collapse of the industry is a clear sign of the need to regulate the sector but pointed out that legislation should not only be focused on exchanges but also on entities that support stablecoins, including banking institutions.
"Crypto is inevitable, so they should help these banks come up with standards," he noted, adding that government bodies should leverage centralized networks to help educate users on navigating the industry. He also highlighted the need to strike a balance between centralization and decentralization.
Gonzales supported this view, stressing that regulatory bodies help safeguard the community and their finances from risks tied to the depegging of assets.
Which industry will spur 'crypto' adoption?
The Philippines, aside from being known for its rich agricultural sector, is a heavy user of micropayments. But will the payments industry be the main driver of digital currency adoption in the country? Buenaventura and Chong said otherwise.
While the Philippines' gross domestic product (GDP) is supported by remittances from Overseas Filipino Workers (OFWs), blockchain adoption is already gaining traction in the industry that is most often overlooked by many—gaming.
Buenaventura said the payments industry is plagued with years-long issues that have yet to be addressed, making it hard for the sector to be at the forefront of blockchain and digital currency adoption. He stressed the need to have an avenue to help the public know more about these technologies and pointed to gaming as the best industry to support this goal, a point seconded by Chong.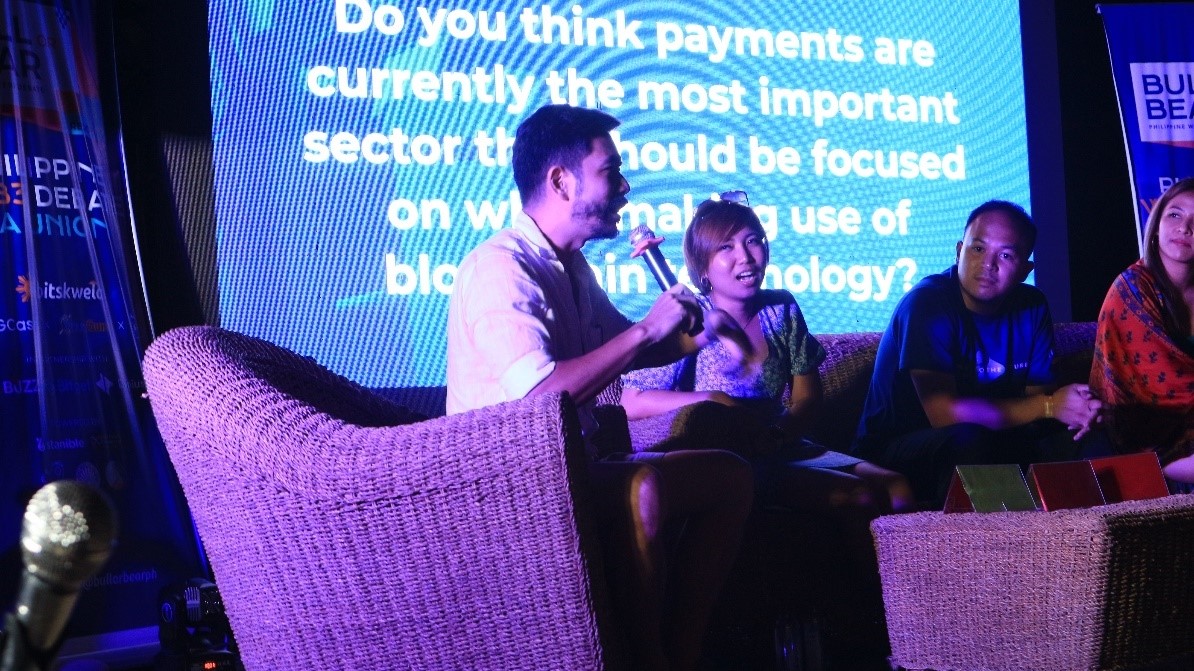 "Payments, I think, is still the most important, but that doesn't mean that this other side of the industries aren't also important; they're just less important. It's just that they help onboard people," said Buenaventura.
Nunez, meanwhile, said he is bearish of the payments industry becoming the leading sector that would adopt digital currencies, adding that if he was to drive adoption in the country, focusing on leveraging the technology for remittances would be a priority as this is where the Philippines get most of its GDP. He also explained that, technically, remittances are part of the payments industry, but intentionally segregated it for this question alone due to the vast market.
Watch: Philippines needs to create more blockchain use cases
New to Bitcoin? Check out CoinGeek's Bitcoin for Beginners section, the ultimate resource guide to learn more about Bitcoin—as originally envisioned by Satoshi Nakamoto—and blockchain.