The drama surrounding ASIC hardware manufacturer Bitmain continues—this time, Micree Zhan is accusing rival Jihan Wu of illegally transferring 10,000 Antminers out of a farm owned by Zhan into his own farm.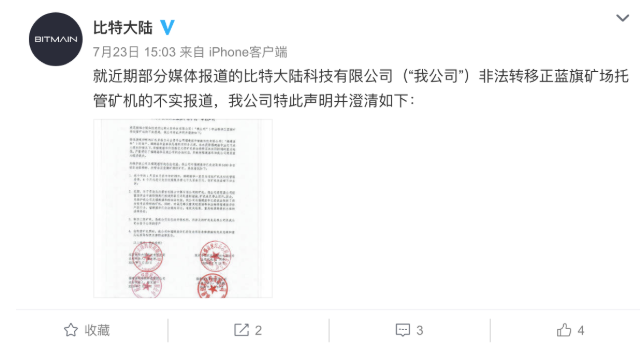 According to an official post from the faction of Bitmain owned by Zhan, The former employees of the block reward mining center illegally transferred the machines from a subsidiary of Bitmain Group, Inner Mongolia Maker Cloud Computing Co., Ltd., to a new, unknown location on the evening of July 15 to July 16. 
Many Bitmain customers buy digital currency mining hardware and operate their own block reward mining activities, but some customers allow the company to operate their machines for them. These customers allow Bitmain to set up their machines in the company's mining farm, give Bitmain a percentage of their mining revenue as well as a flat monthly fee for the service.
"The above incidents have caused serious economic losses to the company and customers," says the post. "If you know the whereabouts of the mining machine involved or related clues, you can contact us at [email protected] to assist in the investigation."
Because the machines are no longer in Zhan's position, Zhan's faction is losing out on significant amounts of mining revenue.
Who owns what?
Zhan is the legal representative of Bitmain Beijing, however, Wu still has complete control over Bitmain Chongqing. That being said, the company is split in two, with both factions at opposition on nearly every aspect of the company, from who owns what assets, as we see with the mining hardware, to which individual is actually in charge of the companies like we have seen play out in the past few months.
You can read all about the battle between Micree Zhan and Jihan Wu for control of Bitmain by clicking here.
New to Bitcoin? Check out CoinGeek's Bitcoin for Beginners section, the ultimate resource guide to learn more about Bitcoin—as originally envisioned by Satoshi Nakamoto—and blockchain.