Binance Pool has become one of the largest transaction processors on the Bitcoin SV (BSV) network, processing 12.5% of the blocks mined on Bitcoin today at press time.
Over the past few weeks, Binance has been increasingly supporting the BSV blockchain—even after its CEO Changpeng Zhao publicly denounced BSV on Twitter back in April before delisting BSV from the exchange.
Why the change of heart?
Binance is processing BSV because it is profitable for them to do so, if it was not, then they would not be supporting original Bitcoin (BSV).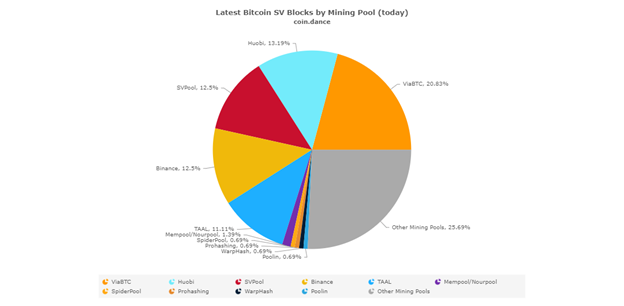 On multiple occasions, Binance Pool has processed the most BSV blocks in one day; for instance, on June 16, Binance Pool processed 27.78% of the BSV blocks generated that day.
What's next?
Binance increasing their level of support for BSV by dedicating more hash power to the BSV blockchain has left several onlookers wondering what will happen next. Will Binance eventually re-list BSV? Or, is Binance mining BSV to suppress BSV's price and weigh down BSV's market cap?
It's worth noting that BSV's market cap was poised to surpass Binance Coin's (BNB) market cap for the first time in early 2020. However, when BSV's market cap was only $1 million away from surpassing BNB, the BSV market cap mysteriously plummeted. This led some to believe that it was Binance dumping BSV that they held to prevent Bitcoin SV from climbing into the top 8 digital currencies by market cap—and who's to say that they're not trying to do that again?
Or maybe, Binance is mining BSV in preparation for a BSV re-listing on their exchange. This way, Binance can provide more liquidity for BSV trading pairs once they bring BSV back to their exchange.
Who knows what Binance will actually do next, but either way, it is clear that Binance has its eye on BSV.
New to blockchain? Check out CoinGeek's Blockchain for Beginners section, the ultimate resource guide to learn more about blockchain technology.