Investment in artificial intelligence (AI) is expected to hit $200 billion in the next two years and could impact the U.S. economy more than the personal computer revolution, Goldman Sachs (NASDAQ: GS) says.
In a recent report, the investment bank predicted that AI investment in the U.S. could hit $100 billion by 2025 and account for up to 4% of the country's economy.
Goldman's economist Joseph Briggs and Devesh Kodnani, who authored the report, expect the U.S. to maintain its lead in the AI space. The country leads in all major metrics, including AI commercialization, infrastructure, and talent.
The report predicts that AI could have a more significant impact on the U.S. economy than the discovery of electricity or the emergence of personal computers, which only boosted the U.S. economy by 2%.
"Over the longer-term, AI-related investment could peak as high as 2.5 to 4% of GDP in the U.S. and 1.5 to 2.5% of GDP in other major AI leaders," Goldman Sachs said in the report.
Despite the massive investment, the New York-based banking giant predicts that AI's impact on global GDP will be modest in the near term. Its surveys suggest that a significant impact will be in the second half of the decade.
To realize this impact, enterprises and governments must make "significant upfront investment in physical, digital and human capital to acquire and implement new technologies and reshape business processes."
Several reports in recent months have predicted that AI will lead to massive job losses as enterprises automate more processes. In a March report, Goldman Sachs said that as many as 300 million workers could lose their jobs to AI automation.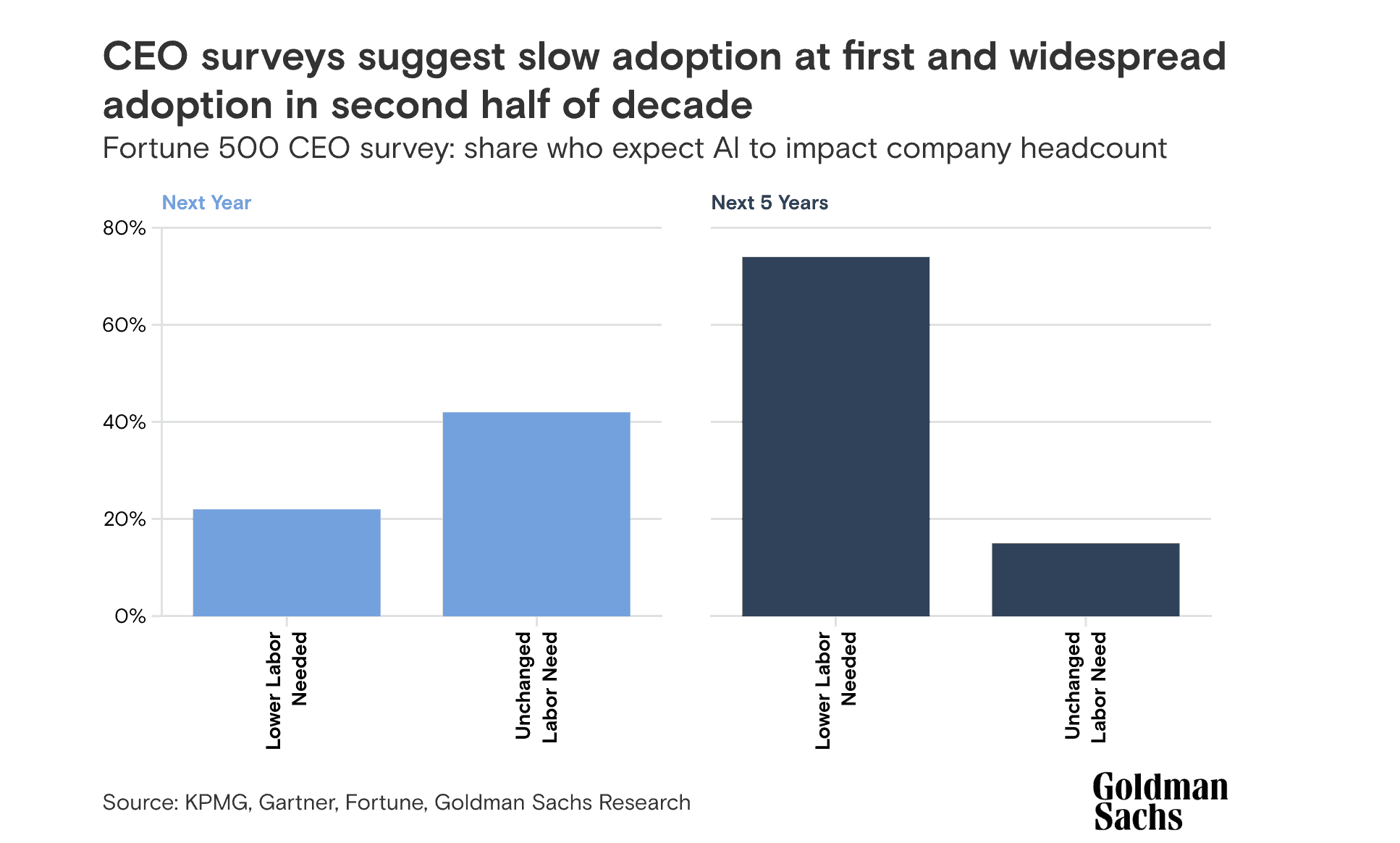 In the latest report, the bank says that the technology won't have much of an impact on headcount in the next three years. However, its survey of Fortune 500 CEOs reveals that over 70% expect AI will lead to lower labor needs by the end of the decade.
CoinGeek Weekly Livestream with Hector Lopez: AI, Blockchain, and secret to winning in technology
New to blockchain? Check out CoinGeek's Blockchain for Beginners section, the ultimate resource guide to learn more about blockchain technology.