Shortly after the publication of our article title, "Watts Miners ASIC is a Possible Scam" I received an email from the alleged CEO of the company David Anderson threating legal action under the Digital Millennium Copyright Act (DMCA) against Coingeek.com if I failed to remove the aforementioned article questioning their outrageous claims.
Watts Miners sent a press release over the wire that was quickly picked up by most technology and crypto based news outlets. The claims, if they could be substantiated, would revolutionize the crypto-mining industry.
The company claims that their miners would be capable of mining at 120 (T/Hs) at 800 watts on a 7nm chip. That's five times the hashing power of Bitmain's ASIC S9 miner's maximum hash rate of 24 (THs) at 1320 watts.
Following the trust but verify model of journalism, we investigated the claims and when our most advanced computer science nerds (we know a few) came back to us saying these claims are impossible, we went forward with article warning Watts Miners is a Scam.
And then I received the following email from "Mr. David Anderson" after it was sent to every available public coingeek.com email address.
"Attn: Watts Miners Inc.
Pursuant to 17 USC 512(c)(3)(A), this communication serves as a statement that:
1. I am David Anderson CEO of Watts Miners Inc.
2. These exclusive rights are being violated by material available upon your site at the following URL(s): https://coingeek.com/watt-miner-asic-possible-scam/;
3. I have a good faith belief that the use of this material in such a defamatory way is not authorized by the copyright holder, the copyright holder's agent, or the law;
4. Under penalty of perjury in a United States court of law, I state that the information contained in this notification is accurate, and that I am authorized to act on the behalf of the exclusive rights holder for the material in question;
5. I may be contacted by the following methods Phone 929-220-9148 or email [email protected]
I hereby request that you remove or disable access to this material as it appears on your service within 48 hours. Thank you.
Best Regards,
David Anderson
Watts Miners Inc.
929-220-9148
This isn't the first time I've received a threat in an attempt to take down certain articles, as we have and will continue to publish news and stories that the subjects may not appreciate as it shines a light on their scams.
Generally, the subject will have a law firm send a very scary sounding Cease and Desist letter that includes but not limited to huge fines, expulsion from the internet and a month's stay in Guantanamo Bay.
This is the first time we've had the subject of an exposé write his own DMCA takedown letter. "Mr. Anderson", you're about to be a multi-billionaire, use a law firm to make the threats at least look credible.
Perhaps it was a copy and paste from a letter WMiners received as the images of the watts ASIC miners were taken from the internet and show the Just released ASICMiner Equihash 40k.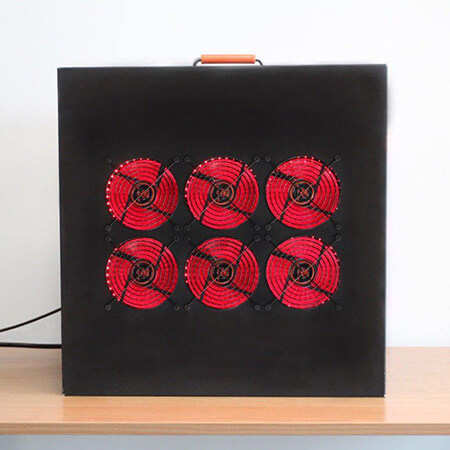 I won't drag this out but here are a couple of other points that scream Watts ASIC Miner WMiner is a scam.
In a follow-up email, "Mr. Anderson" said that they would be releasing video proof of their miners' capabilities. I wonder if they will hire the same actors to play the roles of CEO and CTO in their next video.
The website suggests they've been around since 2017 but their domain was registered earlier this month as seen in the image below.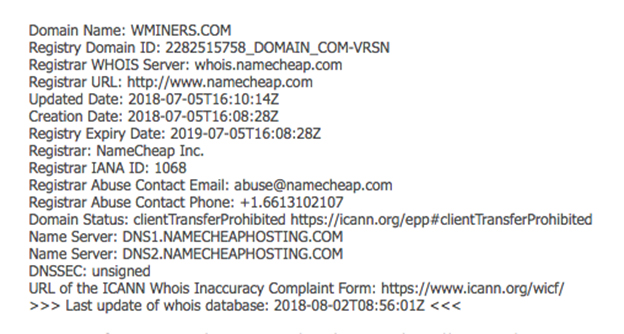 I know our readers are too clever to fall for the Watts ASIC Miners WMiner scam but if anyone you know falls for the scam, please contact the New York State's Bureau of Consumer Frauds & Protection at 1-800-771-7755.
New to blockchain? Check out CoinGeek's Blockchain for Beginners section, the ultimate resource guide to learn more about blockchain technology.