This is an excerpt from Paul Rajchgod's latest blog post, That time Nasdaq delisted Netflix; A fable. Read the full piece on Medium.
We just celebrated the two-year anniversary of Bitcoin Independence Day, when the BCH camp separated from the original Bitcoin protocol, and Bitcoin SV was born. It's fitting that two years later, BCH has faced a further split, and we've once again witnessed digital assets exchanges choose sides.
When Bitcoin SV was delisted from certain exchanges in April 2019, I remember thinking that it reminded me of when NYSE delisted IBM and whined about their IBM grievances on social media. Wait…that didn't happen? Maybe I confused it with that time the bond market stopped quoting AT&T 5-year notes because the bond market was upset with certain AT&T investors. That didn't happen either?
So, you're saying Nasdaq DIDN'T delist Netflix, ranked #12 by market cap, in a fit of anger with some of its supporters??
But Kraken, Binance, Shapeshift…they did actually delist Bitcoin SV? Yes. They did.
Throwing their toys out the pram
I spent many years in the equities markets as a tech investment banker, and when I witnessed these exchanges delist Bitcoin SV, I was beyond shocked. You can't even imagine antics like this in the capital markets. A stock, for example, only gets delisted when the company gets acquired or no longer meets the clear listing criteria of the exchange in question.
"Well, that's with stocks," you might say. "Many people consider digital assets to be more like commodities or currencies." OK, I'll play along. Remember when the London Metal Exchange delisted copper puts because it didn't like some of the builders of copper projects? How about that time the Intercontinental Exchange and New York Mercantile Exchange colluded to remove oil futures to, ya know, teach oil backers a lesson?? Ridiculous, right? YES, IT IS.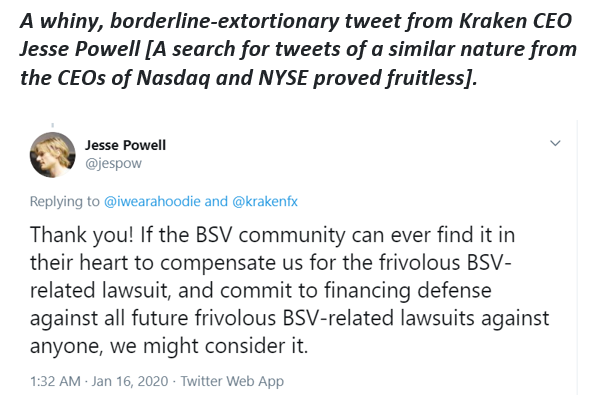 "Those examples didn't involve lawsuits," you say. OK, I'll play along. Some shareholders sued Facebook and Nasdaq after Facebook's IPO in 2012. Know what didn't happen? Facebook getting delisted. Heck, just last year, several US stock exchanges sued the SEC over a pricing disagreement. I assure you the SEC didn't 'delist' the exchanges and continued right along reviewing IPO listings for the exchanges suing them!
To read the rest of Paul Rajchgod's piece, visit Medium here.
New to Bitcoin? Check out CoinGeek's Bitcoin for Beginners section, the ultimate resource guide to learn more about Bitcoin—as originally envisioned by Satoshi Nakamoto—and blockchain.