Bitcoin BCH mining pool SVPool continues its impressive, rapid growth, holding 13.89% of global hash power for the currency as of November 7, according to data from Coin Dance.
Trailing behind are BTC.com (9.03%), ViaBTC (7.64%), okminer (5.56%), Bitcoin.com (4.86%), BMG Pool (3.47%), AntPool (2.78%), GMO IG (2.78%), Huobi (1.39%), P2Pool (0.69%), and Prohashing (0.69%). BTC.top and CoinGeek hold the largest share among pools, at 21.53% and 15.28%, respectively. Other pools account for 10.42% of hash power for Bitcoin BCH.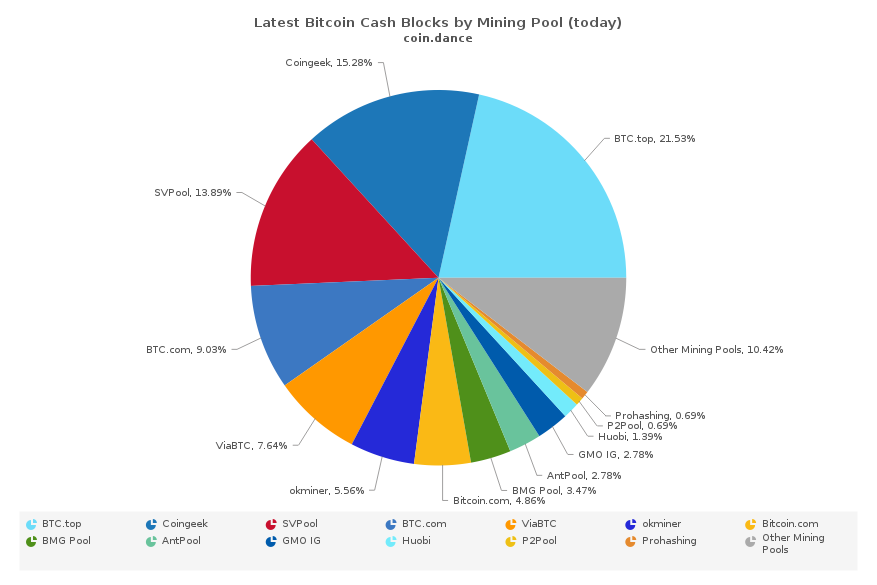 On a seven-day basis, SVPool holds 9.1% of BCH hash power.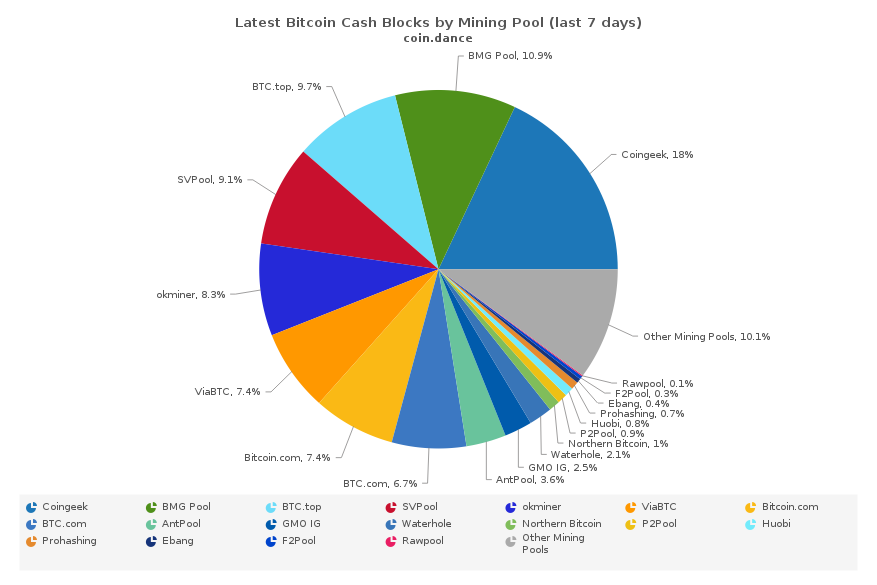 SVPool, a personal initiative of nChain chief scientist Dr. Craig Wright, allows miners of BCH who believe in the original Satoshi Nakamoto vision for Bitcoin, to generate greater revenue for the long term. It initially offers zero fees to miners, and has launched with a Pay-per-last-N shares (PPLNS) reward system, with Pay-per-share plus (PPS+) options to come in the next few weeks.
As Dr. Wright puts it, "Miners need to be empowered to drive things forward," rather than be subject to developers' dictates.
The pool runs Bitcoin SV (Satoshi Vision), the new full node implementation that maintains the original Satoshi protocol, keeping it stable, while enabling the BCH network to massively scale and become truly professionalized. The Bitcoin SV implementation allows global enterprises to confidently operate and build their major projects on a stable, scalable BCH protocol.
CoinGeek recently awarded £5 million to Tokenized, an on-chain token system designed exclusively for the BCH network and proudly uses the original Satoshi Vision design of Bitcoin. CoinGeek's tokenization contest is still open, with a secondary award of £1 million up for grabs.
nChain earlier this week affirmed Bitcoin SV's increasing dominance and appeal to miners. As of the time of nChain's statement, Bitcoin SV was already supported by over 40% of the BCH hash total. "The Bitcoin SV consensus rules stand a very strong chance of becoming the dominant implementation on the BCH blockchain," the statement read.
Interested in learning more about Satoshi Vision, Bitcoin SV and SVPool? Join the gathering of miners at the upcoming Miners Day, happening as part of the CoinGeek Week Conference in London on Nov. 27-30. It's the perfect opportunity to meet the members of the BCH community and discuss not just the ongoing reality of Miners Choice for Bitcoin going forward but also why enterprise applications needing Bitcoin should stop moving in order for the ecosystem to grow. Secure your seat to the four-day conference today via Eventbrite. Also, join the (free) bComm Association and be part of the revolution.
New to blockchain? Check out CoinGeek's Blockchain for Beginners section, the ultimate resource guide to learn more about blockchain technology.