The stablecoin industry has been growing at breakneck speed, especially in 2021, and according to new regulatory proposals, the U.S. securities regulator will oversee this growth moving forward. A new report has revealed that U.S. Treasury has yielded to Gary Gensler's push to have the securities regulator secure oversight over the $130 billion industry.
In July, Treasury Secretary Janet Yellen convened a meeting of the country's top regulators to discuss stablecoins and their role in an ever-evolving digital currency space. She charged the regulators—who included Securities and Exchange Commission's (SEC) Chair Gary Gensler and Commodity Futures Trading Commission's (CFTC) Acting Chairman Rostin Benham—with coming up with a regulatory plan for the sector.
According to Bloomberg, in their recent meeting, the regulators have agreed to let the SEC take charge of the sector. Treasury and the other top regulators are expected to publish a report revealing the stand this week, the report said, citing unnamed sources familiar with the discussions.
According to the sources, the SEC won the right to oversee the sector after Gensler relentlessly pushed for it in the closed-door meeting.
Stablecoins have become a staple of the digital currency trading world, accounting for some of the highest volumes on any given day. Tether (USDT), which is the largest stablecoin, accounts for the highest trading volume of any digital currency in the market.
Stablecoins are now worth a combined $131 billion, with USDT leading the pack at $69.7 billion. USDC, which is a product of Coinbase and Circle Financial's Center Consortium, is the second-largest at $32 billion. Binance USD at $12 billion, DAI at $6.5 billion, TerraUSD at $2.7 billion, and TrueUSD at $1.2 billion are the other notable players.
While the sector has been steadily growing since 2017, it's in 2021 that stablecoins finally found their stride. From year to date, Tether has printed $49 billion worth of USDT while USDC has shot up tenfold from just over $3 billion to now having a $32.5 billion market cap.
It, therefore, comes as no surprise that regulators are concerned about this unchecked growth.
A $130 billion unregulated industry
Aside from the parabolic growth, watchdogs and users alike have been asking questions if stablecoins are really stable. Tether has even been sued by the New York Attorney General (NYAG) and settled, but it's still not clear whether it can account for close to $70 billion.
USDC, which billed itself as the more law-abiding alternative released its report this year on its backing. It showed that only about 60% of its USD Coins are backed by cash in reserve. The rest are backed by commercial paper, government securities, and other financial instruments.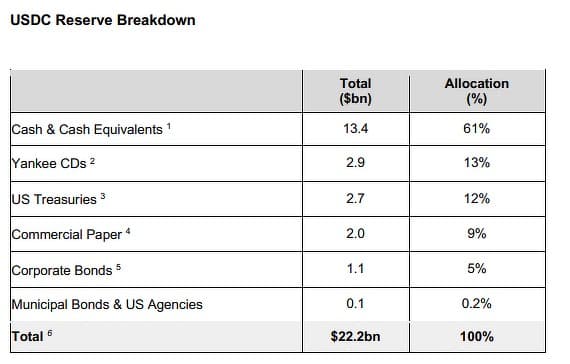 With the new regulatory proposals, this industry could finally be held accountable for the protection of investors. As Nellie Liang, the Treasury undersecretary for Domestic Finance commented, "You aren't helping the system at all if what is called a stablecoin is actually not stable, so you don't want to allow that kind of risk to build."
According to Bloomberg, the report is being prepared by the President's Working Group on Financial Markets. The goal is to ensure that this new token economy doesn't pose a threat to the U.S. economy. This report is also rumored to include a suggestion that the Financial Stability Oversight Council formally assesses the systemic risk that tokens could pose.
With Gary Gensler expected to take charge of the stablecoin market, a lot will change. The former CFTC chair has proven to be tough since he took over from Jay Clayton at the SEC. Stablecoins are an area he has had a special interest in and has previously said that they are similar to money market funds and must be regulated as such.
Jerome Powell, the chair of the Federal Reserve shares this belief. Not a fan of stablecoins, Powell has further claimed that a digital dollar could finally end the reign of stablecoins.
"You wouldn't need stablecoins; you wouldn't need cryptocurrencies, if you had a digital U.S. currency. I think that's one of the stronger arguments in its favor," he has stated.
Watch: CoinGeek New York panel, Government & Public Sector Applications on Blockchain
New to blockchain? Check out CoinGeek's Blockchain for Beginners section, the ultimate resource guide to learn more about blockchain technology.