If you're a Bitcoin SV (BSV) user looking for a simple wallet to hold, swap, or buy digital assets, there's a new option available. RockWallet is a classic-style, self-custodial wallet supporting many of the most popular coins and tokens with the ability to swap directly between assets, where users keep their own private keys and don't need to create login accounts.
RockWallet is built on the established and secure BRD open-source code (which was once Bread Wallet for BTC, if you can remember back that far). Bread Wallet/BRD was one of the earlier non-custodial wallets for BTC available on mobile devices, which made it popular back in 2014. For the record, BRD is still available now, though it doesn't support BSV. Like BRD, RockWallet's app is mobile-only, so there's no desktop version.
Introducing the RockWallet!🪨

An easy way to access, manage and use your digital assets in a secure, self-custodial environment. Explore the app today at the link below.

Download at: https://t.co/ZF6xqhT8Ee#DigitalAssets #RockWallet #MobileWallet #RockSolid #RockConfident pic.twitter.com/FDeloPSeC3

— RockWallet (@rockwallet) December 12, 2022
RockWallet is a mobile multi-asset wallet and not built specifically for Bitcoin BSV. For BSV users, that means it's missing some of the features you might be used to in offerings like HandCash or RelayX—no BSV tokens, no Paymail send/receive, and no integration with BSV apps (so you won't be able to use it for login credentials). But for BSV users who still use mostly legacy sending/receiving via addresses and QR codes and who mainly need a wallet to store coins or swap between them, RockWallet is a decent option. In that way, it's similar to other "traditional style" blockchain asset wallets that just happen to also support BSV, like Exodus or Edge.
Of particular interest to BSV users is RockWallet's ability to send BSV funds instantly, with zero confirmations. That's a welcome feature for Exodus users. Exodus is full-featured and pretty but sometimes warns of additional-confirmation delays on BSV transactions. We can confirm that sending assets to the wallet from external sources was very fast.
Creating a wallet is also a very familiar experience to anyone who's used Bitcoin/blockchain wallets for years. The startup screen prompts you to create a new wallet, after which it gives you a 12-word mnemonic as a recovery phrase. You can also set up security with a PIN, fingerprint, or facial recognition (the latter is iOS-only) for logins and/or sending funds.
The interface is simple, smooth and attractive, and intuitive to find your way around. The "manage assets" button on the main summary screen allows you to toggle assets on and off, depending on preference. RockWallet supports BSV, BTC, BCH, ETH, XRP, BAT, Chainlink (LINK), Loopring (LRC), Shiba Inu (SHIB), and 0x (ZRX). There's also support for stablecoins USDC and USDT. RockWallet said to "stay tuned for additional product feature releases," hinting that more assets might be supported in the future.
The main feature of interest is the ability to swap between digital assets and buy assets using a credit card. RockWallet's FAQ pages don't mention if any countries or regions are excluded from this service. However, we were not able to successfully add a credit card to our profile (there could be other reasons for this).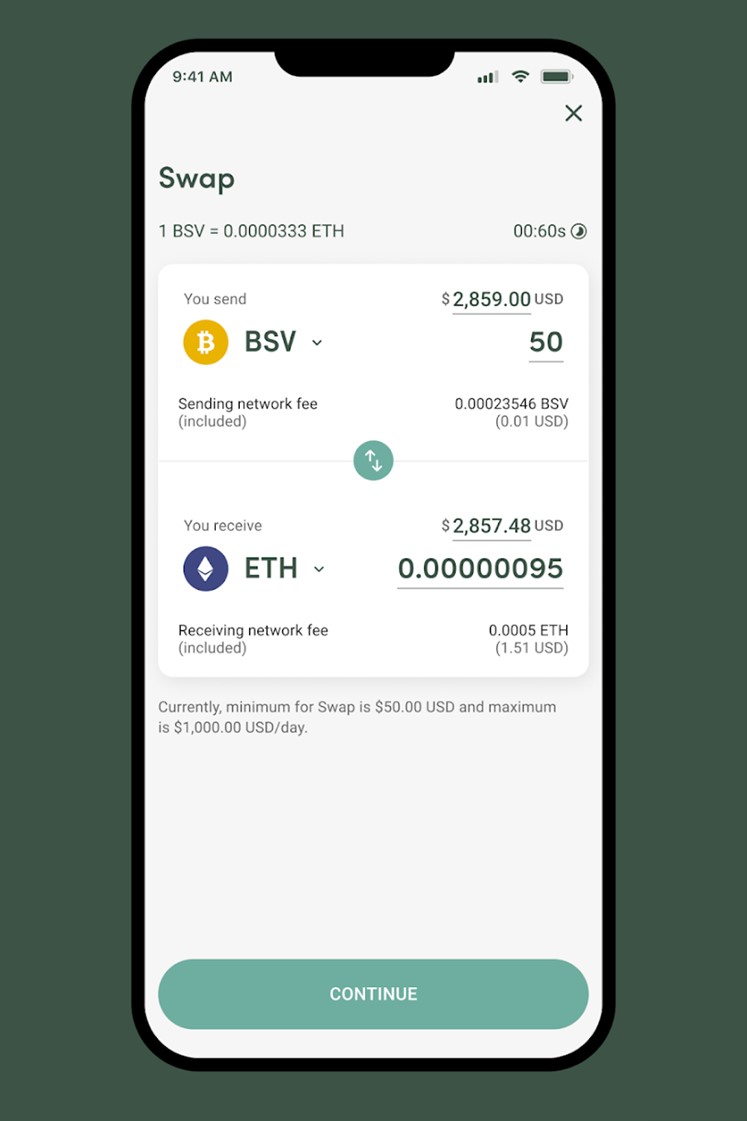 To swap assets, you need to complete a basic Know Your Customer (KYC) procedure (real name and email address only), but this is limited to $1,000 in value per day with a lifetime maximum of $10,000. Since most who need this kind of service probably want higher limits than that, it'll also be necessary to complete the full KYC process: a government-issued ID with a selfie. Confirmation of basic-level verification was instantaneous, and adding ID for full verification was done in under 12 hours, though individual experiences may vary here. One person I spoke to had their higher limits increased within minutes after submitting the necessary documentation.
Note also that if you're looking to swap assets that exist as ERC-20 tokens on Ethereum (including USDC and USDT), you'll have to have some ETH in your balance to cover gas fees on that network.
Buying assets with a credit card in any amount requires complete KYC verification. It also comes with a 4% credit card fee plus the mining fee for the transaction on whatever blockchain you use. That could be costly if you're using BTC or ETH, but anyone still transacting with those assets should be well used to high fees by now.
Requiring KYC verification for purchases/swaps is standard for digital asset services these days, even on the once-anarcho-capitalist ShapeShift. That is, it's standard on wallets where you can directly swap real assets, not "DeFi" platforms that wrap/tokenize assets for later settlement. Given DeFi's security and reliability reputation, giving up your ID is still the preferred option for many.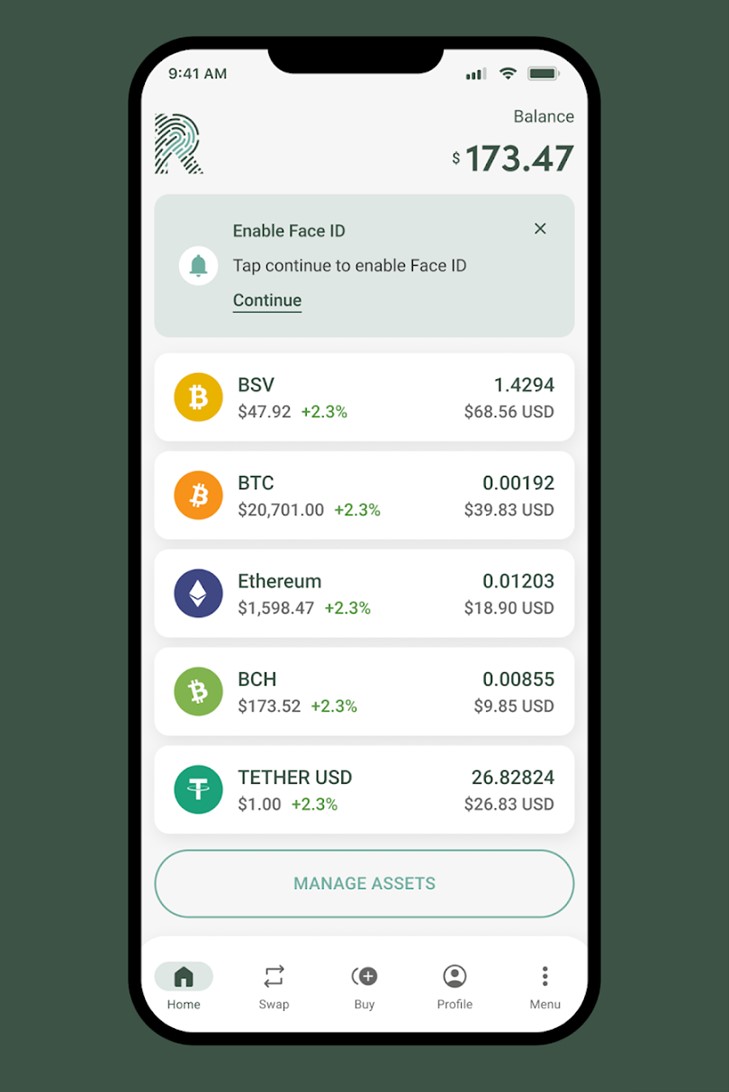 RockWallet LLC is registered with FinCEN in the United States as a money service business, and the developers have promised U.S. users the ability to link their checking accounts to the app in a future release.
Download RockWallet on Apple Store and on Google Play Store.
Watch: The BSV Global Blockchain Convention presentation, LiteClient: Scaling Blockchain with Simplified Payment Verification
New to Bitcoin? Check out CoinGeek's Bitcoin for Beginners section, the ultimate resource guide to learn more about Bitcoin—as originally envisioned by Satoshi Nakamoto—and blockchain.