We live in a world governed by financial systems skewed to benefit the few at the expense of the many. While modern technology is gradually changing these systems, we are still a long way from living in an equitable society. But what if Bitcoin could finally usher in a new era of opportunity and equality? The Bayesian Group has been working on solutions for the broken financial system and they shared their journey during the presentation at CoinGeek Live.
Bayesian's chief visionary Roy Bernhard took to the virtual stage on Day 2, aided by the senior director of enablement Casandra Cook who was live in the Kennington Studios in London.
The Bayesian Group has been working on "consumer-first, transparent solutions built on Bitcoin SV," in line with its mission of furthering positive change by transforming the fabric of our global systems.
"We are not waiting for people to tell us what their problems are, we are solving problems people don't even know they have. We are doing this in a transparent way driven by the right moral compass," Cook stated.
Cook took the audience through the challenges of the current financial system and why it's imperative to find a better solution now. They include being inefficient and with high unnecessary overheads, over-complicated, geographically constrained and technologically outdated. This system is also inaccessible, with over 1.7 billion unable to access basic financial services globally.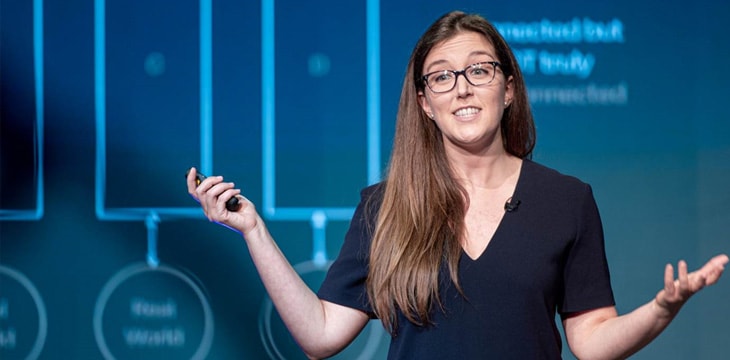 Bayesian's solution is the creation of fabriik, a token platform where users can mint and trade tokens on Bitcoin SV. This interconnected system will allow its uses to transform, hold, trade and grow every asset they own. Being protocol agnostic, fabriik allows engineers to focus on building protocols that are suited for anything, from generic to highly-specialized use cases.
Bayesian is also building an interconnected marketplace for the future, bound together by fabriik. The marketplace will bring together a global spot and derivatives exchange, qualified custodians, market makers and global funds. Bernhard invited any interested company to provide competing products and services in the marketplace and carve out its market share.
"Our marketplace comes with a custodian. Have a better one? Amazing. Come and join and win over the market share. Or better yet, partner with us and let's create custodial solutions the world has never seen before. […] We believe in healthy competition with the same energy we believe in collaboration."
Watch The Bayesian Group presentation, Modern Finance on the Bitcoin SV Blockchain.
New to Bitcoin? Check out CoinGeek's Bitcoin for Beginners section, the ultimate resource guide to learn more about Bitcoin—as originally envisioned by Satoshi Nakamoto—and blockchain.