KnowNow's Player Protection Forum took place on March 1 and 2, the first in-person event of the year in London for the iGaming industry. This conference is designed to inspire the collaboration of iGaming industry professionals to practice responsible gambling initiatives and minimize harm for players. With fines and license suspensions at an all-time high and regulations tightening by the minute, responsible gambling is top of mind for all stakeholders in the iGaming space.
Harnessing the powers of the latest technology to help combat problem gambling, keep regulators happy and avoid player disputes was a recurring theme throughout the event and this is where nChain's Kensei Connect comes in. 
nChain was a main sponsor of the Player Protection Forum and the company's team of iGaming experts and their clients continues to grow. Nick Hill, nChain's Sales Director, has expanded his group to include Ai Ishii, Business Development at nChain; Matt Vines, consultant to nChain; and Phil Runyan, also a consultant to nChain—all professionals with a rich history in the iGaming space, just like Hill. 
We're at @KnowNow_Ltd Player Protection Forum today! @NickHHill, @philrun and Paul Foster from #CrucialCompliance are ready to answer your questions on how #blockchaintechnology can assist and help with #responsiblegaming and #playerprotection. Let's chat! pic.twitter.com/lvg35tLZEB

— nChain (@nChainGlobal) March 1, 2022
Alongside Hill and his nChain crew at the Player Protection Forum were Paul Foster, CEO of Crucial Compliance, and Warren Russell, CEO of W2, two iGaming industry suppliers who are integrating with Kensei and super-powering their compliance & Know-Your-Customer (KYC) offerings.
During the afternoon sessions on Day 1, Hill and Foster hosted a panel entitled, "The application of Blockchain technology in responsible gambling," educating the audience on the capabilities of Kensei Connect and highlighting why Crucial Compliance has decided to plug in.
"We've built this bridge that enables the legacy systems to communicate with the chain. We call it Kensei," Hill explained at the opening of his presentation.
"What we're fundamentally doing is we're notarizing every single transaction and then placing it onto an immutable ledger which is timestamped and verified and can't be changed," he said.
"What we're actually offering is the ability to protect players from gambling related harms—that's why we're all here—to protect the brand's reputation and protect against litigation. So it's almost like an insurance policy," he added.
The application of #blockchaintechnology in responsible gambling with @NickHHill @nChainGlobal joined by Paul Foster from Crucial Compliance.#KNEvents pic.twitter.com/qer9aBz5K1

— KnowNow Ltd (@KnowNow_Ltd) March 1, 2022
Using Kensei Connect either directly or through a third party like Crucial Compliance, when a marker of harm is triggered, the interaction between the operator and the player goes on chain and if there is any form of litigation further down the line, the operator can point the regulator to the verified data.
Crucial Compliance made the decision to integrate with Kensei because it will guarantee their data cannot be compromised, regardless of M&A, human interaction or other activities that could corrupt data.
"The problem is that somebody can go into that back end and change it. Somebody can go to the back end and change the rules because you're going through a merger or an acquisition or something else. Some of that data suddenly gets put into a different data warehouse because it's been archived. It happens all the time," Foster added after Hill called him up on stage.
"You've got your players coming in and whether they can use your CRM system or are coming from Crucial Compliance, or wherever they're coming in from, the data is then passed on to our Kensei Connect. We then do our magic with it, and we certify and then place it on the chain so that it can be then recorded and time stamped on the chain," Hill added.
"We can then retrieve it back from the chain in a humanised, legible format. It's not just a string of code that you've got to decipher…so when you need to present that to a third party, they can understand it… we can do this with KYC, AML, affordability, any form of data, any sequential form of events can be timestamped and stored on the chain for later retrieval," Hill explained.
Foster also made the point that this type of immutable data storage can be useful for the players themselves, if they wish to access their playing history and understand their cycle of unsafe gambling behavior, for example.
"If you go to a gaming company and in one hour get that string of exactly what happened to you, which the third party can independently verify—it could be your therapist, it could be the person who's helping you—literally that fast. We're going to have a lot more chance to help those people then waiting 28 days which is far too late," Foster said.
"So again, it's about speed. It's about integrity. It's about turning it on its head. And that's why we want to use the blockchain," Foster added.
Hill emphasized the importance of the anonymization of the data that is stored on chain—the data is actually "hashed" and therefore the actual player data is not at risk of being compromised. 
"[The information on chain] is available and can be available for academia because it is anonymized data. We don't store any player data. Its hashed data. We literally store the hash and it's just a timestamp and we issue a certificate saying that this is what happened at that time," Hill explained.
To sum up the session, Hill described blockchain as "the next layer of the internet" and said within the next five to six years, "We will all be using some form of blockchain technology without even knowing about it."
Following the presentation by Hill and Foster, the engaged audience had several questions for the pair, one about the regulators' reaction to using blockchain technology within their respective jurisdictions. Hill explained that since the Kensei Connect solution is not using blockchain for payments, player acquisition or processing in any way, the reception of the tech by the regulators he has talked with has been nothing but positive, which of course, is a very good sign. 
For more discussion surrounding blockchain technology's role in compliance and responsible gambling within the iGaming space, there is a free iGB webinar taking place on March 9 from 3-4pm GMT, "Practical implications for blockchain: Safer Gambling and AML". This webinar will feature Hill, Ishii, Foster and Russell as speakers, moderated by myself. Please join us and become a part of the latest technology powering responsibility in the iGaming industry.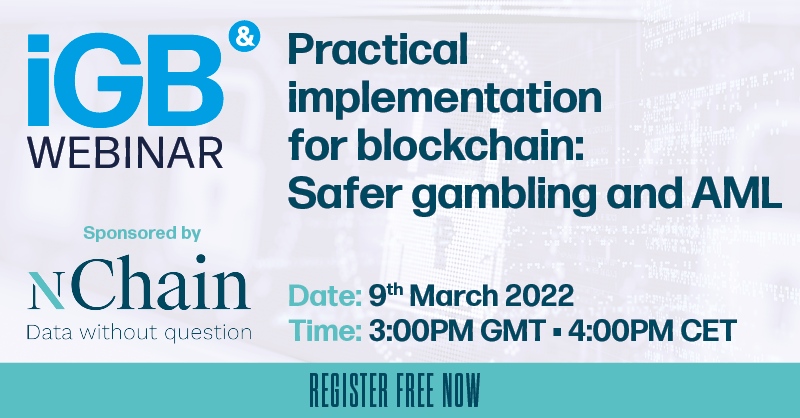 New to Bitcoin? Check out CoinGeek's Bitcoin for Beginners section, the ultimate resource guide to learn more about Bitcoin—as originally envisioned by Satoshi Nakamoto—and blockchain.