Business 28 June 2018
Ed Drake It's official: Bitcoin Cash reaches Purse.io
Purse.io, a service that allows consumers to buy goods from Amazon with cryptocurrency, has officially integrated Bitcoin Cash (BCH) on its platform.
With Bitcoin Cash, Purse.io users will now be able to complete payments with faster transaction times and lower fees than before, courtesy of the network's 32MB block size. Thanks to the Bitcoin BCH integration, customers will no longer be required to change their BCH into BTC, and will no longer incur the fees and delays associated with dealing in BTC. This will enable users to take advantage of Purse.io's 20% discounts on purchases through Amazon via their site.
Purse.io also has another innovative feature for Bitcoin BCH users, allowing them to exchange Amazon gift card balances for BCH, via the Purse escrow system. This will allow consumers to benefit from lower transaction fees when withdrawing Amazon credit vs. with BTC option, while opening access to the range of applications built for the BCH ecosystem.
Purse has suggested the move will lead to an increase in usage, both amongst BCH fans and cryptocurrency users more generally, given the inherent benefits it sees in BCH over BTC. The official integration comes a month after Purse announced that it has started testing Bitcoin Cash native support on the platform "to ensure a smooth experience." At the inaugural CoinGeek Conference, Purse.io senior developer Steven Bower also announced that they are taking the name back: Bcash is now a thing.
Members of the crypto community suggested Purse integration could ultimately lead to broader support for BCH across payment options online, and specifically across those still relying on the creaking infrastructure of BTC to facilitate transactions. On Reddit, some users have already listed their first orders, including user @hunk_quark who said, "Purse is a great way to get BCH into new hands."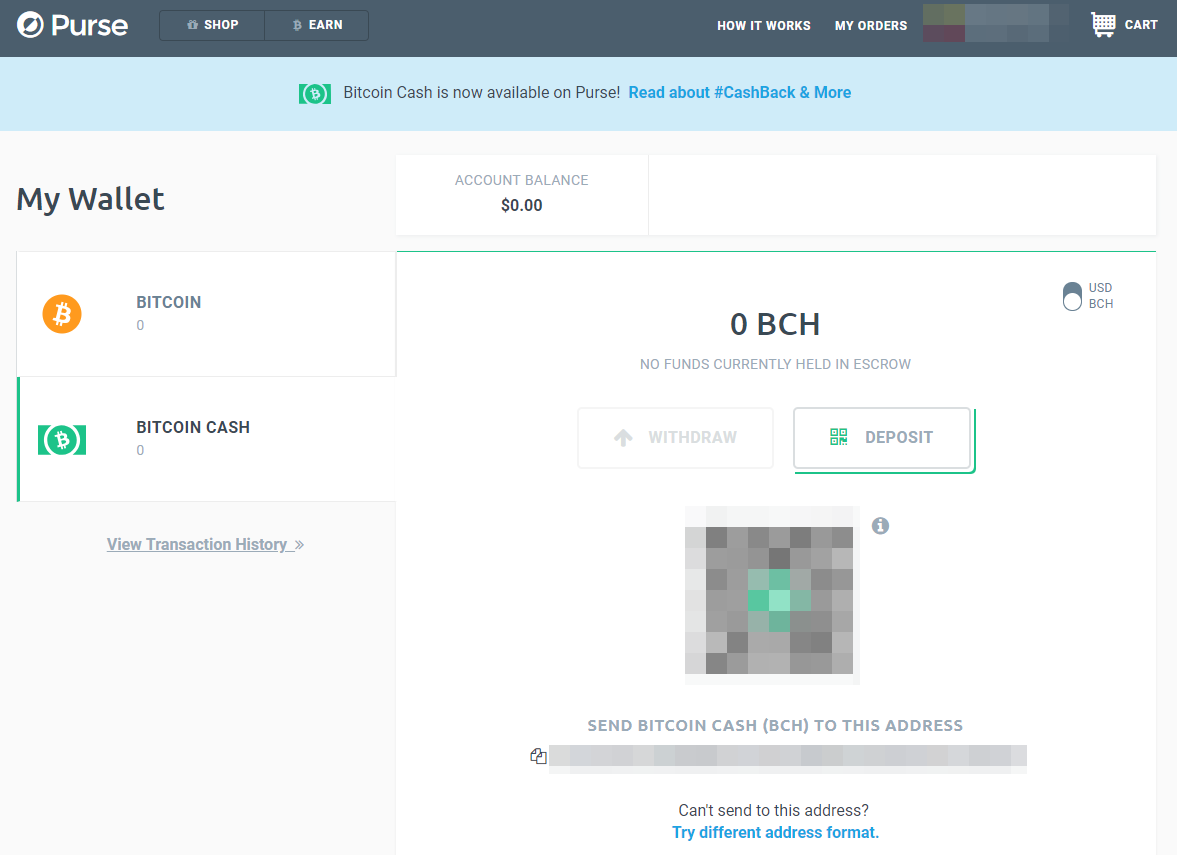 After soaring to all-time price highs on the back of hysteria and market manipulation in late 2017, BTC has plummeted through 2018, with seemingly no sign of an end in sight. Meanwhile, Bitcoin BCH has risen as the only viable alternative, which gets back to the origins of the original Bitcoin concept that offers faster transaction times with lower processing fees. While BTC die-hards continue to spread misinformation about Bitcoin Cash, the growing number of apps and services developed for the BCH ecosystem suggests the cryptocurrency is finding favour amongst businesses, developers and consumers alike.
The latest in a series of developments aimed at BCH in the crypto payment space, the decision by Purse to embrace BCH looks set to open new avenues for the company as it continues to gain market share.
Note: Tokens on the Bitcoin Core (SegWit) chain are referenced as BTC coins; tokens on the Bitcoin Cash ABC chain are referenced as BCH, BCH-ABC or BAB coins.
Bitcoin Satoshi Vision (BSV) is today the only Bitcoin project that follows the original Satoshi Nakamoto whitepaper, and that follows the original Satoshi protocol and design. BSV is the only public blockchain that maintains the original vision for Bitcoin and will massively scale to become the world's new money and enterprise blockchain.