nChain Director of Business Service Simit Naik and nChain Product Manager Carl Ambrus took the virtual stage on July 17 for the Wales Tech Week event titled, "Blockchain for enterprise."
In their presentation, Naik and Ambrus covered several topics, such as the challenges that enterprises typically face and how a blockchain has the potential to provide solutions to those problems.
The challenges that enterprises face today
The presentation began by exploring the many challenges that enterprises currently face. Most businesses run into obstacles when it comes to operational costs, regulation, data privacy, cybersecurity, and more.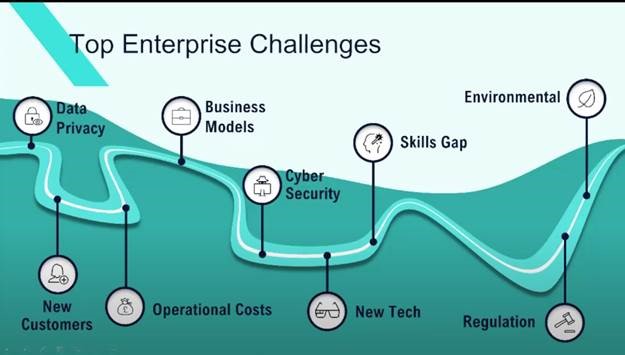 Ambrus went on to discuss why many enterprises are looking to solve these problems via a digital transformation; many executives believe that a digital transformation can improve operational efficiency, can improve time to market, and can help meet customer expectations.
However, 45% of executives don't think their company has the right technology to implement a digital transformation to solve the problems that they face. Some executives believe that blockchain is the answer to their problems, but Naik points out these executives should really be asking themselves what they are trying to accomplish before they ask themselves how they can implement a blockchain.
What blockchain does well 
If your company is looking for public, global distribution of data, tamper-proof record-keeping, fast, efficient, cheap payments, a native token, simple key management, and validation of transactions—then Naik said blockchain might be the right fit for you.
As an enterprise, however, you are going to need your blockchain to do a lot more; as an enterprise, you are also going to want your blockchain to help you with key management, treasury management, tokenization, smart contracts, data management, and many other things.
Successful enterprise blockchain implementation
Naik says that you should not think of blockchain as the solution, but rather, you should think of blockchain as a piece of the solution. In an enterprise setting, blockchain is usually the best fit when services and components use blockchain as their back-end. Enterprises typically do not want to deal with a blockchain at the protocol level itself—that's what nChain is here to help enterprises with. nChain abstracts the complexity of the blockchain and creates an easy to use API for their clients.
Ultimately, enterprises don't want to continually invest in educating their team members on cryptography and blockchain and they don't want to re-engineer their existing platforms. What they want is a simple solution that can be easily integrated into their existing platforms.
New to Bitcoin? Check out CoinGeek's Bitcoin for Beginners section, the ultimate resource guide to learn more about Bitcoin—as originally envisioned by Satoshi Nakamoto—and blockchain.