Riccardo Paolo Spagni, the lead Monero maintainer who was recently arrested on charges related to fraud, has been denied bail.
A U.S. court stated that Spagni, who goes under the nickname Fluffypony, had not proven that he wasn't a flight risk. According to the judge, Spagni had previously flown to the United States when he was supposed to appear in court in South Africa. The judge ruled that he should remain in custody until his extradition hearing takes place.
What did Riccardo Spagni do?
It's important to emphasize that Spagni has not been convicted of anything yet. However, he stands accused of defrauding his former employer, Cape Cookies, out of R1.4 million, or just shy of US$100,000, over the course of two years (2009-2011).
Spagni allegedly intercepted invoices from another company, Ensync, and fabricated similar invoices, which he then forwarded to Cape Cookies. The scheme involved inflating prices and receiving the payments to his own bank accounts.
Spagni was initially charged with fraud by the Cape Regional Court in Capetown. However, he failed to appear for his trial, leaving authorities searching for him ever since. In July 2021, he was arrested in Nashville, Tennessee.
Spagni denies the charges, has pleaded not guilty, and his legal team claims the case against him is "fatally flawed." He is currently battling extradition to South Africa, where he faces up to 20 years in prison, according to the U.S. government.
Why are Dr. Craig Wright's detractors so often linked to crime?
Riccardo Spagni has been one of Dr. Craig Wright's most outspoken critics. He has directly accused Wright of being a fraud on social media.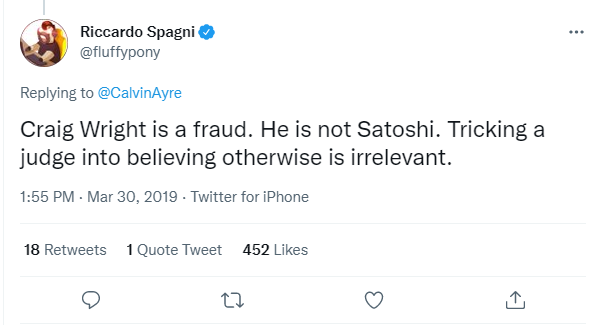 Yet, Spagni is not the only one of Dr. Wright's detractors linked to fraud, corruption, and crime in general.
Roger Ver, who once made a video accusing Dr. Wright of being a fraud, has been an outspoken supporter of Silk Road boss Ross Ulbricht and was once jailed for illegally selling explosives.
Tether, which financially supported podcaster Peter McCormack before he abandoned his libel defence in a case involving Dr. Wright, were banned from operating in New York state. Some of its executives are caught up in a probe into bank fraud by the U.S. Department of Justice.
Binance, whose CEO Changpeng Zhao directly stated that Dr. Wright was not Satoshi Nakamoto and who led a delisting campaign against BSV, is under fire from regulators around the world and was recently accused of market manipulation and countertrading its own clients. Ironically, Binance has threatened legal action to protect its reputation, the very thing it lambasted Dr. Wright for in the first place.
Upon learning about allegations of market manipulation made against us, we want to make our position regarding this critical subject matter clear.

Binance has never traded against our users nor manipulated the market, and we never will.

— Binance (@binance) August 23, 2021
There's no smoke without fire
Here we have a convicted felon who believes that selling heroin on the internet is the correct use case for digital currencies, executives of a company that lied about its reserves and covered up massive financial losses, and the CEO of a company that stands accused of market manipulation, all accusing a man who pushes for regulation, professionalization, and strict AML/KYC checks of being a fraud.
Intelligent readers can do the math. If Spagni does get convicted of fraud in South Africa, it will only further prove the point that the cryptocurrency space is currently run largely by criminals who wish to protect their schemes and malign Bitcoin's inventor.
When you understand that Bitcoin was designed to create an immutable evidence trail that would see financial criminals and fraudsters convicted much more often, it all begins to make sense.
We'll keep you up to date on whatever fate befalls Riccardo Spagni. In the meantime, why not learn what Bitcoin really is?
Follow CoinGeek's Crypto Crime Cartel series, which delves into the stream of groups—a from BitMEX to Binance, Bitcoin.com, Blockstream, ShapeShift, Coinbase, Ripple and Ethereum—who have co-opted the digital asset revolution and turned the industry into a minefield for naïve (and even experienced) players in the market.
New to Bitcoin? Check out CoinGeek's Bitcoin for Beginners section, the ultimate resource guide to learn more about Bitcoin—as originally envisioned by Satoshi Nakamoto—and blockchain.