One of the key themes running through the blockchain and digital currency industries in the last few years is environmental sustainability. It's something the BSV ecosystem has been focused on since day one, and it was a particular focus at the recent CoinGeek New York conference.
This month, Smart Ledger introduced M.R. Megawatt and Friends. It's a sustainable blockchain gaming platform that will enable the issuance of non-fungible tokens (NFTs).
More about M.R. Megawatt and Friends
"The convergence of environmental, social, and (corporate) governance (ESG) initiatives with NFTs, gaming, micropayments, and provable sustainable actions is extremely exciting. It is now economically possible to gamify ESG, incentivizing players to compete for not only micro-payment rewards but environmental action leaderboards. We are able to utilize the power of micropayments, NFTs, and a secure, proof-of-work blockchain to make it fun to help the planet. Only with a scalable public blockchain is this possible," SmartLedger CTO Greg Ward told CoinGeek.
Bryan Daugherty introduced M.R. Megawatt and Friends. Daugherty is the creator of Proof of ESG – The ESG Timestamp Initiative.
Right now, it's a proof of concept, offering users the chance to jump over blocks and collect Hemp Power-Ups along the way. Hemp Power-Ups reference a strategic partnership with a Virginia-based sustainable hemp farm called PURE Shenandoah.
In the immediate future, M.R. Megawatt and Friends will offer more sustainable gamification, helping players reduce their carbon footprints. There'll be a carbon offset leaderboard, ESG fungible game tokens, and AD sponsored sustainable gameplay in the longer term.
The platform does and will feature sustainable NFTs with utility functions such as advertising credits and access to a sustainability store. They use Ticketmint Technology to facilitate this. One NFT, Hemp Power-Up, of which there are only 100, will allow users to contribute towards the planting of more sustainable hemp plants.
As a whole, the vision is to create a carbon neutralizing game platform that scales to global levels.
Making NFTs and gaming sustainable on the BSV blockchain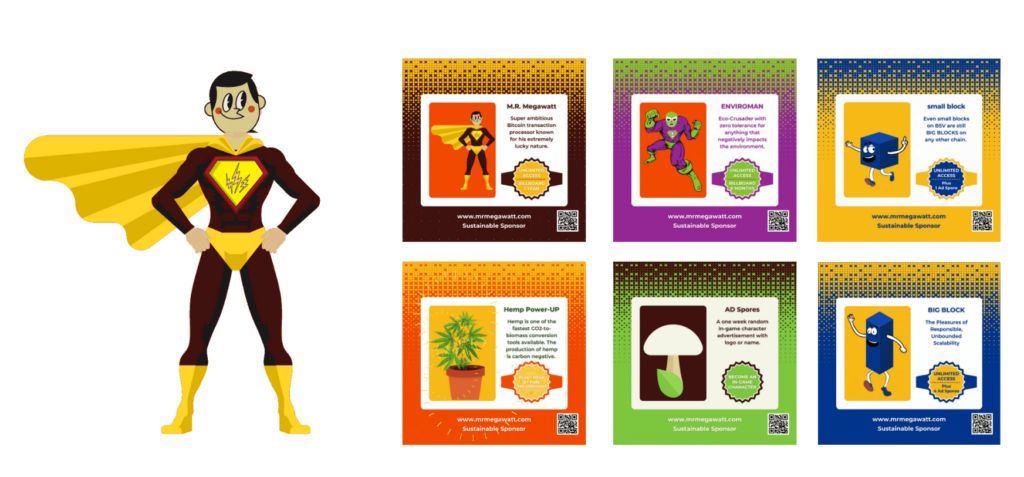 While critics of blockchain technology and NFTs in general point to the massive carbon footprint of the industry and the severe lack of any real utility, this is based on a misunderstanding of the technology's potential and the fact that most blockchains are both unscalable and don't provide much real-world utility at all.
However, BSV changes all of that. With literally unlimited scaling capacity, it's possible to run the entire global economy on the BSV ledger for a fraction of the energy BTC or Ethereum uses. Imagine trillions of transactions a day running on the BSV blockchain while it uses less energy than Ethereum, for example. The energy expenditure per transaction becomes nil effectively, making Bitcoin green technology.
With initiatives like M.R. Megawatt and Friends, things get even better. People can use applications on the blockchain that have real-world carbon-neutralizing impacts. Winning NFTs that lead to more planting of sustainable hemp is one example of this.
As Daugherty pointed out, "scaling equals sustainability." It's not possible to have an eco-friendly, sustainable blockchain unless it scales to global levels. BSV does this, whereas other blockchains like BTC Core and Ethereum never will. On BSV, the fees and carbon footprint get lower as on-chain activity increases. For example, when comparing BSV to Ethereum right now, we see that BSV has a fee of $0.0002 per kilobyte compared to Ethereum's $194, and when measured in kilowatt-hours, it's 4 for BSV compared to 62.56 for Ethereum.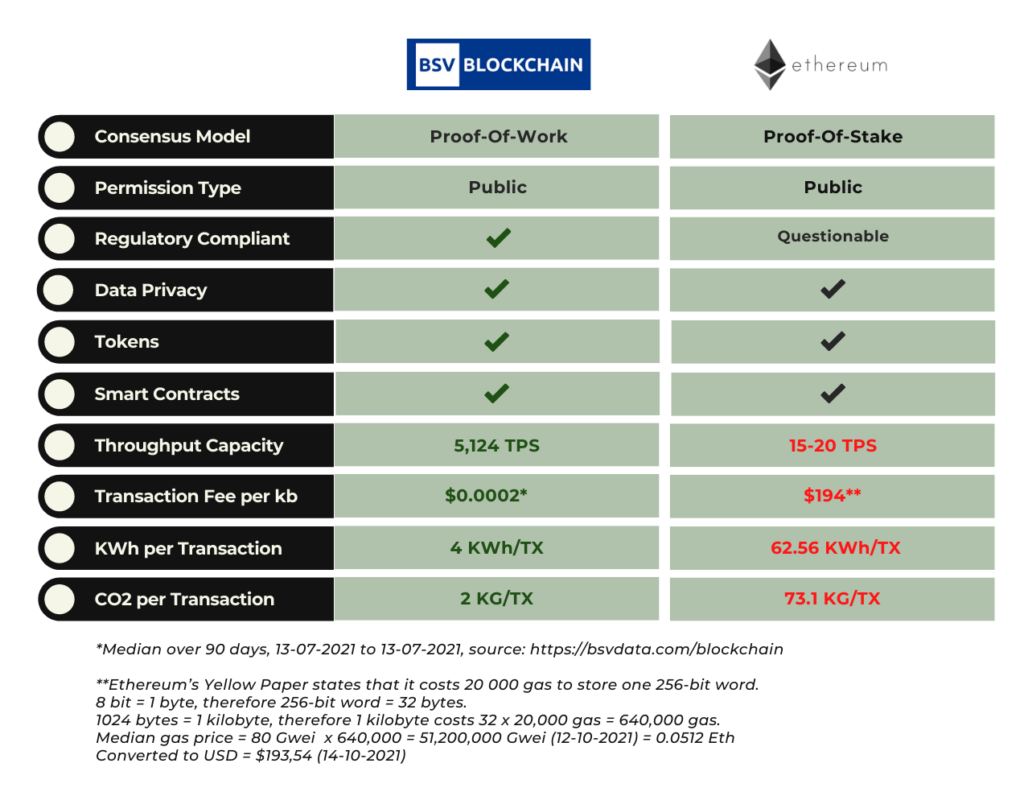 As more attention is drawn to blockchain technology and digital currencies in general, the data is clear; BSV is the most sustainable proof-of-work blockchain by a long way. As it scales and new sustainable applications like M.R. Megawatt and Friends are launched, BSV as a sustainable blockchain solution will become more obvious.
Watch: CoinGeek New York presentation, A Study of Bitcoin & Blockchain Energy Consumption
New to blockchain? Check out CoinGeek's Blockchain for Beginners section, the ultimate resource guide to learn more about blockchain technology.