Following the suspension of withdrawals from trading accounts, hash power dropped by as much as 99% on OKEx's digital currency mining pools. 
Initially launched in October 2018, OKEx's popular mining pool quickly rose to be one of the world's largest, according to blockchain statistics website BTC.com. OKEx once controlled roughly 9,000 petahashes per second (PH/s) of SHA-256 mining power, according to an online report. On average, they were mining approximately 10 blocks per day.
On October 16, the company alert users to the "Suspension of Digital assets/Cryptocurrencies Withdrawals" because one of its private key holders was "out of touch" with the organization and "cooperating with a public security bureau in investigations." Online reports allege the executive to be founder Mingxing "Star" Xu. 
Since then, OKEx's mining pool has lost most of its hash power and not mining any new BTC blocks since November 2 or BSV blocks in 31 days.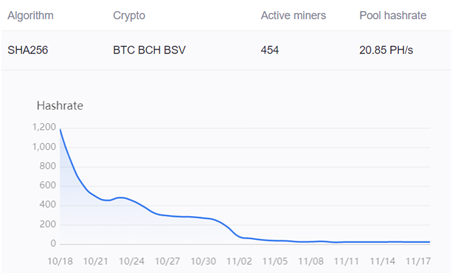 The day before suspending withdrawals, pool capacity was roughly 5,000 PH/s. Presently, that number has slipped to about 20.8 PH/s because of the negative headlines. 
Also, OKEx's Ethereum mining pool suffered the consequences of the suspension of withdrawals from the platform, as its hash rate has decreased from 1.6 GH/s to .81 GH/s.
The suspension of withdrawals from trading accounts does not directly affect payouts to mining clients. The mere possibility of complications with the disbursement along with now-debunked rumors that the executive in question was under criminal detention has been the catalyst to spook many block reward miners into switching pools. 
Ethan Vera, the co-founder of Luxor Technology, told CoinDesk that OKEx's mining pool is "now expected to mine only one new block every 40 days." Vera added that "Pool payouts are the lifeline of mining operations that don't have large treasuries. It's no surprise that even the threat of that being cut off is enough for miners to jump ship to other mining pools."
It is doubtful all the hash power will disappear. Recovery will most likely occur once OKEx has restored the withdrawal functions to the trading account. With withdrawals still suspended indefinitely, there is no timeline in sight for when the rebound will occur. 
See also: TAAL's Jerry Chan presentation at CoinGeek Live on The Shift from Bitcoin "Miners" to "Transaction Processors"
New to Bitcoin? Check out CoinGeek's Bitcoin for Beginners section, the ultimate resource guide to learn more about Bitcoin—as originally envisioned by Satoshi Nakamoto—and blockchain.