It's obvious that tokenization is going to be an important part of the digital asset story in the coming months. It's been a constant presence throughout the three days of CoinGeek New York, and the final day of the conference was no exception.
One particular area of interest within the tokenization conversation is the ability to tokenize equity and other kinds of instruments. This is what Geoffrey Hammond, founder and manager of Aequantium LLC, came to address the physical and virtual conference crowd about.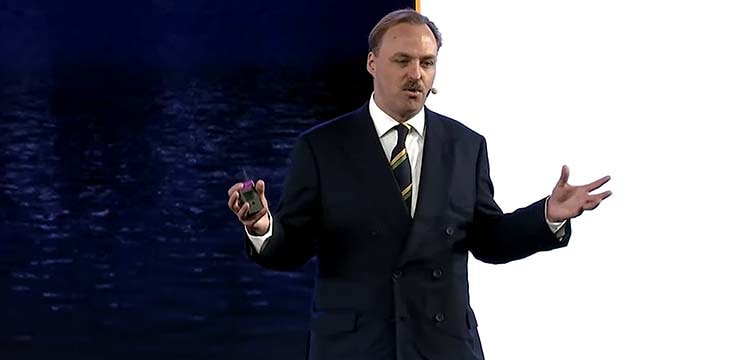 Aequantium is a startup futures fund manager which recently came to an agreement with Tokenized to create and issue investment tokens for investors and provide smart contract management and services. Hammond announced that his project has a clearly defined goal:
"Pricing blockchain based debt with futures markets. This is my dream. The goal of my fund is to trade blockchain on futures markets like bonds."
A futures contract is an agreement to buy or sell something at some date in the future at a predetermined price.
"My thesis is that blockchain can be used as an international settlement mechanism instead of treasury bonds. Right now, if someone from China and U.S. wants to do an international transaction, one of the countries is going to be stuck holding the bag of the other country," Hammond explained.
After a lengthy series of disclaimers required by law, Hammond began with a technical dive on how the U.S. commodities and securities regimes apply to various funds, including those relating to blockchain.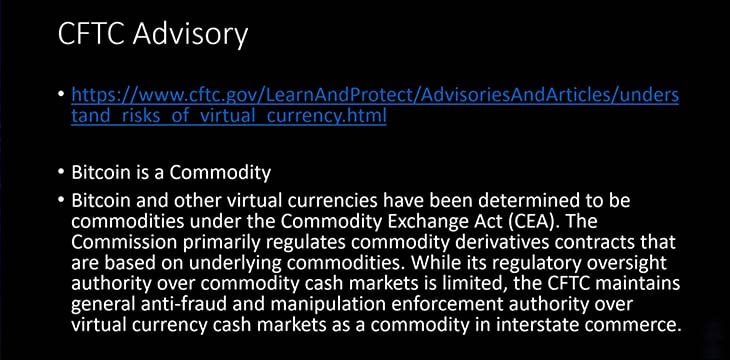 As he points out, the concept of Bitcoin is already catered for by the Commodity Futures Trading Commission (CFTC), which has issued an advisory on the status of Bitcoin. Bitcoin, according to the CFTC, is a commodity with regard to interstate commerce.
"Everyone should be very happy that the CFTC has taken over bitcoin, because that means it's legal to trade," Hammond said.
Financial markets are early adopters of technology, he explained. Much of the tech we are familiar with today was first paid for by the commodities industry: calculators, the telegraph, the telephone, and computers all originated here.
Blockchain, then, is surely no exception. And according to Hammond, "the last technology the futures market is adopting is the blockchain. It really is a new and exciting technology that can revolutionize the industry."
So, Hammond wants to be able to trade blockchain on futures markets. He points out that the users of futures contracts are primarily exchange-traded funds (ETFs), other kinds of funds, those trying to hedge their position and speculators.
Given it's an area dense with terms in need of definition, Hammond kept dipping back into explanatory primers to keep the audience on the same page. He explained the futures curve, representing the future sentiment of cash prices for each subsequent delivery month. As these contracts approach expiration, the cash market and futures price are supposed to converge. This is an easy mechanism for physical goods, because of how simply arbitrage is in that situation, but is an area which may be different in the context of Bitcoin and blockchain.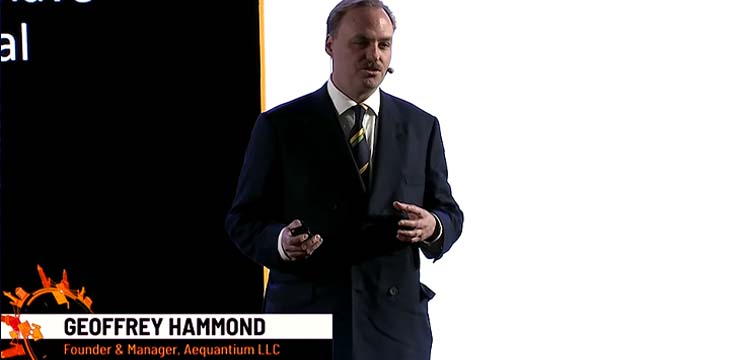 Eventually, he came to the specifics of the vision he has for Aequantium.
"The fund takes investor money, puts it into the futures market for trading on options, and then issues tokens based on that for participation."
These tokens are issued on the blockchain and symbolize the holder's futures participation. It's a significant improvement over traditional paper evidence. With a token, the net asset value (NAV) is updated each day, it's much more secure, and is verifiable with a block explorer. The time it takes for investors to receive their proof of ownership is greatly reduced, too.
"The best part about blockchain is that with blockchain, there's no work involved after the execution of the trade. Normally, there's a cycle. Execution, clearing and settlement." Hammond further stated, "Blockchain can force the financial system to be honest, because there are no people involved in the clearing and settlement function. This is what will make blockchain part of human society for the next thousand years.'
Watch CoinGeek New York 2021 Day 3 here:
New to Bitcoin? Check out CoinGeek's Bitcoin for Beginners section, the ultimate resource guide to learn more about Bitcoin—as originally envisioned by Satoshi Nakamoto—and blockchain.