Is Twitter getting you down, or do Facebook's privacy policies make you queasy? Do you believe you deserve to be paid for all that time you sink into social media creativity? Bitcoin's improvements in micropayments and content ownership are shifting the balance in your favor. We took a look at some newcomers that have already started to deliver.
You work to provide the content, and the platform delivers a large audience. To date, that's been the main trade-off for social media users. Increasingly, though, those users are demanding something more for their time, effort, insight and wit. If Facebook, Twitter and Instagram are starting to feel less fun every day, here are a few alternatives that promise to give you something back.
All the services reviewed here are relatively new, which means you won't be quitting your day job or quipping your way to fame and bling just yet. They're also less feature-rich than the existing behemoths, though it's unfair to compare them with services that have existed for over a decade and have huge development teams, funded by truckloads of Silicon Valley venture cash.
But if you feel like making some pocket money while feeding less of your soul to the Big Tech beast, here are the alternatives that would welcome you as an early adopter.
Twetch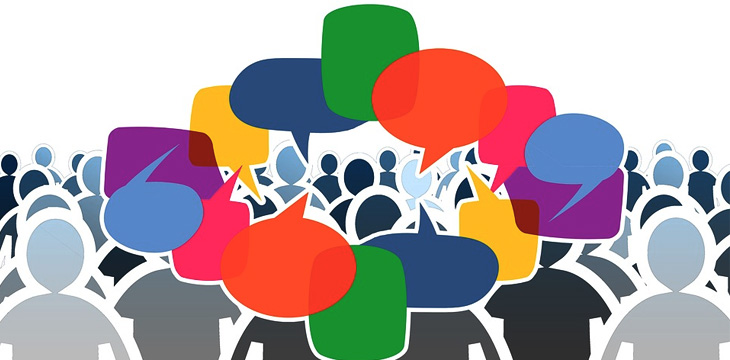 Has anyone in the BSV society not heard of Twetch? Since launching in early 2019, it has earned a dedicated following for (a) making money for its users, and (b) being a Twitter alternative that almost guarantees you won't be trolled in replies by armies of new-account anons defending BTC and BCH.
There's no denying Twetch aims to be Twitter, but with Bitcoin, and its feature set grows ever more Twitter-like as the months pass. It has a similar character limit (256) and same basic feature set. The recent upgrade to enable image-posting for all users has made it more appealing, and it promises video/audio file embedded with its next release.
Twetch is still invite-only and officially in beta, so you'll have to take a place on the waiting list to post and earn. Many of its existing and most enthusiastic users boast earnings in the hundreds of dollars, and many have migrated (or are planning to) there from Twitter permanently.
Twetch touts its earning potential as a key selling point. Of course, all that money has to come from somewhere, so here's a rundown: it costs $0.03 to post (or repost), $0.10 to follow someone, $0.05 to "like" a post and $0.02 to reply to one. Posts with images depend on the size, though the one we tested cost $0.13. You can also enable "Tweet from Twetch," which reposts your Twetches to Twitter, for a $1.00 setup fee. If you're a Twitter user, you'll probably have noticed a lot of these.
Criticisms of Twetch have included the following: it's an echo chamber of BSV fans; it lacks more sophisticated Twitter features like lists and muting; and some of the prices are high enough to make you think twice before interacting with a post or user. Whether those criticisms are valid or not depends on individual expectations, though Twetch is obviously a platform that expects you to contribute to the community as well as receive.
Twetch uses MoneyButton or RelayOne for account logins and payments, making it as easy to use as either of those platforms. It has a dark mode, gives full rundowns and totals for your earnings, and updates are regular—irregular users will notice marked improvements in the interface design and functionality each time they visit.
Weiblock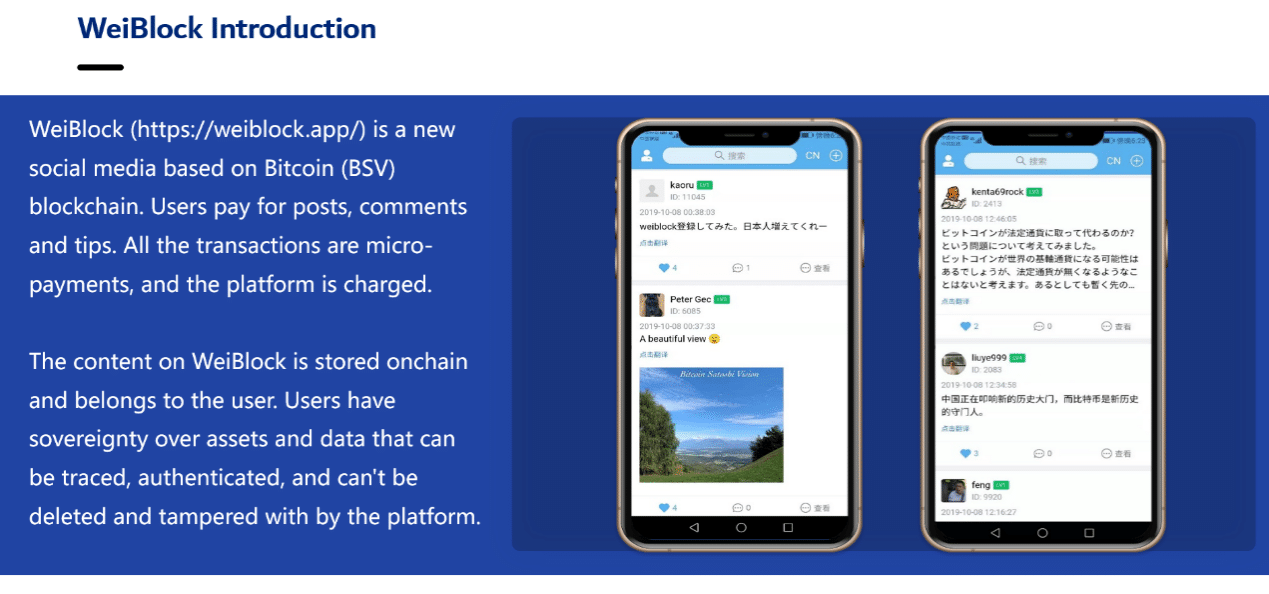 If Twetch has a legitimate contender at this point, it's Weiblock—which launched in August 2019 and is lesser-known among the English-speaking BSV set.
The first thing you'll notice about Weiblock is that it's popular with Chinese-speaking users—since it's based in Shanghai and is based on China's popular Weibo social network, that makes sense. Posts in English have begun to appear more often lately, however.
Weiblock has localized interfaces in Chinese, English, Japanese and Korean, and each post has a free "translate" button into one of those languages. This gives it a more international feel than other platforms, and provides a handy view of what BSV users from different countries/cultures are talking about.
Some prefer Weiblock to Twetch as its prices are lower—$0.01 for posts, replies and likes; $0.05 to follow someone; and ~8-9 cents to embed an image. There doesn't appear to be a character limit, and there's no reposting function.
Naturally, those lower prices also mean lower payouts to users, so you'd be aiming more for volume if you want to earn. Given that anyone can use Weiblock without waiting for an invite (plus the fact it's Chinese), the potential audience is currently larger.
Weiblock also integrates with MoneyButton for account logins and payments. The interface is basic but works smoothly, and it also has a dark mode and rundown of your earnings over time. Each post has a button to view its accompanying transaction on a blockchain explorer.
Personally, we feel Weiblock has a slight edge over Twetch for its longer posts, lower fees and accessibility to all—though it's still too early to declare a passion for one over the other just yet.
Wheedl

Wheedl made a splash when it first launched in September 2019, though its fans (and developers) are less active and vocal than Twetch's, so it's dropped off the radar a bit lately.
Wheedl is notably less "serious" than Twetch or Weiblock—you can't post text there, only meme images (or as they're called here, "Wemes"). There's no integration with MoneyButton or RelayOne, meaning you'll have to create a new wallet or import an existing seed. It's free to follow other users, around $0.10 to post an image, and you make a $0.03 "donation" to other users to like or reply to their posts. There's no reposting.
The focus on images and memes (OK, sigh, wemes) means Wheedl isn't a direct competitor to Twetch or Weiblock, but it gets a special mention here for its impressive design. Access is mobile-only via a browser app, but it's slick. The interface is pretty and smooth, and built-in tools to add decorated text to images mean anyone can be a meme creator.
Wheedl's main downside is that it's less popular and your creations will be noticed mainly by other platform users. Given that memes exist mainly for their virality, that could discourage some. If Wheedl becomes more popular, though, that will be less of an issue. Since it's barely a month old, we'll cut it some slack.
Notable Mentions: Bitstagram and Yours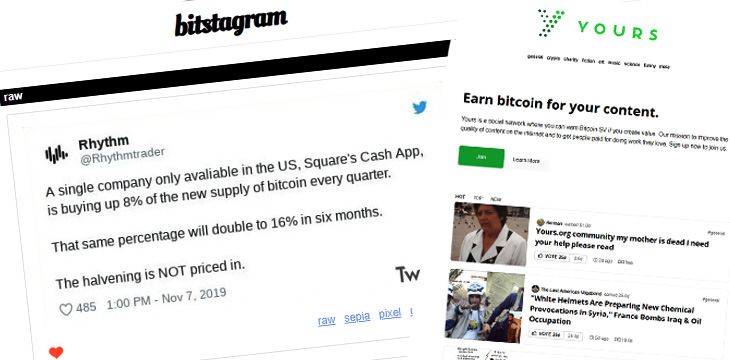 We're including two more services here—Bitstagram and Yours.org—since they're similar, though the feature sets and development level differ.
Bitstagram is probably the most bare-bones of the lot, though its name and Twitter description suggest more full-featured ambitions. At present it permits simple image posting to the BSV blockchain, and tipping. We haven't seen any new features added for a while, and Bitstagram's Twitter account has been quiet lately, so until we hear more we'll have to wait and see.
Yours.org, created by Ryan X. Charles, predates BSV by over a year but moved from BCH to the original Bitcoin with its creator's support. Intended as a competitor to Medium.com and Steemit, Yours received $1.5 million from Bitmain and nChain in Series A funding in early 2018.
Yours doesn't get as much attention these days, and oddly enough it still uses a built-in wallet instead of MoneyButton (it uses a one-off MB payment to register an account), so you'll have to move funds in an out manually.
That said, Yours works pretty well with its current feature set. It's free to post text articles of any word length, or images—you'll need to upload image files and embed the link. Upvoting an article you like costs $0.25, and creators can set a fee to "buy" their work (anything from free upwards). Creators receive the full amount for each, plus you'll earn fractions of a cent every time someone votes on the same article as you.
New to blockchain? Check out CoinGeek's Blockchain for Beginners section, the ultimate resource guide to learn more about blockchain technology.