Dark 2 Light is a controversial tabletop party game intended to reveal what others are thinking without necessarily exposing your own thoughts. The card game can be played physically or online and integrates Bitcoin micropayments. I caught up with the creator, Alex Fauvel, to learn more.
https://t.co/ecVXL13QAk is a card game and online platform that incentivizes you to ask questions of any kind and speak your mind.

No one will know what question you asked or what you think on topics unless you want people to.

— Dark2Light.xyz (@dark2lightxyz) September 12, 2023
How and why did you create Dark 2 Light?
Alex Fauvel: I was throwing a party, and a friend asked an 'offensive' question.
A different friend asked me to intervene, and I wasn't there when it happened, but it sounded like a funny question. So, the next day, I was thinking about it—how do you ask and answer a question without anyone knowing? It came to me with as many questions from many people as possible and secret votes. Similar to Bitcoin's privacy model, if there are a few transactions, then figuring out who is who is trivial, but with many points at scale, it becomes close to impossible.
I got nine friends together and wrote down some of the most obscene, important, confusing, and funny questions we could. We cut them up, rolled them into a punch bowl, cut out some voting cards, and played the first game of Dark 2 Light. A few questions in, everyone started to get clued into how the game works and started coming up with their own questions and adding them to the pot.
With some quick prototyping, we began to refine the card game into something playable and fun, with repeat value.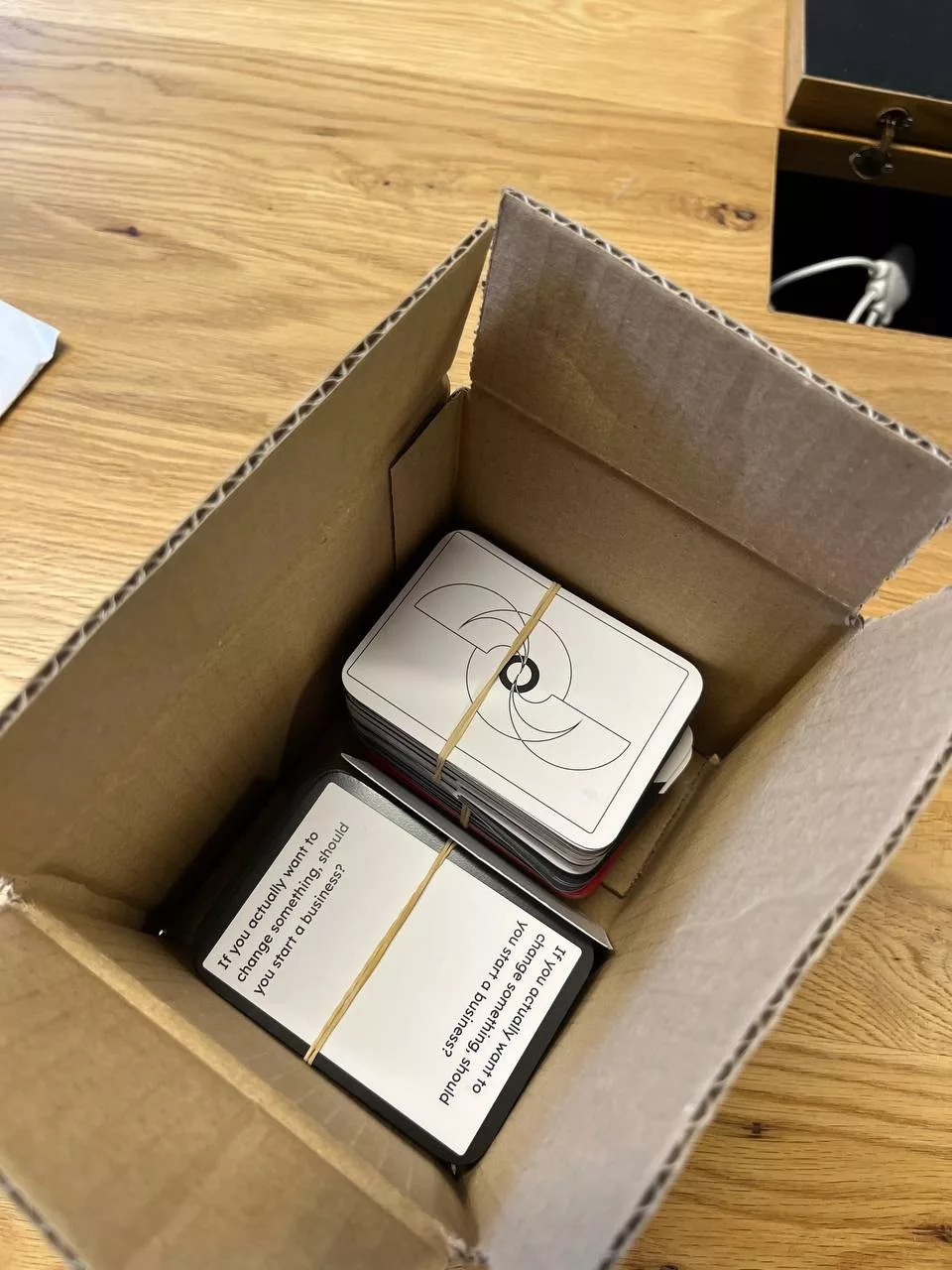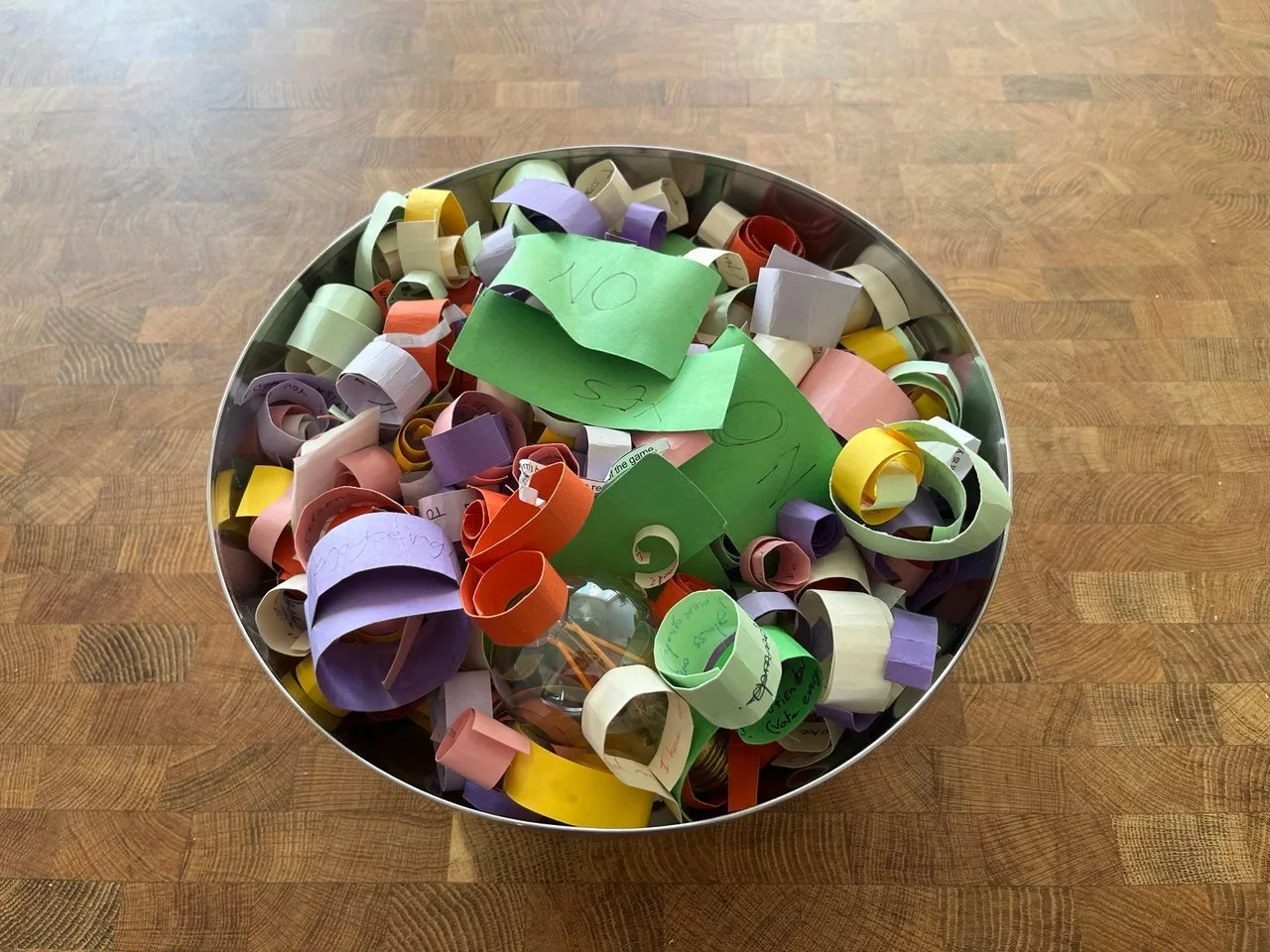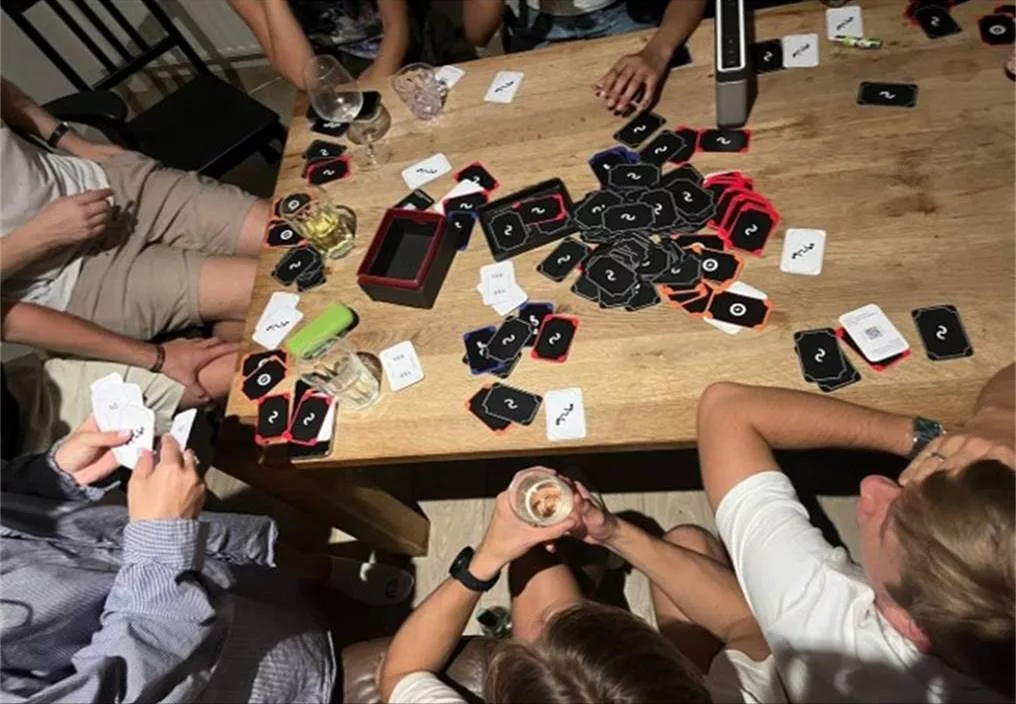 Why do you label the game as controversial, and how did Cards Against Humanity influence the game's initial content?
Alex Fauvel: It is as controversial as the most controversial question you can think of, which is different for everyone. In a world where even the mundane questions can be controversial, it is difficult for us to describe it as anything other than controversial. Though the game is similar in look to Cards Against Humanity, the content and method of play is very different. We mainly reference it because it is familiar to most people. As for the initial content, the world generates the strangest questions organically.
Do you think the controversial nature of the questions will be a barrier to prevent users from wanting to play?
Alex Fauvel: The majority of the actually controversial questions are restricted to an NSFW expansion planned for the game. As for the rest, they are a mix of normal 'boring' questions, which could be as simple as "Are you happy?"—ones where everyone already thinks they know everyone else's answer—and thoughtful, self-reflective statements designed to elucidate one's views. Essentially, the game is a framework for people to ask questions about any topic or deep dive into any particular topic of their choosing. Our aim is to get people talking about things they may not have examined before.
Why build a card game that integrates micropayments?
Alex Fauvel: One of the problems we are trying to solve is onboarding people to a new world of money technology that no longer has the trust of the public. To rebuild that trust, we believe the best way to do that is remove as much friction as possible and provide a seamless onboarding experience into that technology. Which is why each question card has a QR code on it that, once live, will take you to that question on the platform, where you can then start playing, using, and earning Bitcoin without even knowing.
Yes, you can play online for free as well. If the technology is going to fade into the background, then the payments need to be small enough that the users don't even care. However, for the creators, all those small micropayments add up to large sums of money, so for a small investment of around $1, if you ask the right question, you could make substantial amounts of money.
How can users earn BSV from playing the game?
Alex Fauvel: Either by asking or answering questions on the web platform. While the card game is a social, multiplayer game, the web platform is more akin to a single-player RPG experience. Asking the questions is obviously much more valuable and more costly but will also be more lucrative. Each question can only be asked once and can be answered once per person forever. A short yes or no question costs users around a dollar, which is where the platform charges most of its fee. Part of this fee goes to the first people that vote on the question, meaning you always get an answer from at least this number of people on the platform.
Every vote either pays you or requires you to pay, depending on where you are in the queue for that question. There are other mechanisms, but let's not give away all the secrets for now. What this allows for is users can ask a simple question, pay a relatively low cost to do so, and collect valuable response data indefinitely. We imagine a future where the Dark2Light.xyz web platform will become a sought-after resource in knowing how people feel about any given topic.
How does the game integrate NFTs? Will these NFTs be tradable on a secondary market?
Alex Fauvel: We are interested in NFTs in the sense that each question on the web platform will be stored on-chain and have useful metadata attached. In this sense, we can consider them non-fungible tokens, but there are no concrete plans to utilize a secondary market yet. However, our roadmap is open and subject to change.
Which token protocol will the NFTs be implemented on?
Alex Fauvel: As described before, we are mostly focused on the on-chain data and metrics storage aspect of Bitcoin. However, we are looking into different solutions, perhaps to implement something similar to SLictionary's definition tokens and using the BoostPow protocol to rank questions.
Will Dark 2 Light have its own BSV wallet, or will the game integrate with existing wallets? If so, which ones?
Alex Fauvel: To keep things flexible and simple to use on our platform, we will likely have a very minimal wallet that is geared towards using our web platform. We are also looking into solutions integrating with the HandCash app gallery and utilizing RelayX's interoperability, among others.
Hello everyone –

I'm proud to announce that the #startup I've been working on for some time now has launched our website: https://t.co/tnH15ldQD5

Dark 2 Light is a #tabletop card game (similar to Cards Against Humanity) mixed with a #socialexperiment…

— shirish (@shirish_sarkar) September 12, 2023
Tokenized record label GEIST founder Shirish Sarkar announced his involvement in the project, is there any synergy with the game and GEIST?
Alex Fauvel: Shirish has been the lead developer for our web platform and has brought in expertise gained from working on his own projects as well as the BoostPow protocol. He came recommended by someone we trust in the ecosystem and has been incredibly valuable for bringing this project into fruition.
Will there be any benefits for those who fund the Kickstarter?
Alex Fauvel: Those that pre-order through Kickstarter will get early access to the platform, which is a nice benefit to get a head start. We are aiming to create the newest, most exciting social game of our time, so obviously, getting the earliest version of it is also a benefit in itself. There are different tiers for funding that will include extra cards and expansions for a discounted price. We imagine college students and Christmas gifts being a big draw for maybe getting 2 or 3 sets before we can go to mass market production!
When is the online version of the game launching?
Alex Fauvel: The Kickstarter goes live on the 7th of October and ends on the 7th of November. We plan on launching a beta platform to the Kickstarter backers a little before funding ends and then open to the public before the end of the year. Finally, the Kickstarter orders should be arriving at the start of the year, if not sooner.
Thank you, Dark2Light, for taking the time to answer my questions. I hope the readers learned more about the game and how it integrates Bitcoin SV. Readers can playtest the game physically by printing out a PDF here. The readers can find more details at dark2light.xyz
This article was lightly edited for clarity and grammatical purposes.
Watch: Moving from free-to-play to play-to-earn gaming with blockchain help
New to blockchain? Check out CoinGeek's Blockchain for Beginners section, the ultimate resource guide to learn more about blockchain technology.