Interviews
Charles Miller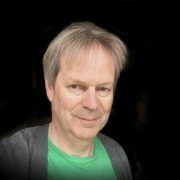 Dale Dickins: To have Bitcoin work, it has to integrate, it has to conform
Dale Dickins is a Bitcoin evangelist: "I'm always encouraging people to use it". Women in particular understand, she says, that "when something is used it increases in value".
Dale discovered cryptocurrency through working with the open source community in Melbourne, Australia. But she was happy to move on from open source because she says that when she tried to put on events to bring open source people together, she found they were too shy and introverted to invite their friends along.
Since 2012, she's been running courses to introduce people to crypto, setting up each participant with a wallet and converting some fiat to crypto for them to 'play with' during a workshop.
Dale says she has lots of women on her courses and that they're mostly interested in learning how to use crypto in ordinary situations, like in a coffee shop.
When it comes to the subject of investing serious money in crypto, "I explain that it is extremely volatile" But she also explains how other currencies decline in value of time, which means we have inflation. "The probability that Bitcoin will increase in value over the next ten years is much higher than that the Australian dollar will."
Dale has noticed that the participants at her workshops are more informed today than they were when she started them, and that they're no longer wanting to operate outside of the established financial system:
"The questions are changing, in people wanting to be responsible around tax – whereas originally people [had] more the anarchist mentality, wanting to avoid banks". Dale admits that her own sentiments have also changed in the same way and she now believes that "having tax included in every payment …would be a great way to keep in real time".
Today, Dale is sure that "to have this work in the world, it has to integrate …it has to conform".
Aside from her courses, Dale is converting the waiters and waitresses of Melbourne to crypto by offering them tips in Bitcoin – on condition that they download a wallet to receive it in.
Listen to more from Dale Dickins on the latest CoinGeek Conversations podcast:
Please subscribe to CoinGeek Conversations – this is episode 8 of a weekly podcast series. Just search for "CoinGeek Conversations" wherever you get your podcasts, subscribe on iTunes, listen on Spotify or visit the CoinGeek Conversations website.
Note: Tokens on the Bitcoin Core (SegWit) chain are referenced as SegWitCoin BTC coins. Altcoins, which value privacy, anonymity, and distance from government intervention, are referenced as dark coins.
Bitcoin Satoshi Vision (BSV) is today the only Bitcoin project that follows the original Satoshi Nakamoto whitepaper, and that follows the original Satoshi protocol and design. BSV is the only public blockchain that maintains the original vision for Bitcoin and will massively scale to become the world's new money and enterprise blockchain.