Assembling Your #MetaBot Avatar Tomorrow at UTC 8:00!
Avatar holders can enjoy Genesis Rights include:
🔥40% discount transaction fees for 3 years
🔥Rights to purchase NFTs in advance
🔥Share 100k #showcoin
…
Link👇https://t.co/3WViABFmM7 pic.twitter.com/FmbSGUaCwm

— NFT On Show (@nftonshow) May 9, 2022
In April 2022, the ShowPay team sold various components for their very successful MetaBot NFTs launched last year. MetaBot fragments consist of the Main Body, Arms, Legs, Boots and Tools.
Optionally, owners will be able to equip a Background NFT that can be viewed in the avatar users set on their MetaID profile.
Each of these sales completed in minutes, as users bought a blind box that contained randomized parts that could be equipped on their MetaBots. Once sold out, the parts were revealed. Tools, which are various items to be held by the bots appear to be the rarest (and most popular) items which included weapons, instruments, or sports gear.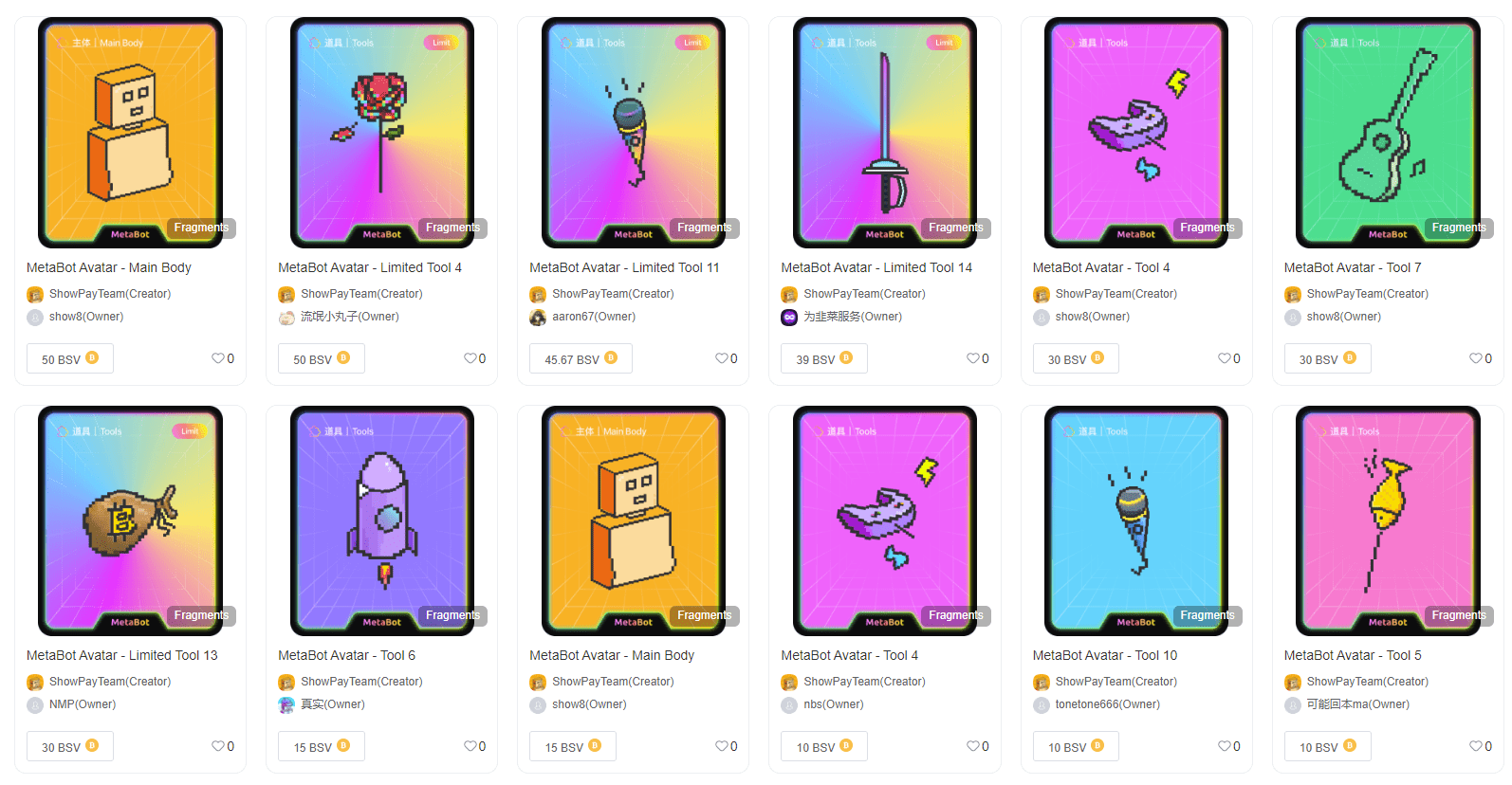 On May 10, MetaBot owners will be able to assemble a new Avatar, based on the first or second generation bots and their fragments.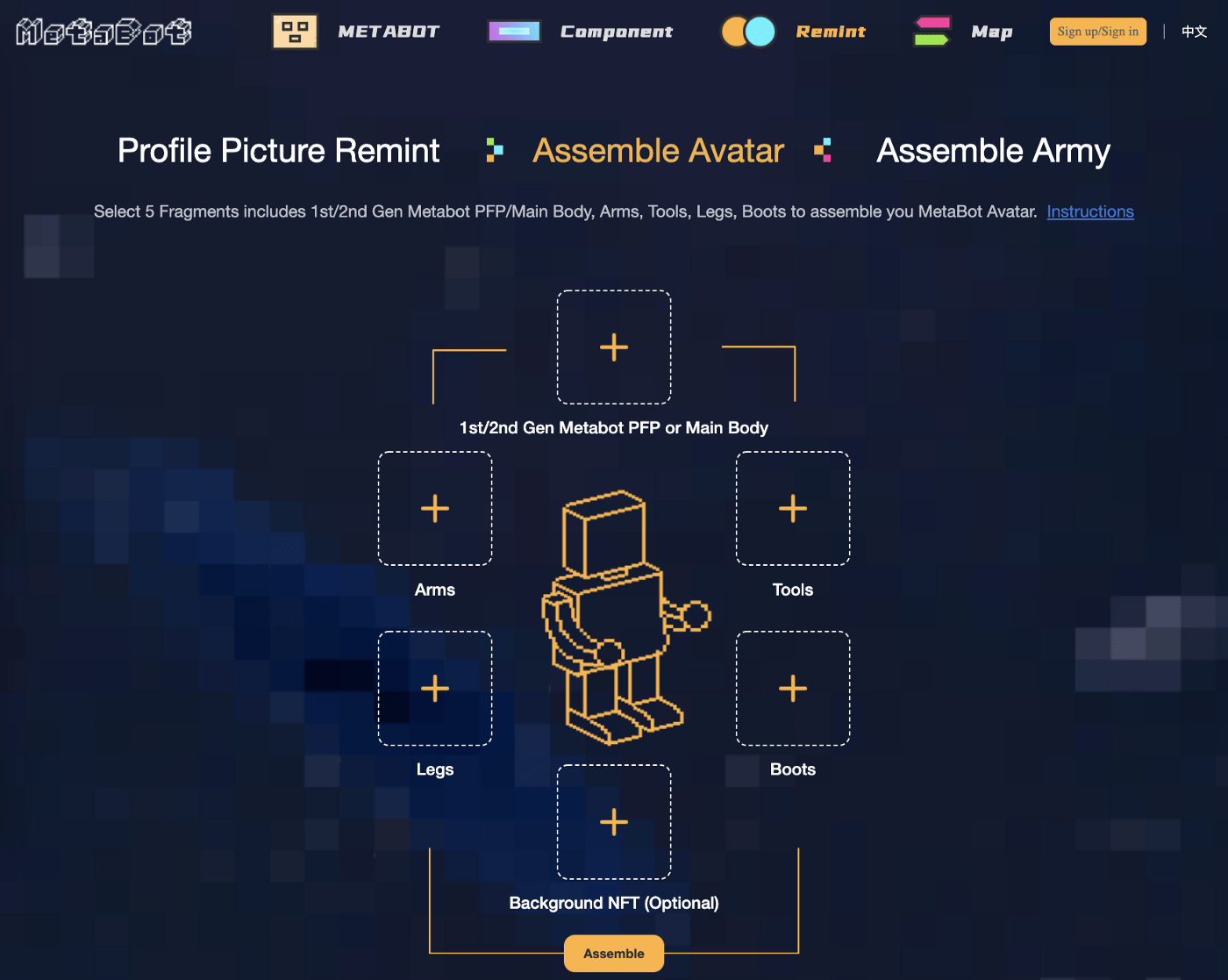 As the NFT market sales dry up overall, the move towards utility seems to be the next trend. The ShowPay team is not only providing utility with the MetaBots and items themselves but offering additional benefits on their various applications and platforms as well.
MetaBot holders will enjoy benefits such as discounts on NFT marketplace transaction fees, advance, priority participation in official projects and sales as well as a "Hold & Earn" function (further details to be announced).
Regardless of the success of this project, I am glad to see more unique strategies to attract sales of NFTs than simply the "Greater Fool" theory. NFTs value proposition are verifiable ownership, reputation and strengthening connections between the users, fans, customers and the creators, issuers and/or artists. Unfortunately to date, the primary use-case has been scamming, wash trading and pump and dumps. As the liquidity for flipping dries up, the scams will subside, and production of useful applications will emerge.
The result will end up with a market where the utility NFTs still have value, but with more reasonable returns and expectations. Top projects such as CryptoPunks or BAYC will still remain due to being first and preserving strong communities, but for others to stand the test of time similarly they will need to push forward the old fashioned way, via hard work and earning success in the market.
Ironically, this more mature model may end up with some NFTs with those high valuations, but primarily will be driven by fundamental value instead of speculative.
Another benefit yet to truly manifest is community driven utility. Given the public nature of NFTs, community members could theoretically build their own applications using the on-chain metadata.
With MetaBots for example, one could build a fighting game where the Tools are treated as weapons and parts as Armor with unique attributes. Uniqueness can be leveraged from the original transaction ID, timestamp (and/or block number) or embedded serial numbers. This is the true vision of the Metaverse, enabling open innovation around public data, while still preserving and enforcing ownership rights.
As a MetaBot owner, I look forward to what other benefits and innovation the NFTs will have and hope they can remain one of the strongest projects as the market matures.
Watch: CoinGeek New York panel, The new world of NFTs on the BSV blockchain
New to blockchain? Check out CoinGeek's Blockchain for Beginners section, the ultimate resource guide to learn more about blockchain technology.