The world of esports continues to grow at a fantastic rate, and CryptoFights is ready to capitalize on it. Kronoverse, the blockchain gaming developer behind CryptoFights, has released a report on the exciting growth their industry is anticipating, and CryptoFights is going to take it all to the next level with Bitcoin SV (BSV).
In their report, CryptoFights notes that the esports industry has already achieved a fan base of 500 million people worldwide, with $1 billion in yearly revenue. Forecasting ahead, they note that the industry is expected to grow at a 9% compound annual rate from now until 2023. That means a potential audience of 646 million. They attribute this potential growth to the acceleration of access to platforms like YouTube and Twetch.
They also note that big money is starting to come into the esports scene, potentially accelerating that growth. With $4.5 billion in 2018 alone from companies like Nike, Mastercard and Honda, the industry has the resources it needs to grow at an impressive rate, and meet the demand of those hundreds of millions of new fans. It also means esports competitors can be paid well for their efforts, reducing the chance for match fixing corruption that operators fear.
Finally, as they are primarily focused on making a game for the Bitcoin SV (BSV) blockchain, CryptoFights had to comment on how the technology will improve esports. With the transparency and traceability of the BSV blockchain, the gambling world gets all the data it needs to offer great wagers, and the transparency required for guaranteed fair play:
Blockchain games are growing in popularity but it'll take some time before it's as mainstream as traditional games you might find on gaming consoles and PCs. As more people understand the benefits of blockchain technology in gaming, they'll learn that blockchain technology can provide real solutions to competitive gaming. One of these solutions includes reducing cheating in esports since every action taken is recorded on the blockchain ledger.
Kronoverse, the indie game developer behind CryptoFights and backed by Calvin Ayre, are building a platform on which blockchain esports promises to do quite well. They recently concluded their second beta test, and promise that the final product will allow esports competitors to bet on matches, providing an additional revenue source for both the players and the platform. Founder and CEO Adam Kling took the stage at the recently concluded CoinGeek Conference in London, where he shared Kronoverse and CryptoFights updates as well as some insights on how BSV is powering the next innovation in gaming.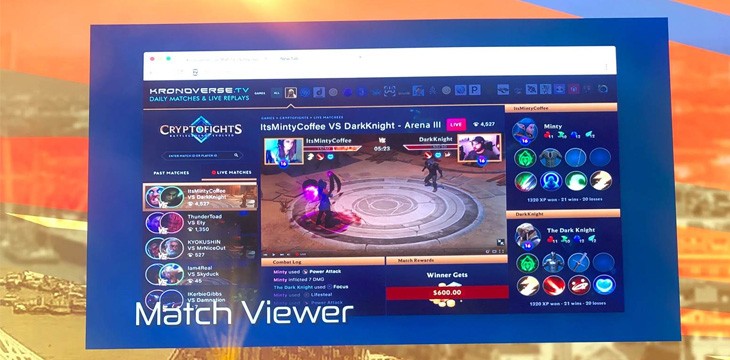 The Kronoverse platform, with CryptoFights on it, will be available sometime later in 2020. It may be one the online gambling world wants to watch, as it could open up an entirely new platform on which esports could become gambling's new darling.
This article first appeared on CalvinAyre.com.
New to Bitcoin? Check out CoinGeek's Bitcoin for Beginners section, the ultimate resource guide to learn more about Bitcoin—as originally envisioned by Satoshi Nakamoto—and blockchain.