Switzerland is known for banking while blockchain technology and digital currencies are known to be a threat to legacy banks and the financial system.
On Day 3 of the CoinGeek Conference in Zurich, "The Digital Technology and the Future of Banking & Financial Services" panel explored banking and finance as well as the role that blockchain and digital currency can play in these industries.
The panel was moderated by Bitcoin Association's Europe and Operations Manager Patrick Prinz, and featured Urs Bernegger, head of trading and credit platform at SEBA Bank AG; Dr. Daniel Diemers, partner and co-founder at SNGLR Group; Marc Geiger, executive partner at IBM Global Business Services; and Michael Hudson, founder and CEO of Bitstocks.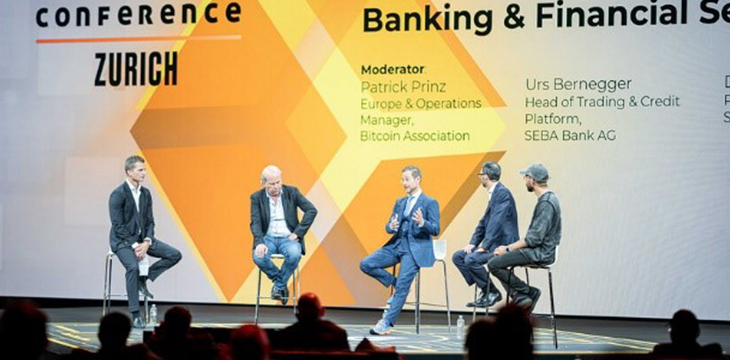 To kick off the panel, the group discussed why blockchain and digital currency have the potential to upend legacy banking and finance.
"I'm coming from the consumer standpoint and the humanitarian standpoint, What captivated me about bitcoin is it can make society honest, and the two primitives that we need resolved in society to have a much more cohesive society that I would love to see is more honesty in banking and more honesty in the political systems—our political system is not my challenge, I really hope there's someone out there that's going to take that on," Hudson said.
"But with banking, I ironically thought that would be an easier concept to attack and address by using a public ledger as a means to build a financial infrastructure on top of it to provide transparency."
Banking has traditionally taken place in a closed environment in a way that preserved individual and institutional privacy to the fullest.
"Banks by definition are quite closed environments, so now suddenly, you want to share, to come together, to be a partner of somebody, share data in some way but you don't really have the mindset for it–blockchain can help but it's quite a long way," Geiger said.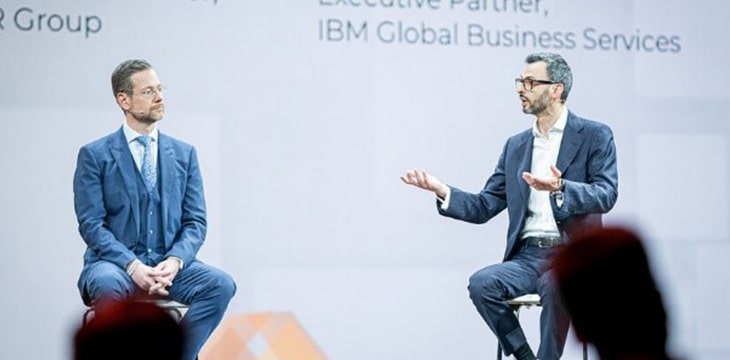 As Geiger noted, the transparency of a public blockchain has the ability to change the way banking and finance happen, however, many institutions are hesitant to implement this new technology—but this isn't the first time that banks have been slow to innovate.
"Banks totally missed the mobile revolution," Dr. Diemers said, "I firmly believe that exponential technology like blockchain, AI, and AR/VR, are changing the banking landscape fundamentally. They need to embrace these technologies pronto."
There is often a high degree of risk that comes with being a first-mover on relatively unexplored innovations. But even though banks can be slow to move, they do have their eye on the blockchain and digital currency ecosystem, Bernegger, who represents Seba Bank said,
"[Seba] Tried to build a bridge because we experienced banking issues when dealing with cryptos, so we looked to build a bank that understands the crypto-world. On the other hand, we wanted to build a bank for traditional bankers and institutions to have a regulated gateway into the crypto world."
One reason that banks have been hesitant is because the regulatory environment—or rather, the lack of investor protections in the blockchain and digital currency industries—makes them unable to invest on behalf of their institution or their clients. But as more and more legacy banks begin offering digital currency products, and more emerging banks receive the necessary licenses to operate, this will become less of an issue.
Overall, the panelists agreed that blockchain and digital currency can optimize many of the processes in the banking and finance world. However, a transparent banking system has not been an item that bank clients are demanding, instead, they are looking for exposure to blockchain and digital currency-related products. One area that we are likely to see the legacy banking world readily explore is central bank digital currencies (CBDC), blockchain-based instruments that improve the efficiency of the banking system while allowing legacy institutions to continue operating in the closed environment that they prefer to operate inside of.
New to Bitcoin? Check out CoinGeek's Bitcoin for Beginners section, the ultimate resource guide to learn more about Bitcoin—as originally envisioned by Satoshi Nakamoto—and blockchain.