There was a large focus on BSV blockchain's consumer-facing applications, data integrity solutions, and NFTs on day two of CoinGeek New York.
The morning kicked off with back-to-back sessions about Bitcoin wallets for both enterprises and consumers and was followed by presentations from Relica, the Bitcoin-based social media app that focuses on sharing photos, and Sunny Fung the Co-initiator of MetaID and Founder of ShowPay, two Asia-based platforms that are at the forefront of DeFi on BSV.
Afterward, Bitcoin Association Founding President Jimmy Nguyen moderated a panel about the data integrity solutions being built on BSV for the Health Care and Life Sciences space.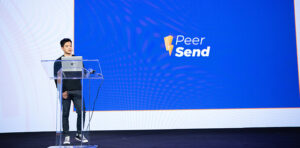 We also saw presentations from several BSV companies that have created consumer-facing applications, such as John "Jack" Pitts from SLictionary, Jeffrey Baek, who introduced the world to PeerSend's Twitter integration and did a live demo where he sent Money to Elon Musk, and George Siosi Samuels from Honā.
There were also presentations from some of the largest companies that have created enterprise solutions, such as TAAL Distributed Information Technologies Inc. (CSE:TAAL | FWB:9SQ1 | OTC: TAALF) and nChain, as well as a presentation from MNP, the Canadian-based national accounting, tax, and business consulting firm.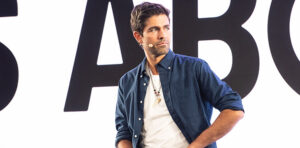 During the afternoon session, the highly anticipated panel of How to Achieve Green Bitcoin: Energy Consumption & Environmental, Sustainability, Environment took place. It featured Adrian Grenier, the actor with a growing interest in blockchain and digital currency who is well known for being on the show Entourage.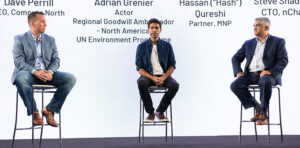 The panelists, Adrian Grenier, TAAL COO Lars Jorgensen, Compute North co-founder and CEO Dave Perrill, MNP partner Hassan "Hash" Qureshi, nChain CTO Steve Shadders, and Gray Wolf Analytics President and Chair Dr. Dhirendra Shukla discussed BSVs environmentally friendly edge and addressed the concerns that many people have when it comes to Bitcoin and the amount of energy it consumes.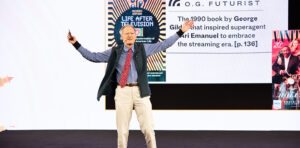 Economist, writer, investor and technology visionary George Gilder brought the day to a close by drawing parallels between technology markets and solutions that have emerged in the past and the BSV enterprise blockchain. 
Day 3—the final day—of the CoinGeek conference will feature panels revolving around investing and finance on BSV, the developments taking place on BSV in different corners of the world such as the middle east and Asia, and many more topics that will show you and your business how to become more efficient by implementing the BSV enterprise blockchain; on day 3 of the conference, the winner of the 4th BSV Hackathon will also be announced, an event that you will want to tune in to.
Watch CoinGeek New York 2021 Day 1 livestream here:
Watch CoinGeek New York 2021 Day 2 livestream here:
Watch CoinGeek New York 2021 Day 3 livestream here:
New to Bitcoin? Check out CoinGeek's Bitcoin for Beginners section, the ultimate resource guide to learn more about Bitcoin—as originally envisioned by Satoshi Nakamoto—and blockchain.