On the third and final day of CoinGeek Live 2020, Bitcoin Association Europe & Operations Manager Patrick Prinz gave the audience a glimpse of the organization's headquarters in Zug, Switzerland. He's joined by a selection of guests from the Bitcoin ecosystem, ahead of what looks set to be an exciting period for blockchain in Switzerland, and the wider world.
A small group of developers, entrepreneurs and blockchain researchers gathered to watch the conference unfold, providing a forum for discussion and sharing ideas, within the confines of the COVID-19 pandemic. While the event would perhaps have looked differently in normal times, Prinz is still able to bring forward several notable guests to discuss their thoughts on the future of blockchain and BSV.
First up is Calvin Ayre, founder of Ayre Group and CoinGeek. Ayre said that Switzerland is the ideal base for the headquarters of Bitcoin Association. Bitcoin Association has recently established its headquarters in the so-called Crypto Valley, alongside other firms including nChain and TAAL, who have chosen to set up shop in the city.
According to Ayre, Switzerland is a great place to live for executives, with a government that is outwardly supportive of and friendly to businesses. In particular, he suggests the government needs to continue to be educated on the enterprise benefits of blockchain, and encouraged to continue to do the good work it has been doing in supporting the development of the blockchain sector there.
Noting the different format of the event compared to previous CoinGeek conferences, as a result of COVID-19 restrictions, Ayre said that a video link hybrid format will likely be retained for future events, providing a platform to educate even more people about the superpowers of blockchain technology and BSV.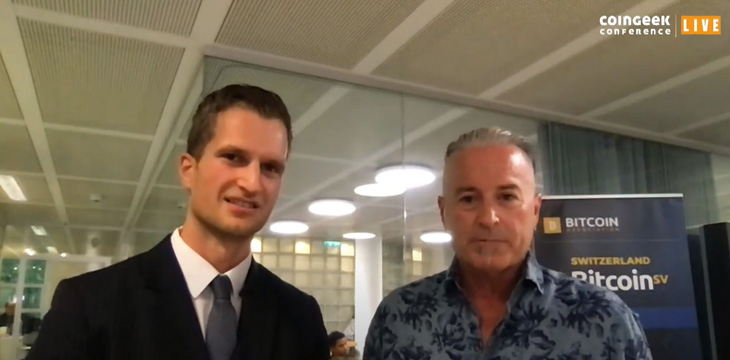 Prinz added that the newly re-designed website, BitcoinSV.io had been launched to coincide with the conference, listing the huge and growing number of tools out there available to build on BSV. At a time of increasing interest from developers and entrepreneurs, the site is a timely addition to the BSV developer landscape.
Next, Prinz is joined by Matthias Weissl of Verum Capital, a blockchain advisory boutique based in the city. He describes Verum Capital's role in three parts: first, they conceptualize, design and build blockchain business models for Fortune 500 clients. They also build their own ventures and scale those ventures for themselves, as well as providing education to the market, in boardrooms, universities and elsewhere.
According to Weissl, education is the most important leg of their work, informing others about the benefits and capacity of BSV as a technology for solving real-world problems at enterprise scale.
When probed about tokenization, Weissl admits boardrooms at present understand very little about the technology. When Verum first experimented with tokenization several years ago, liquidity proved a major barrier to their progress.
However, Weissl pointed to the upcoming law change in Switzerland in 2021, which is set to facilitate greater liquidity and ease of trading. Now, tokens can represent shares and can be transferred for value on the blockchain, thanks to the pending legal changes. According to Weissl, now is the time for companies to set up in Zug to take advantage of this favorable legal environment.
Bernhard Müller of Centi also joined Prinz in front of the camera, discussing a recent collaboration with HandCash in establishing a way to initiate payments wallet side, rather than point of sale side. A payments enabling business, Centi is always looking for ways to improve payments on the blockchain, by reducing the complexity of transactions, and bringing reality to the idea of BSV as a peer-to-peer cash system.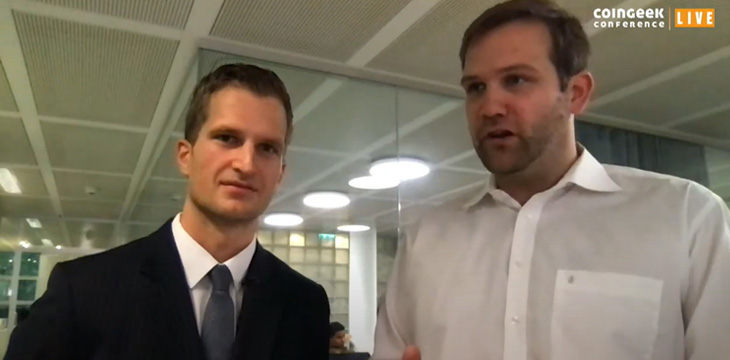 Working alongside the HandCash team, Müller suggested there are many exciting projects and ideas underway in Crypto Valley, with entrepreneurs and businesses continuously collaborating to expand the possibilities with BSV.
Watch the Switzerland Live Q&A with Patrick Prinz of Bitcoin Association.
New to blockchain? Check out CoinGeek's Blockchain for Beginners section, the ultimate resource guide to learn more about blockchain technology.