Codugh, the API marketplace for developers, has opened a waiting list for its first set of testers. After alpha testing, the platform is planning to beta-release around the same time as CoinGeek London in February 2020, offering independent developers access to a market projected to be worth US$6.2 billion by 2024.
The Codugh model works by enabling micropayments—even fractions of a cent—for API calls. Whenever an app uses API code you created, it triggers an automatic payment in real time. This means developers who code only certain components used in several larger projects can still earn an income from their work.
It's a potential goldmine that also reduces the opportunity cost of creators abandoning projects because they don't have enough time or money to work on them.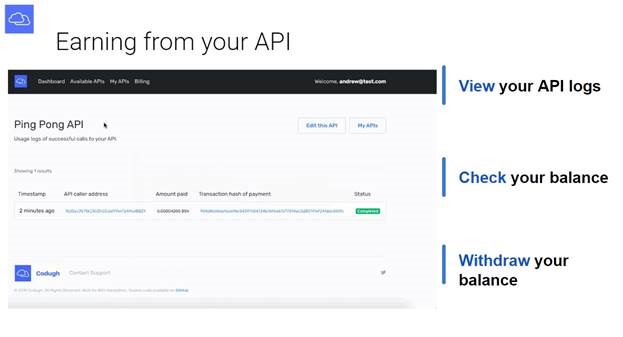 Codugh's team has been hard at work since winning first prize in the second Bitcoin Association Hackathon in Seoul last month. They plan to hand-pick applicants who sign up for the waiting list, and work closely with each of them to develop a platform that meets everyone's needs.
https://youtu.be/IdKiDM3leRY
The waiting list is open to anyone with an interest. "We have unlimited places/spots … ideally more is better," said co-founder Andrew Snow. 
Freeing developers to do what they do best
Once up and running, Codugh could free developers from the burden of poverty, or having to work awful jobs to support themselves while they pursue their true calling. Currently, independent developers who create APIs or code libraries have little option but to publish their work for free—which includes providing tech support for those using it.
Any existing platforms offering per-use money for code are unable to pay in real-time, due to fees and delays inherent in the legacy payments system.
If I'd get 0,01€ (1 cent) for each npm download, I'd be a millionaire in ~3 days. Unfortunately it's all open source – so all I get in 3 days is people complaining / personally attacking me for bugs I "sold".
Thanks F**ckers 🤭

— Robin Weser (@robinweser) November 15, 2019
Snow's description of Codugh foresees an end to freelance insecurity, dull-but-regular salaried jobs, and "the gnawing nerves of running down to the last cent or a month of ramen noodles straight" while coders code.
"So what about a solution for those of us—who want to be compensated in proportion to the success of our software but without the commercial element of running a startup?" he asks.
"We created Codugh with the belief that developers should be able to proportionally benefit with the usage and adoption of their code. If a thousand people call your API a thousand times each, we think you should be paid a million times. And we'd like to think you'd agree.
"We believe this opportunity should be available to people from all parts of the world, regardless of privilege. Whether you're a developer based out of a third world country or a 10x-er in Google's Quantum computing team, the only determinant of success should be the usefulness and adoption of your code. Period."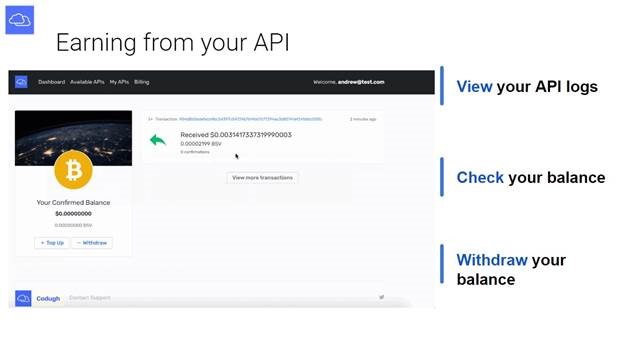 Bitcoin's micropayments promise restored Micropayments (and their economic benefits) were promised as a key feature in the early days of BTC, creating a flurry of interest from content creators, code developers, online gaming sites, and more. However they soon became infeasible thanks to network congestion and high fees caused by BTC's tiny block size, which stifled both innovation and Bitcoin value.
That promise is now restored in Bitcoin SV, and many of those early players are returning to implement their ideas again. Codugh is just one example of how BSV can create whole new economies and industries, and showcases a new way to make money.
Sign up for Codugh's waiting list here.
New to Bitcoin? Check out CoinGeek's Bitcoin for Beginners section, the ultimate resource guide to learn more about Bitcoin—as originally envisioned by Satoshi Nakamoto—and blockchain.