The final day of the CoinGeek Conference in New York saw Bitcoin Association's North America Regional Manager Bryan Daugherty assemble a panel of movers, shakers and project creators to discuss "A Better Internet Experience using Blockchain."
The panel kicked off with BuzzCast co-founder and CEO Ryan Byrne, who was celebrating his company's new $4.35 million seed round funding, which was led by Ayre Ventures with participation from The Syndicate and Jason Calacanis, America's premier angel investor.
BuzzCast is a premier virtual event platform that launched in March 2020 as a direct reaction to the global pandemic and its impact on public events. The company has since worked on some large and complicated events for clients as varied as Uber to the United Nations.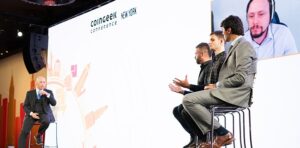 Prior to BuzzCast, Byrne and a partner created a tool that used NFTs as collectibles at live events, resulting in big boosts in engagement from audience members. BuzzCast is now adapting this product into a format that covers both virtual and hybrid events, starting with gamification of the live event experience.
For instance, event hosts can set certain expectations, so CoinGeek could offer conference attendees prizes if they (say) check out four sessions and visit three sponsors. All elements of on-site events can be turned into mini- or micro-NFTs that, once collected, could be redeemed for various swag while providing sponsors/hosts with a way to connect with people post-event.
Byrne noted that this process was only possible due to the BSV blockchain's ultra-low transaction fees enabling the digitization of potentially thousands of assets at a single event. BSV's ever-expanding block sizes also accommodate large video files, in which event hosts and sponsors can embed content and information.
A call to arms
The panel got a serious emotional boost when Ty Everett, founding president of Project Babbage, issued a stirring call to arms. Partially blind, Everett noted that this was his first time in New York and the farthest he'd ever traveled from his home, a feat enabled by his use of Google Maps and the GPS on his phone.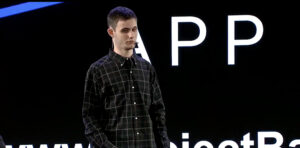 Everett noted that this technology didn't exist 10 years ago, while the individual for whom his company is named—Charles Babbage, creator of the first mechanical computer—died in 1871. In a nod to his hero, Everett described Project Babbage as not just a single app or website or company but a set of standards for a whole new way of creating apps, websites and companies.
Everett called Project Babbage "a whole new version of the internet itself" – known in blockchain circles as the Metanet – "where users control user data [and] app developers can't take it away. Where there's no need to have multiple long horrible passwords, because users no longer have to log into apps—it's the apps that have to log into you."
Babbage #CGNewYork pic.twitter.com/dSm1ZCmnKi

— gambling911 (@gambling911) October 7, 2021
Everett had harsh words for certain Silicon Valley giants, whose pursuit of "unearned power" was "leading us down a path that threatens to undermine and erode the values that we all hold most dear." Everett said history would judge these companies "not on what they said they would do [but] by the actions that they take."
As such, Everett designed Project Babbage based on "action-oriented development" which, instead of data and ads, "revolves around people and the things people do." In Project Babbage, "actions are private; they stay with you across all the different apps and websites you use. They're associated with your identity and your reputation as a person. If you want to use a new social network or messaging app but keep your friends and connections, keep the personal brand that you've built for yourself, and not force the people you're interacting with to use the same systems you use, you can do that."
Under Project Babbage's hood, actions require Bitcoin—specifically, micropayments that are impossible on any other blockchain but BSV. Users, content creators and artists all stand to benefit from these transactions, while app developers will enjoy "a diversity of revenue streams, not just one ad platform," a shift that Everett called "a very compelling thing for the stability of businesses that are built on the internet."
Everett believes economic incentives will drive apps toward the best user experiences, serving people the way they deserve to be served. "If you're changing things by building on Bitcoin, then we need to connect" via ProjectBabbage.com to realize the goal of "bringing back what truly matters: actions, accountability, trust." 
Everett's presentation clearly touched a nerve, receiving a raucous show of support from the audience. Seriously, we wouldn't wanted to have had to follow that.
Reviewing the situation
Into that intimidating breach strode Connor Murray, co-founder and CEO of Britevue, the company aimed at revolutionizing how online reviews are made and managed by businesses. As Murray put it, any business owner knows that "reviews will outcompete any marketing campaign that dollars can buy," making it all the more important to incentivize happy customers to share their experiences.
Murray revealed a string of new features Britevue is rolling out, including Veritas, an API server that solves the current internet's rather toxic problem of fake product/service reviews by malicious actors and/or competitors aimed at denigrating a business.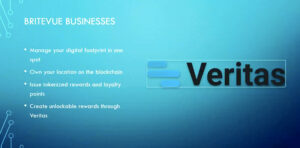 The Veritas process involves tokenizing a proof of sale or use. Using a brick-and-mortar business as an example, Murray said Veritas would issue customers a receipt containing either a hyperlink or a QR code, which customers can use to leave a review that publicly verifies a connection between business and consumer for all the world to see. Barpay, a mobile order and payment platform operating in a network of high-volume bars across the U.S., is currently enabling this service.
Britevue is working with TAAL Distributed Information Technologies Inc. (CSE:TAAL | FWB:9SQ1 | OTC: TAALF) to utilize the latter's STAS tokenization technology to tokenize rewards and loyalty points. Businesses can incentivize feedback by locking up rewards in smart contracts, releasing the rewards after customers submit reviews (positive or negative).
Britevue Itineraries aims to make it easier for users to monetize content in a variety of ways, be it reviews, travel blogs, top-10 lists, generalized blogging, as well as linking to different locations. Britevue is building out a "gigantic" on-chain database of locations, and any time a user reviews or mentions that location on Britevue's site, it will be tokenized on the BSV blockchain.
Businesses will be able to log into Britevue's platform to manage individual locations, as tokenization will allow each location to have a unique identifier. The use of one global blockchain allows owners to eliminate the inefficiency of having to log into multiple services (like Google, Yelp and TripAdvisor).
Pow goes the evolving net
Luke Rohenaz, co-founder and CEO of promotion marketplace TonicPow, says his firm continues to build its model based on the way they believe the internet is evolving. For the uninitiated, TonicPow allows companies to create campaigns and load them up with crypto, slices of which users can earn by sharing the campaign through links and/or social media platforms.
Rohenaz tipped the imminent arrival of TonicPow's new Campaign Bidding feature, which will allow users to bid on what they're willing to accept to promote certain campaigns, both in terms of the rates and the individual conversion goals. These negotiations will go back and forth, bringing market rates into the platform instead of set pricing, which Rohenaz believes will give advertisers more control over their campaigns.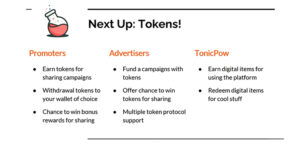 TokenPow has built a new statistics dashboard to allow greater insights into referrals where people are sending traffic, along with traffic maps, geographical breakdowns and "really advanced filtration." Public stats will also start showing on promoter pages.
TokenPow is also permitting custom share links, allowing influencers on (say) YouTube to direct viewers to a site and use their referral code that will trigger payouts to promoters. 
Working together
Moderator Daugherty queried the panelists on the subject of integrating all these new tools. BuzzCast's Byrne suggested his group would benefit both from incentivized reviews as well as having influencers bring their communities to BuzzCast-managed live/hybrid events.
Britevue's Murray said businesses "need ways to interoperate and migrate between platforms," with the Metanet allowing users to take control of their data and "move it from platform to platform." That might seem scary for developers but it will "force you to be better than your competitors."
Project Babbage's Everett concurred, saying developers will "have to compete on user experience, not locking people in like YouTube does." Rohenaz welcomed this shift, saying TonicPow was "constantly looking at what we can do better" in order to "survive the disruption that's coming" to the current internet model.
Watch CoinGeek New York 2021 Day 3 here:
New to Bitcoin? Check out CoinGeek's Bitcoin for Beginners section, the ultimate resource guide to learn more about Bitcoin—as originally envisioned by Satoshi Nakamoto—and blockchain.