In Roman architecture, a Rotunda was a circular area at the center of the house where the grandest events were held. Just the same, the grandest and biggest BSV Meetup ever, happened at the Rotunda of the Four Seasons Trinity Square in London.
Hundreds of attendees within the Bitcoin society gathered to celebrate the new dawn of Bitcoin. This came just few weeks after the Genesis upgrade restoring the original Bitcoin vision of Satoshi Nakamoto.
The BSV Meetup was sponsored by the Bitcoin Association (BA) and was a prelude to the biggest CoinGeek Conference to date.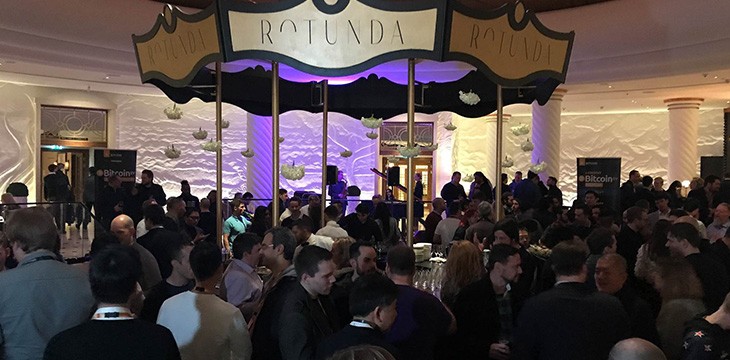 BA Founding President Jimmy Nguyen welcomed and thanked everyone for the undying support to the original Bitcoin. He described the crowd energy as electric and as positive as the "Satoshi fire dragon" where the excitement is exploding like flames. Also present were nChain Chief Scientist Dr. Craig Wright and nChain CTO Steve Shadders.
Dr. Wright said he is excited to see supporters of Bitcoin who perceive it as not an anti-law, anti-government and a crime coin. He described Bitcoin as a system designed to create and provide economic freedom to the world.
Due to global health reasons, many BSV supporters from China did not make it to the meetup and the CoinGeek Conference but BA China Manager Lise Li was there. She said, "This event provides a perfect occasion where enterprises, startups and developers can network with each other, learning Bitcoin technology and discovering business opportunities, which we believe will help BSV ecosystem grow faster."
Dean Little, co-founder and lead developer of BitPing (formerly UptimeSV), is no stranger to these meetups. Little said through these events, he managed to meet some of the people who have used the things he's worked on and see how they've helped their businesses which was really rewarding. He adds, "There were quite a few new faces as well which is always good to see."
Looking ahead, Little said he expects to see businesses making money and growing the ecosystem. "That would be the most exciting thing for me," Little said.
For Li, this success is surely just the beginning, "As a leading Bitcoin organization, Bitcoin Association would definitely like to organize and sponsor more meetups and events all around the world in the future."
New to Bitcoin? Check out CoinGeek's Bitcoin for Beginners section, the ultimate resource guide to learn more about Bitcoin—as originally envisioned by Satoshi Nakamoto—and blockchain.