One of the key use cases on BSV blockchain right now is gaming. As the play-to-earn model takes off, micropayments play a key role, and when it comes to those, there's only one blockchain that can deliver at scale. 
Two guest speakers, Adam Kling from FYX Gaming and Raheel Iqbal from The Game Storm Studios, gave presentations at the BSV Global Blockchain Conference. They spoke about their ventures and experiences in blockchain-based gaming thus far.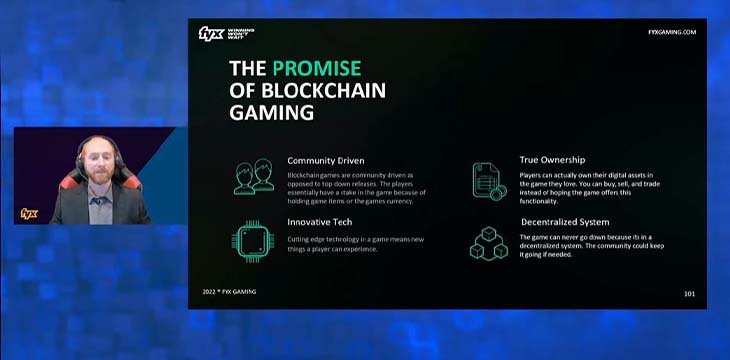 Adam Kling from FYX Gaming talks about CryptoFights, play-to-earn gaming, and more
Adam Kling leads the team at FYX Gaming, they're behind the wildly successful game CryptoFights. Right now, it generates most of the transactions on the BSV blockchain. Its growing player base generates tens of millions of microtransactions on busy days.
Kling tells the familiar story of how he and his team tried to build CryptoFights on Ethereum. They found it unusable, unable to scale, and ultimately "a dead end," as he has put it in other interviews.
After looking around for solutions, Kling found out that many games don't even use blockchains, and they certainly don't use them to store in-game items such as NFTs. The reason is that they're incapable of doing so due to inherent scaling limitations, leading them to store such items on third-party servers, giving users a mere string of digits rather than actual possession of their digital items. 
The FYX Gaming team made their minds up that this wasn't good enough. They decided that the fees and processing times on other blockchains wouldn't cut it. They needed processing times of milliseconds and extremely low fees, so they ported over to Bitcoin SV.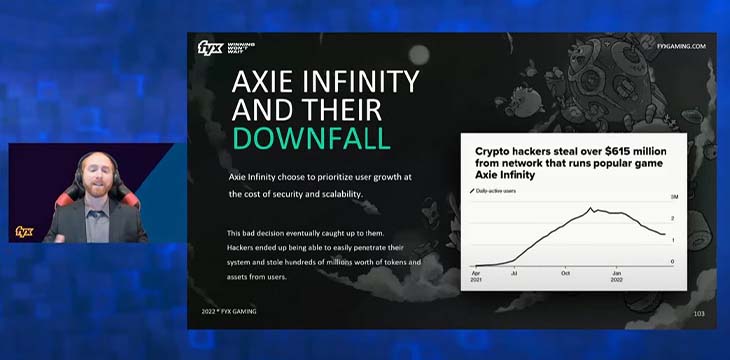 Cautioning other game developers to get this decision right, Kling looks back at the rapid rise and fall of Axie Infinity. At one point, it was the hottest blockchain game and was close to breaking 3 million daily users. Kling recalls how it generated over a billion dollars in a day at its peak. However, seeking solutions to Ethereum's unfixable scaling issues, the developers moved to their own blockchain, subsequently got hacked, lost $623 million, and never fully recovered. The game now has less than one million active users. 
"Your community is everything," Kling says, reminding developers that once the trust is gone, it's very difficult to win it back.
Reflecting on CryptoFights' journey on BSV, Kling says it "has been interesting." They launched in the summer of last year, quickly reached 550,000 transactions per day, and then ran into infrastructure problems. At that point, the team focused 100% of its energy on finding long-term scaling solutions. The game now has over 200,000 registered users, and Kling says "the sky's the limit" once they release CryptoFights 2.
On why the big gaming studios haven't embraced the play-to-earn and blockchain-based models wholesale yet, Kling says they're not ready for prime-time. He notes that the digital currency industry doesn't have an excellent reputation, and the big studios and their players see things like NFTs as a cash grab.
Wrapping up, Kling says that FYX Gaming wants to create new player experiences. He reiterates that CryptoFights 2 is coming, and he says it will show the world just how much transaction volume BSV can handle. He anticipates 100 million daily transactions on busy days, blowing any other blockchain-based game out of the water.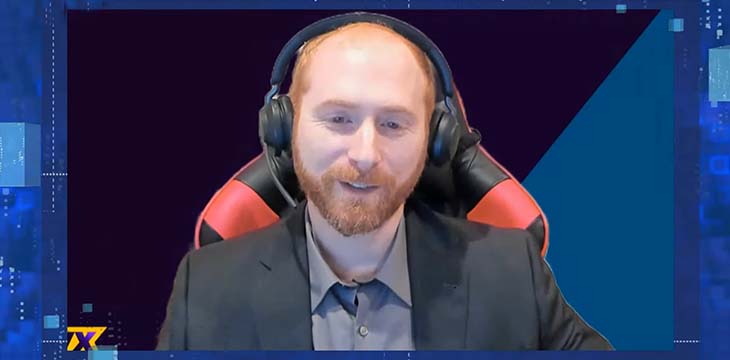 Play-to-earn on BSV blockchain with Raheel Iqbal
After Kling finishes his presentation, Raheel Iqbal steps onto the stage. He's the founder of The Game Storm Studios. It's a thriving gaming company based in Pakistan that has developed over 1,000 mobile games so far.
Iqbal reflects that the current trend in gaming is a transition from free-to-play to play-to-earn. He highlights how the global gaming industry was worth $180 billion in 2021 and is set to reach $220 billion by 2023. By then, $120 billion of this revenue will come from mobile gaming and will be generated by around three billion players. By 2027, Iqbal says that global gaming could be worth $340 billion, will likely be growing at 8.9% annually, and 70% of it will take place on mobile devices. He believes that play-to-earn games will be a key driver of this growth, especially in APAC countries like the Philippines, Indonesia, Thailand, Malaysia, and Vietnam, where most gamers reside and transaction fees matter.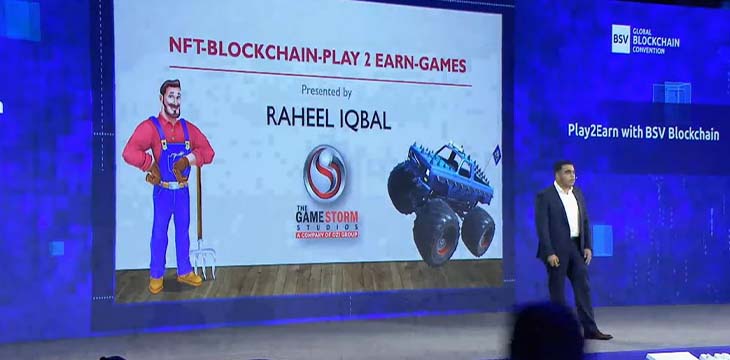 What role will NFTs play in all of this? Iqbal points to their popularity in early play-to-earn games and notes the legitimate use case they serve in this sector. He underscores a survey that shows almost 60% of PC gamers are interested in NFTs and play-to-earn games. The Game Storm Studios itself has a monster car game that utilizes NFTs—each car is a unique NFT, and the objective is for players to build features and compete with each other. The prices of the cars can go higher as players build features, giving them a strong incentive to stay engaged with the game and keep creating value.
In the final part of his presentation, Iqbal states his belief that P2E games will be a key part of the Metaverse, a massive trend in the tech world today. As such, he will be bringing his company's huge library of games onto the BSV blockchain. Iqbal wrapped up by thanking BSV Blockchain Association Founding President Jimmy Nguyen for all of his assistance in this endeavor.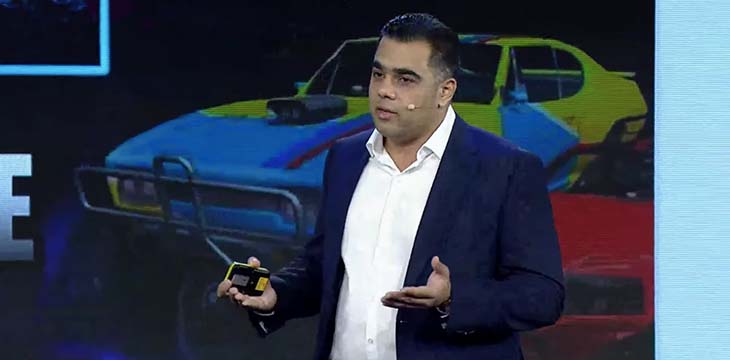 Watch the BSV Global Blockchain Convention Dubai 2022 Day 1 here:
New to blockchain? Check out CoinGeek's Blockchain for Beginners section, the ultimate resource guide to learn more about blockchain technology.